Why Meryl Streep Will Never Be Overrated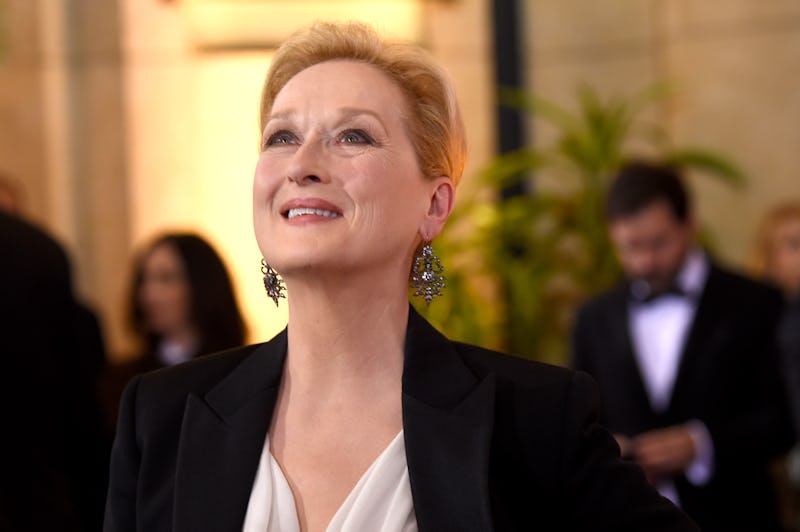 Frazer Harrison/Getty Images Entertainment/Getty Images
Meryl Streep is a three-time Oscar winner, eight-time Golden Globe winner, two-time Emmy winner — do I need to go on? I won't bore you with the size of what I assume must be a walk-in closet full of awards, but I note these numbers only to say that I do see where the whole "Meryl Streep is overrated" idea comes from. The actor has received a huge amount of acclaim for her work, and a star that shines that bright will, inevitably, become the subject of a public backlash. But, just because some (i.e. Trump) say Streep is overrated does not make it true. Not only is Streep an excellent actor, but she's done some seriously profound and important work over the years.
Now, some might argue that Streep is overrated not because Trump says so, but because of her 20 Academy Award nominations. Yet while I firmly believe that Streep continues to give Oscar-worthy performances no matter the role, the material itself is not always worthy of her talents. Sure, some of Streep's nominations have been for lackluster films, but does that really make her overrated? No, because the magic of Streep isn't in how many awards she's been nominated for or how many iconic performances she's given, it's in how she has changed, and continues to change, Hollywood.
Streep has been steadily working in Hollywood since the '70s, and ever since she began, she's been taking roles that reflect the complexities of what it is to be a woman. One year after her first Oscar nomination for 1979's The Deer Hunter, Streep took home her first Academy Award for Best Supporting Actress in 1980 for her role in Kramer vs. Kramer. In the film, Streep plays Joanna Kramer, a woman who leaves her husband and young son. The bulk of the film is about her husband, Ted Kramer (Dustin Hoffman), and his journey to becoming a hands on father. According to Michael Schulman's biography of Streep, the film was initially envisioned as just Ted's story. Kramer vs. Kramer was not intended to be about changing gender roles or two people unhappy in a marriage, but about a man left hanging after his narcissist wife takes feminism too far. (Seriously, that's basically the original plot.)
But Streep refused to play Joanna that way. She played Joanna as a woman trapped by society's expectations, stifled by her husband's dependency on her identity as a mother, not as a woman. And she won an Oscar for it. Her next two Oscars — won for Sophie's Choice and The Iron Lady — were also awarded for her portrayal of women who broke the mold.
Streep has been playing fierce, independent, and flawed women her entire career. She's also lent her name and significant star power to narratives that shine a light on LGBTQ issues, like The Hours and Angels in America, something for which she was recently honored by the Human Rights Campaign (HRC). And Streep hasn't just pushed for equality with her roles onscreen; she has also made significant strides for women behind the camera. It's fair to say that Streep has her pick of projects these days, and by choosing to work with female directors like Phyllida Lloyd (Mamma Mia, The Iron Lady) Streep has spearheaded two of the most successful female-directed films ever. Even more, the past few years, she has funded a screenwriting workshop specifically for women over 40, The Writers Lab.
Furthermore, the very fact that Streep has remained more relevant than any male actor of her generation is significant. Streep's continued visibility has made her a champion of both female and male audiences. This is not an easy feat in an industry where women-starring films are more often than not marketed towards a female-only audience. "Boys are never encouraged to imagine what it is like to be female," Streep told The New York Times in 2015. "The reason I know this is because when I made The Devil Wears Prada, it was the very first time men came to me after the film and said, 'I know how you felt.'" Due in part to her powerful performance, men connected to Streep then, and they continue to do so now. It's part of what makes her such a universally adored performer.
For 40 years, Streep has been a huge influence not just on Hollywood, but on us. She's consistently changed the way women are portrayed onscreen, and altered the way audiences relate to women in film. She's not just a great performer, she's a cultural icon. And we need her, now more than ever.