Meryl Streep Calls Harvey Weinstein's Behavior "Inexcusable" & The Women Speaking Out "Heroes"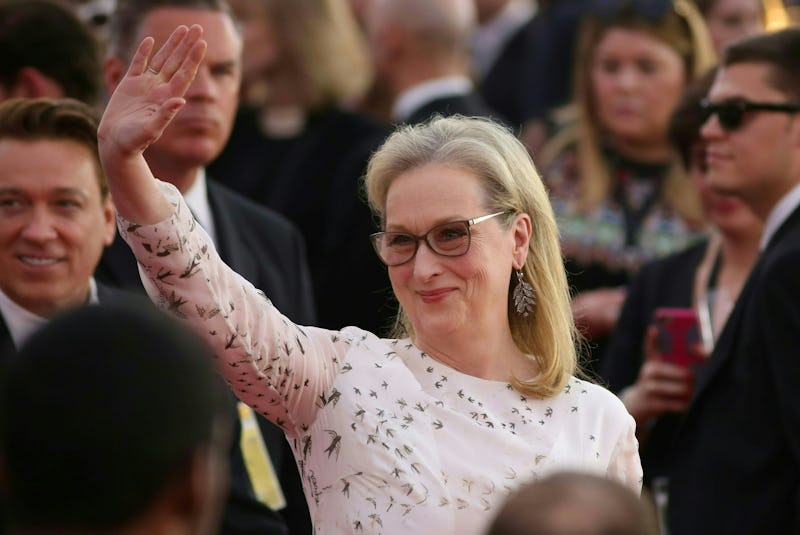 DAVID MCNEW/AFP/Getty Images
Following the recent news of Harvey Weinstein's firing from The Weinstein Company after decades' worth of allegations of sexual misconduct were revealed to the public, celebrities and former colleagues are speaking out. The most recent is Oscar winner and all-around legend Meryl Streep: The actor, who has worked with Weinstein multiple times throughout her career, did not hold back. Meryl Streep's response to Harvey Weinstein calls his behavior "inexcusable" and places her firmly on the side of the accusers, calling them heroic.
"The intrepid women who raised their voices to expose this abuse are our heroes," Streep said in a statement released to HuffPost the day after Weinstein was fired from the company he co-founded amid allegations of sexual misconduct on Sunday.
While Streep, who has worked with Weinstein a handful of times including for her Oscar-nominated performance in 2014's August: Osage County, is standing by the women who have accused Weinstein, she is also refusing to be marked as complicit in his alleged behavior. (When the New York Times report first came out, Weinstein released a statement, saying, "I appreciate the way I've behaved with colleagues in the past has caused a lot of pain, and I sincerely apologize for it." Meanwhile, his attorney Charles Harder told The Hollywood Reporter, "The New York Times published today a story that is saturated with false and defamatory statements," and said they were planning a lawsuit against the Times.)
In her statement, Streep insists that she had no previous knowledge of the allegations against Weinstein. "One thing can be clarified. Not everybody knew," Streep said, describing him "exasperating but respectful" when it came to their professional relationship. She went on to claim that she never knew about the countless allegations against him, nor did she know about the numerous settlements he allegedly paid to women accusing him of sexual misconduct, as reported by The New York Times. She added,
"I did not know about his having meetings in his hotel room, his bathroom, or other inappropriate, coercive acts. And if everybody knew, I don't believe that all the investigative reporters in the entertainment and the hard news media would have neglected or decades to write about it."
Streep's assertion that she was unaware of the 30 years' worth of accusations against Weinstein is a direct rebuttal to the assumption that Weinstein's alleged bad behavior was an open secret in Hollywood. "Women have been talking about Harvey amongst ourselves for a long time," actor Ashley Judd said in an interview with the Times, in which she also accused Weinstein of inappropriate behavior toward her.
It is true that rumors of Weinstein's behavior have circulated for years. In 2015, for example, there was the widely reported case of 22-year-old Ambra Battilana, who claimed Weinstein allegedly groped her during a meeting in a New York hotel room. The producer reportedly narrowly escaped charges of sexual assault. At the time, a rep for Weinstein told Deadline, "We are pleased this episode is behind us."
Now that Streep is aware, she says, she is putting her foot down. Most importantly, she is publicly declaring her allegiance to the women coming forward to accuse Weinstein. She concluded,
"The behavior is inexcusable, but the abuse of power familiar. Each brave voice that is raised, heard and credited by our watchdog media will ultimately change the game."
Streep's statement is no small thing. In standing by the accusers, Streep joins a growing group of actors, including Amber Tamblyn, Seth Rogen, Patricia Arquette, Brie Larson, and Jessica Chastain, who have come out publicly to express their belief in the accusers. And as one of the most respected actors in Hollywood, Streep's decision to take a public stand will undoubtedly inspire others in Hollywood to do the same.
Furthermore, Streep's statement also pushes back on the critique from conservative pundits, who have accused "Hollywood liberals" of hypocrisy. In Streep's statement, the actor makes a point to distance Weinstein's private actions from the liberal causes he supports (both Streep and Weinstein, for example, supported Hillary Clinton in the 2016 election). "This disgraceful news about Harvey Weinstein has appalled those of us whose work he championed, and those whose good and worthy causes he supported," reads the statement.
Clearly, Streep is not here for any attempts to try to tie the sexual misconduct accusations against Weinstein to any of his political beliefs, and what's more, she's not letting the risk of having her own politics disparaged keep her quiet.
If you or someone you know has been sexually assaulted, call the National Sexual Assault Telephone Hotline at 800-656-HOPE (4673) or visit online.rainn.org.