Miami-Dade Mayor Promises ICE Won't Check Immigration Papers In Wake Of Irma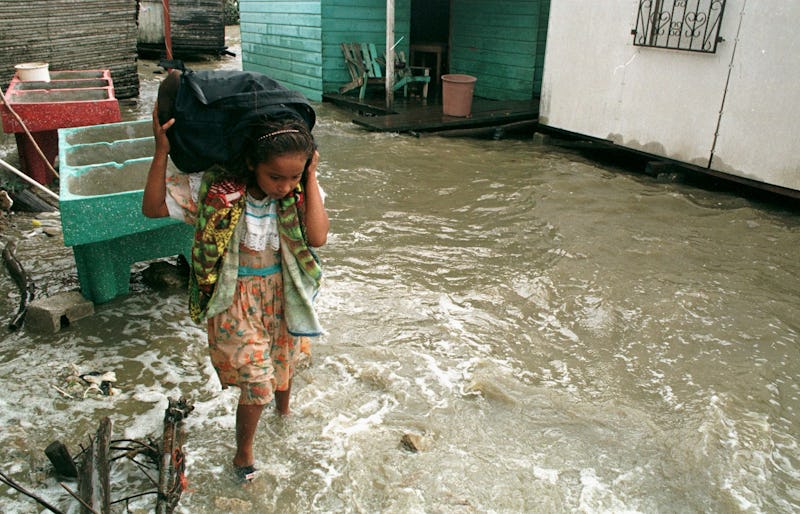 JORGE UZON/AFP/Getty Images
In the wake of Hurricane Irma, undocumented immigrants in search of shelter in Miami, Florida, have one less thing to worry about. In a statement to the media and public on Wednesday, Carlos Gimenez, the mayor of Miami-Dade, said that undocumented people in South Florida need not worry about deportation now that Hurricane Irma is potentially headed toward the Southern state. According to the Miami Herald, Gimenez said, "We don't ask anybody for their identification," and added, "Everybody who needs shelter in Miami-Dade County is welcome, and you should do so without any fear of any repercussions."
Gimenez's words must be a source of relief for undocumented men and women in South Florida as the state is tentatively in the path of the record-breaking and potentially catastrophic Hurricane Irma, which has stunned meteorologists over the past few days.
Irma has already decimated the small island of Barbuda according to official reports as well as a sobering statement from the island's prime minister Gaston Browne. It has also registered on seismometers in the Caribbean given its breathtaking power, and is followed by smaller yet significant hurricanes like the Category 1 Katia and Jose.
So, in other words, it is more than understandable that locals in Florida, whether they are citizens or undocumented people, are justifiably concerned for their well-being in the face of such an insanely powerful climate phenomenon.
Gimenez's statement isn't the first example of a public official prioritizing human safety over citizenship status. After Hurricane Harvey hit Texas and left thousands upon thousands without homes, toxic floodwater filling up the first and second floors of houses, and electricity outages, the city of Houston and the Federal Emergency Management Agency issued statements for undocumented people to come forward and seek shelter.
"U.S. Immigration and Customs Enforcement (ICE) and U.S. Customs and Border Protection (CBP) have stated that it is not conducting immigration enforcement at relief sites such as shelters or food banks," FEMA declared. To address rumors that city of Houston was seeking to capture undocumented immigrants, the official account for the city tweeted, "We will not ask for immigration status or papers from anyone at any shelter. This rumor is FALSE!"
According to the Miami Herald, Sen. Marco Rubio also asked the Department of Homeland Security to make a temporary change in its role during Hurricane Irma on Wednesday, which led to the agency declaring that it did not plan to conduct "non-criminal immigration enforcement operations in the affected area."