Michael Avenatti Was Reportedly Arrested On Domestic Violence Allegations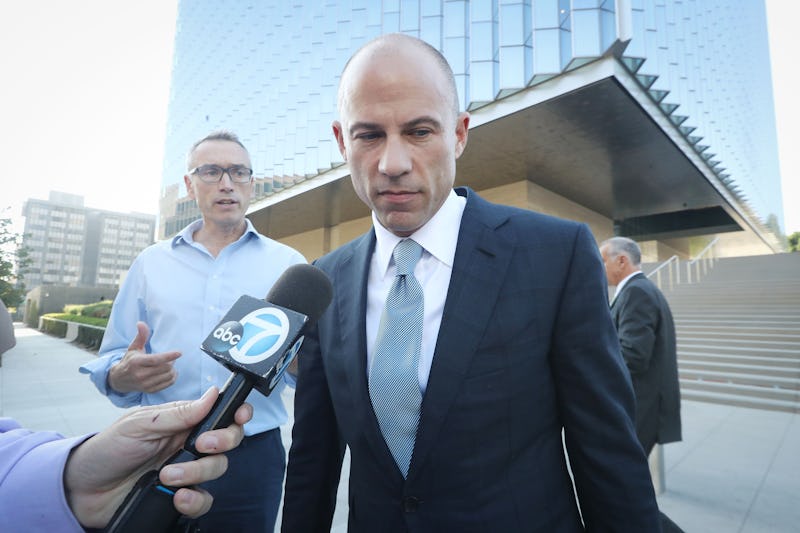 Mario Tama/Getty Images News/Getty Images
A law enforcement official told the Associated Press that lawyer Michael Avenatti has been arrested after domestic violence allegations were reportedly made against him. Avenatti drew national fame for representing Stormy Daniels in various lawsuits against President Trump. The Los Angeles Police Department confirmed later in the day that Avenatti has been arrested on suspicion of domestic violence.
Avenatti's law firm released a statement later in the day in which he called the allegations "completely bogus" and expressed confidence that his name will ultimately be cleared.
"I wish to thank the hard-working men and women of the LAPD for their professionalism," the statement said. "They were only doing their jobs in light of the completely bogus allegations against me. I have never been physically abusive in my life nor was I last night. Any accusations to the contrary are fabricated meant to do harm to my reputation. I look forward to being fully exonerated."
According to the Associated Press, the alleged incident took place on Tuesday night. Few other details have been reported so far, and neither the Associated Press, NBC News, nor BuzzFeed News — all of which have independently confirmed Avenatti's reported detention — are reporting that he's been charged with any crimes.
Avenatti and his wife, Lisa Storie-Avenatti, filed for divorce around a year ago, according to court records, and TMZ initially reported that it was Storie-Avenatti who made the domestic violence allegations against him. But her lawyer denied this, telling BuzzFeed News that "there has never been domestic violence in her relationship with Michael" and that Storie-Avenatti has "never known Michael to be physically violent toward anyone." TMZ later edited its article to remove references to Avenatti's wife.
Avenatti became a household name for his spirited defense of Daniels and, just as importantly, his hard-hitting attacks on Trump and Congressional Republicans. He has said that he's considering a 2020 presidential run.
Daniels says that she and Trump had an affair in 2006, and Avenatti represented her in several lawsuits she filed against the president regarding the alleged affair. Trump denies having had sex with Daniels, but his former lawyer Michael Cohen says that Trump, through Cohen, paid Daniels $130,000 in the last weeks of the 2016 election to remain silent about the alleged affair. Trump acknowledges that this payment was made and that he reimbursed Cohen for it but hasn't said what the payment was for.
Cohen pleaded guilty to felony campaign finance fraud as a result of that payment, and testified under oath in August that Trump personally directed him to make it. He is scheduled to be sentenced for his crimes in December.
Trump initially said that he had no knowledge of the Daniels payment, but his lawyer Rudy Giuliani later revealed in an interview that Trump reimbursed Cohen for it. Trump then confirmed this but claimed he didn't know about the payment until after the fact. However, the Wall Street Journal reported on Friday that Trump was intimately involved in the organization and facilitation of the Daniels payoff.