Michael Avenatti's Reaction To Cohen's Plea Puts The Focus On Stormy Daniels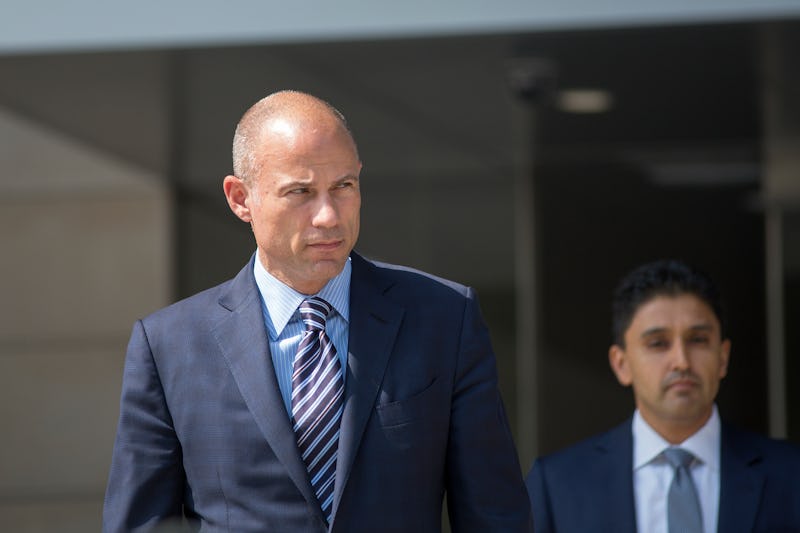 David McNew/Getty Images News/Getty Images
Donald Trump's former lawyer pled guilty to multiple counts of tax evasion, bank fraud, and campaign finance violations on Aug. 21. In response to the announcements, Michael Avenatti's reaction to Michael Cohen's plea aimed to praise Stormy Daniels' attitude thus far. Avenatti, Daniels' lawyer, appeared on MSNBC to talk about Cohen's guilty plea, years after Daniels was reportedly paid off by Cohen and Trump to keep quiet about her alleged affair. Trump has maintained that there was no affair.
Avenatti's point was clear: Cohen's guilty plea just made things a whole lot harder for Trump in the coming days. "Let me just say this," Avenatti said. "[Daniels] has been vindicated this afternoon. I have been vindicated based on what we have...and I applaud her courageousness and her fortitude in coming forward. I think a lot of this stems from her courage and what she was willing to come forward and do."
Avenatti then pointed out that one of the counts against Cohen pertained directly to Daniels, regarding a $130,000 payment that was reportedly made to her. Of Daniels' own case against the president, Avenatti said, "We're going to press forward as aggressively as possible."
Trump has consistently maintained that he did not have an affair with Daniels, and that he was not responsible for any threatening strategies. Trump's lawyer Rudy Giuliani has since claimed that the president reimbursed Cohen for the payment to Daniels, according to the New York Times.
Cohen stated in his guilty plea that he was directed to make hush-money payments "at the direction of the candidate for federal office," per Newsweek. What's more, Cohen explained that this payment to Daniels was "for the principal purpose of influencing the [2016] election."
Though Trump has not yet directly responded to Cohen's guilty plea, he did acknowledge the validity of the existence of the payment to Daniels in a handful of tweets on May 3. Through a series of three tweets, Trump's statement read,
Mr. Cohen, an attorney, received a monthly retainer, not from the campaign and having nothing to do with the campaign, from which he entered into, through reimbursement, a private contract between two parties, known as a non-disclosure agreement, or NDA. These agreements are......very common among celebrities and people of wealth. In this case it is in full force and effect and will be used in Arbitration for damages against Ms. Clifford (Daniels).
The agreement was used to stop the false and extortionist accusations made by her about an affair...despite already having signed a detailed letter admitting that there was no affair. Prior to its violation by Ms. Clifford and her attorney, this was a private agreement. Money from the campaign, or campaign contributions, played no roll in this transaction.
Now that Cohen has pleaded guilty, people are inevitably wondering what this will mean for Trump. Though Trump isn't directly named in the indictment, he's absolutely implicated, as CNN points out that the indictment references "Individual-1," who is later described to become president in January 2017. And given that Cohen now faces up to 65 years in prison, it's only natural that the next question is what will happen to the current president.
It's unclear what will happen, if anything, to Trump, as a result of this guilty plea, though The New York Times' William K. Rashbaum, Maggie Haberman, Ben Protess, and Jim Rutenberg have pointed out that Cohen's case might be "more problematic for the president than the investigation by special counsel Robert Mueller."
In the wake of Cohen's guilty plea, Giuliani issued a statement on behalf of Trump. "There is no allegation of any wrongdoing against the president in the government's charges against Mr. Cohen," he said, via The New York Times. "It is clear that, as the prosecutor noted, Mr. Cohen's actions reflect a pattern of lies and dishonesty over a significant period of time."