Michael B. Jordan Looked Into The Camera At The MTV Movie & TV Awards & Twitter Could Not Deal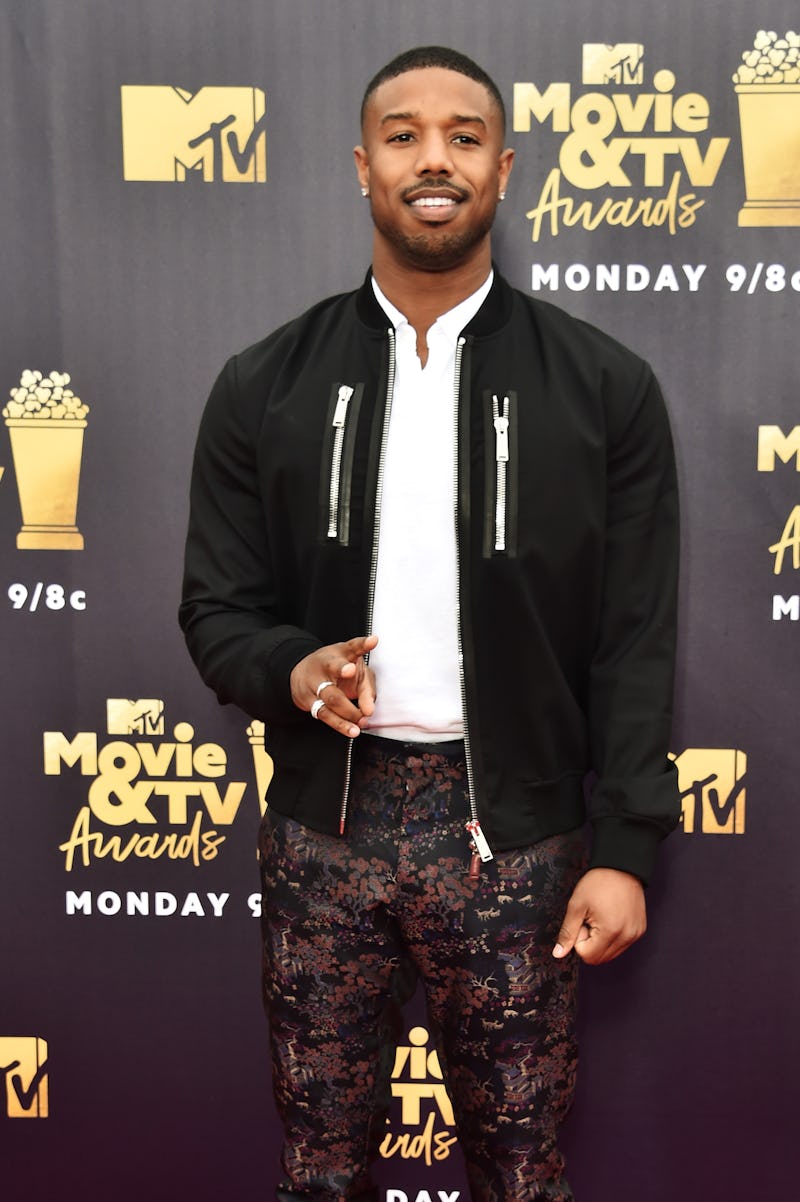 Alberto E. Rodriguez/Getty Images Entertainment/Getty Images
Black Panther star Michael B. Jordan's good looks and charm are well-documented, but when the actor broke the fourth wall at Monday night's awards show, Twitter simply could not deal. Jordan looked directly into the MTV Movie & TV Awards camera, and fans online went wild.
During her opening performance, a hilarious rendition of Cardi B's "Bodak Yellow", host Tiffany Haddish flirted with Jordan from the stage, saying to the actor, "you're so sexy you could probably look a girl in her eyes and get her pregnant right there on eyesight."
At that, Jordan looked straight into the camera and held its gaze. Haddish then said, "Look into my eyes Michael, look into my eyes!" before she then, emulating Cardi B herself, sprung an inflatable baby bump. "Y'all just witnessed the first immaculate conception and pregnancy reveal all at the same time," Haddish said, before her belly unceremoniously deflated. "Oh, sh*t, that was gas," she explained, disappointedly looking down at her stomach.
However, it wasn't Haddish's miraculous insta-pregnancy that caught fans' attention online. No, more people were still reeling from meeting Jordan's eyes, even if it was through the TV, and they only collected themselves just long enough to share their reactions on Twitter.
@merieKK wrote, "Michael B. Jordan just got me pregnant with his eyes," while @itszinnn said, "Tiffany said 'You could get a girl pregnant just by looking at them' to Michael B. Jordan & he looked dead into the camera while I was looking at the tv & we made digital eye contact. You know what that means".
@luvdiva247 also tweeted, "Who else besides me and @TiffanyHaddish pregnant. Gud Lawd! Those eyes! Yaaaaas!! @Michaelb4Jordan" and @Jessraeswiat1 said, "She was right tho @michaelb4jordan just got me pregnant with his eyes," along with some heart-eye and heart emojis.
Jordan, who played Black Panther antagonist Erik Killmonger, won Best Villain at the ceremony, and the film lead the charge in the movie categories overall, with seven nominations total. The Marvel movie is one of the most successful films of the year so far, and it's no surprise that a sequel is on the way. Marvel Studios president Kevin Feige confirmed the news back in March, telling Entertainment Weekly,
"Nothing specific to reveal [about the sequel], other than to say we absolutely will do that. One of the favorite pastimes at Marvel Studios is sitting around on a Part One and talking and dreaming about what we would do in a Part Two. There have been plenty of those conversations as we were putting together the first Black Panther. We have ideas and a pretty solid direction on where we want to head with the second one."
However, it is still uncertain whether or not Jordan's character will return for the second movie, as Killmonger is (spoiler alert) presumed dead at the end of the first film. After attempting to steal the throne from T'Challa (played by Chadwick Boseman), Killmonger challenges the hero to a fight, and gets badly injured. He accepts defeat and even comes to appreciate the king, but after the watch the sunset together, Killmonger opts to kill himself rather than be captured.
However, in the MCU anything can happen — as evidenced by the slew of jaw-dropping, heartwrenching deaths in Avengers: Infinity War — and while it seems unlikely, it's possible that Jordan's character could show up in the next film. If the reactions on Twitter to those few seconds of uninterrupted eye contact with the actor were any indication, it seems that viewers would be more than happy to have Killmonger back in Wakanda in any way possible.