Michael B. Jordan's Birthday Message For Naomi Osaka Will Definitely Make You Swoon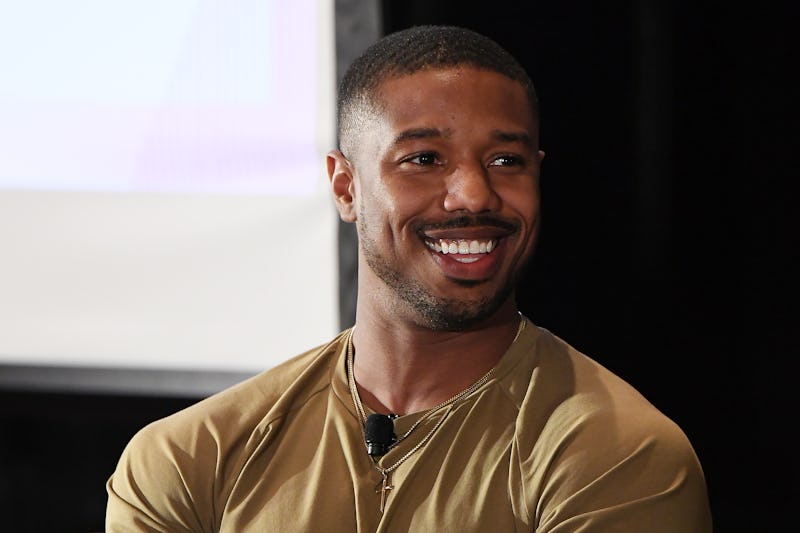 Paras Griffin/Getty Images Entertainment/Getty Images
Naomi Osaka is certainly having the best year ever. On Tuesday Oct. 16, the US Open champion turned 21, and things couldn't have gotten off to a better start with Michael B Jordan sharing a shirtless selfie in honor of Osaka's birthday. Although the 31-year-old actor's bare-chested snapshot appeared to come as an unsolicited gift to Osaka – prompted by none other than Ellen DeGeneres – commenters on Twitter proved to be very much into the whole thing.
The photo sharing moment kicked-off with a hilarious post from DeGeneres, who took to social media to offer her well wishes for the tennis star's big day, sharing: "Happy birthday, @Naomi_Osaka_," on Twitter along with a shirtless picture of Michael B. Jordan from his movie Creed. The talk show host added, "I got you a present. @michaelb4jordan."
Upon catching wind of DeGeneres' post, Osaka jokingly replied, "pls block me." Jordan then jumped into the fold the very next day sharing, yet another, shirtless photo on Twitter with the message:
"This one is better and more recent. LOL Happy Belated Bday Naomi. But seriously I want to invite you to the Creed 2 premiere as a bday present."
DeGeneres was quick to take credit for the moment, responding: "You're welcome, Naomi."
Osaka has yet to reply, leaving it immediately unclear whether or not she will join Jordan when his movie debuts in theaters on Nov. 21.
The world is certainly Osaka's oyster after becoming a tennis champ at the tender age of 20, and ultimately capturing the attention of the entire nation – including Michael B. Jordan. That said, the entire internet seems to be totally on board with the idea of Osaka and Jordan becoming a "thing" with many taking to Twitter to express their thoughts on the subject.
Back on Sept. 12, Osaka shyly revealed that Jordan was her celebrity crush during an appearance on The Ellen DeGeneres Show, prompting DeGeneres to play matchmaker by texting Jordan a selfie while trying to set them up on a date. Completely embarrassed, Osaka begged DeGeneres to drop the subject, but her pleas went unanswered with TV host responding, "I'm just trying to help." DeGeneres continued to press the issue as Osaka replied: "You're stressing me out. I'm too young to be stressed out like this."
Despite the awkward moment, things ultimately worked in Osaka's favor because Jordan later responded in a video that totally made hearts melt. In the clip, which was posted to the @TheEllenShow Twitter account on Sept. 12, Jordan said:
"I wanted to send my love and support and just say congratulations... The way you carry yourself with such humility and grace, it's really amazing to see."
In closing, the Black Panther star told Osaka, "Keep being great. Everybody's watching now... me too."
Osaka rose to major national attention after becoming the first Japanese-born person to win the U.S. Open when she defeated 23-time Grand Slam champion Serena Williams on Sept. 8. And now that she's officially on everyone's radar – there's definitely no stopping her.