Michael Cohen Urged People To Vote In The Midterms To Stop "This Craziness"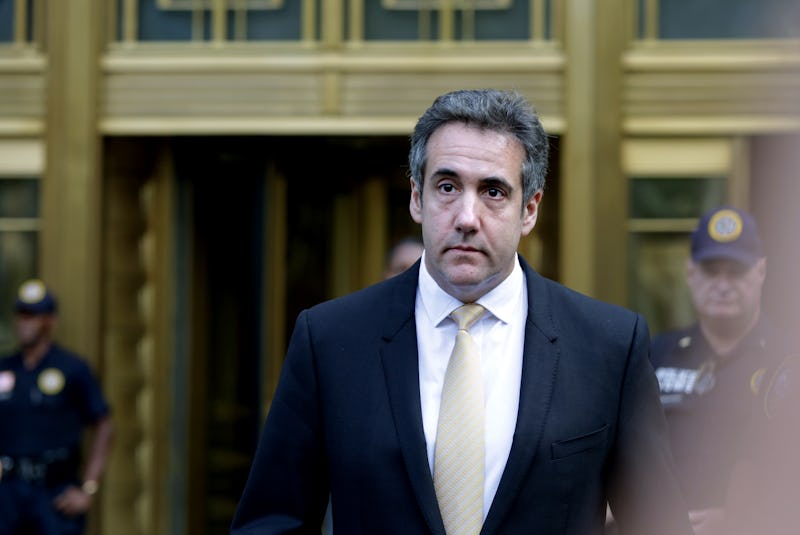 Yana Paskova/Getty Images News/Getty Images
The former deputy finance chair of the Republican National Committee (RNC) wants people to get out and vote — Democrat, that is. President Donald Trump's former personal lawyer and one-time RNC deputy finance chair, Michael Cohen, urged people to vote in November, claiming we'd have another two to six years of "this craziness" if they didn't.
"Listen, here's my recommendation. Grab your family, grab your friends, grab your neighbors, and get to the poll, because if not, you are going to have another two or another six years of this craziness," Cohen said while speaking to CNN outside his home in New York City on Friday. "So, make sure you vote, all right?"
Earlier this month, Cohen's lawyer announced that Cohen had changed his voter registration from Republican back to Democrat, claiming it was "another step in his journey" of "putting family and country first" and "distancing himself from the values of the current Admin."
While speaking to CNN on Friday, Cohen confirmed his recent return to the Democratic Party and said he'd only left to support Trump. "I've been Democrat pretty much my whole entire life," he said. "I switched because of the request from the RNC — couldn't be the vice chair of the RNC and be a Democrat."
But this isn't exactly the first time Cohen has spoken out about the importance of turning up at the polls in November. Earlier this week, he tweeted that this year's midterm elections "might be the most important vote in our lifetime," urging his Twitter followers to "#GetOutAndVote" and "#VoteNovember6th."
Cohen's attorney, Lanny Davis, has echoed his client's message regarding the midterms. "No one knows better than @michaelcohen212 why the midterm stakes are so important to #America's future as he is the holder of truth about @realdonaldtrump," he tweeted Sunday.
While Cohen once claimed he was so loyal to Trump that he'd "take a bullet" for him, recent legal troubles — and no apparent support from the president — have caused him to change his tune. In an interview with Good Morning America over the summer, Cohen said his loyalty now lays first with his family and his country.
In August, Cohen pleaded guilty to campaign finance violations, telling the judge a federal candidate for office had directed him to break election laws governing campaign contributions. In a statement released after Cohen had made his plea in court, Davis elaborated that it was Trump who'd directed his client to violate the law.
"Today he stood up and testified under oath that Donald Trump directed him to commit a crime by making payments to two women for the principal purpose of influencing an election," Davis said of Cohen. "If those payments were a crime for Michael Cohen, then why wouldn't they be a crime for Donald Trump?" Bustle has reached out to the White House for comment.
Along with pleading guilty to two campaign finance violations, Cohen also plead guilty to five counts of tax evasion, and one count of making a false statement to a bank, according to The Washington Post. He could face a prison sentence of 46 to 63 months.