Michael Cohen's Hush Money Is Reportedly Connected To Trump, New Court Filing Says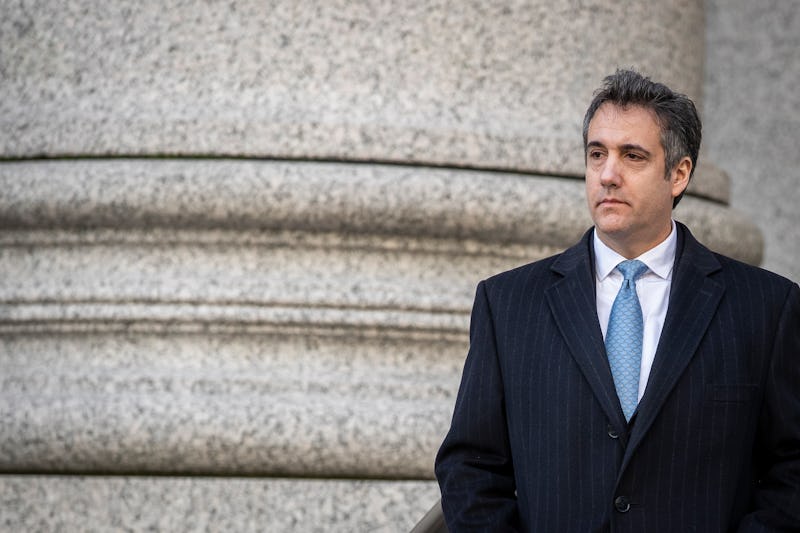 Drew Angerer/Getty Images News/Getty Images
According to a new court filing on Friday, Michael Cohen's hush money payments may be linked to President Trump, whom Cohen formerly represented as an attorney. The filing is a sentencing recommendation from the prosecutors in the U.S. District Court Southern District of New York. In the filing, prosecutors write about the August 2014 meeting between Cohen, "Individual-1" (Trump), and "Chairman-1," who the Washington Post identified as The National Enquirer publisher David Pecker. Bustle reached out to Pecker for comment.
"In August 2014, Chairman-1 had met with Cohen and Individual-1, and had offered to help deal with negative stories about Individual-1's relationships with women by identifying such stories so that they could be purchased and 'killed,'" according to the memo. You can read the whole filing here, via The Washington Post. "Consistent with that offer, after Editor-1 told Chairman-1 about Woman-1's story, they contacted Cohen to tell him about the offer."
The filing went on to state that on Aug. 5, 2016, "Corporation-1" agreed to buy the "limited life rights" for a woman's story about an affair with Trump for $150,000, the promise of two magazine covers, and an agreement to publish "over one hundred magazine articles" by the woman. "The agreement's principal purpose was to suppress Woman-1's story so as to prevent the story from influencing the election," the memo said.
The New York Times reported that Woman-1 is former Playboy model Karen McDougal, who is reported to have had an affair with Trump in 2006. Details of the affair were reported by the New Yorker in February. "This is an old story that is just more fake news. The President says he never had a relationship with McDougal," a White House spokesperson told the magazine. In April, McDougal was released from a nondisclosure agreement that prevented her from talking about her alleged affair with the president, according to The New York Times.
In August, Cohen pled guilty to eight counts, including "tax evasion, making false statements to a federally-insured bank, and campaign finance violations," according to the Justice Department. In November, Cohen pled guilty to lying to Congress, according to The New York Times. (USA Today has a comprehensive timeline of Cohen's legal dealings.)
On Dec. 1, Cohen and his attorneys filed their own sentencing recommendation memo, asking for leniency and no prison time. "This case has caused deep and lasting strain for Michael and his family," the memo read, according to ABC News. "They have been subjected to daily public scrutiny and moral opprobrium in a media cauldron of exceptional heat and intensity."
In the filing that suggested the hush money payments may be linked to Trump, prosecutors pushed back on the idea that Cohen has been substantially helpful.
"Taken alone, these are each serious crimes worthy of meaningful punishment. Taken together, these offenses reveal a man who knowingly sought to undermine core institutions of our democracy. His motivation to do so was not borne from naiveté, carelessness, misplaced loyalty, or political ideology," said the memo from the prosecutors of the Southern District of New York. "Rather, these were knowing and calculated acts – acts Cohen executed in order to profit personally, build his own power, and enhance his level of influence."
The New York Times reported that Cohen is expected to be sentenced next week.