The Guilty Plea From Trump's Longtime Personal Lawyer Raises Questions For POTUS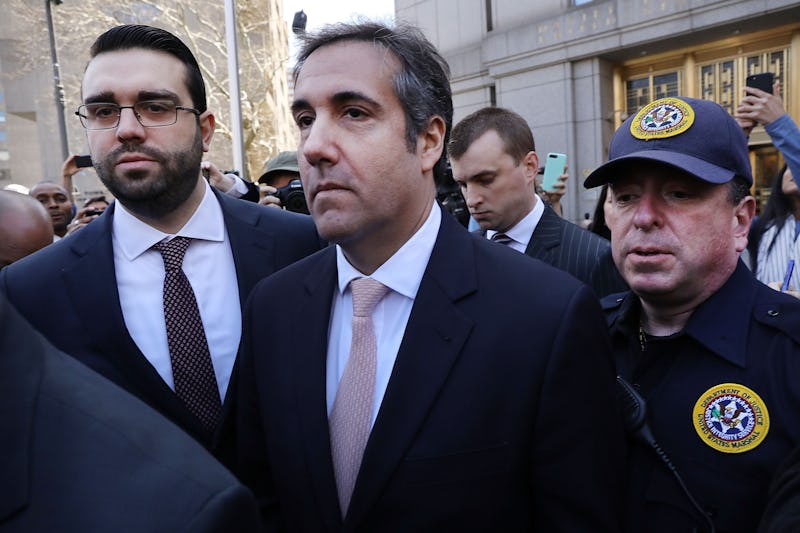 Spencer Platt/Getty Images News/Getty Images
Months after having his office raided by the FBI, President Trump's former personal attorney Michael Cohen has reached a plea deal with federal prosecutors. Cohen pled guilty to bank fraud, tax evasion and campaign finance violations in federal court in Manhattan on Wednesday. It's too soon to say exactly what Cohen's plea deal means for Trump — but several of Cohen's guilty pleas will likely directly concern the president.
According to Bloomberg, Cohen told the federal judge that he was directed to violate campaign finance law by "a candidate" for federal office. He went on to say that this candidate told him to pay somebody else $130,000 in hush money "for the principal purpose of influencing the election," and that the candidate later repaid Cohen.
Cohen didn't name the candidate in question. However, he has previously said that he paid adult film star Stormy Daniels $130,000 in October 2016 so she would stay quiet about about an affair that she allegedly had with Trump 10 years earlier. (Trump denies this affair.) Trump, in financial disclosure forms, has acknowledged that he reimbursed Cohen between $100,001 and $250,000 for an unspecified purpose in 2017.
The U.S. Attorney for the Southern District of New York has been investigating Cohen since at least April, and the initial reports that he was discussing a plea deal immediately raised a huge question: Would Cohen, as part of his plea deal, agree to cooperate with federal investigators — that is, provide them with information about Trump?
The answer is now: According to the Wall Street Journal, Cohen's plea does allow him to cooperate with federal investigators, but it doesn't require him to do so.
To be clear, Trump has not been charged with any crimes. But he is being investigated by special counsel Robert Mueller, reportedly for possible collusion and obstruction of justice. That's an entirely separate investigation from the one that centered on Cohen, but there is some crossover: The raid on Cohen's office began with a referral from Mueller, and Cohen pled guilty to campaign finance violations that, though they didn't mention his name, sure seem to center on Trump.
But according to multiple news outlets, Cohen's plea deal was not a "cooperation deal," and as such, it didn't require him to give prosecutors any information about Trump.
The fact that Cohen didn't reach a cooperation deal does not, in and of itself, mean that he is refusing to cooperate with prosecutors. It could mean, as some have pointed out, that prosecutors have determined that Cohen has nothing of value to offer them. Additionally, the plea deal Cohen struck doesn't preclude him from cooperating with prosecutors further down the line.
Ultimately, though, it's too soon to say how or whether Cohen's plea will affect Trump, at least from a legal standpoint.
Cohen was released on $500,000 bail, and will be sentenced December 12th. One source told CNN that he's pressing for a maximum of three years prison time, but that prosecutors are pushing for up to 50 months.
Cohen wasn't the only Trump associate to become a convicted felon on Wednesday. Within an hour of Cohen's guilty plea, former Trump campaign manager Paul Manafort was convicted of eight charges of bank and tax fraud, and now faces up to 80 years in prison.