Michael Cohen Just Deleted This Part Of His Twitter Bio & It's Impossible To Ignore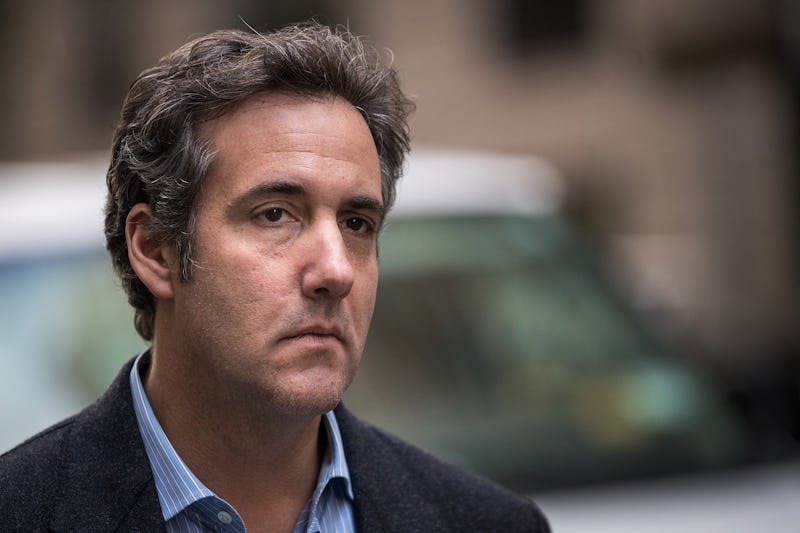 Drew Angerer/Getty Images News/Getty Images
President Trump and his embattled former attorney appear to be drifting apart: As of July 4th, Michael Cohen's Twitter bio doesn't reference Trump at all anymore. While Cohen used to identify himself on the social media service as "Personal attorney to President Donald J. Trump," his bio is now completely blank.
The contents of the Twitter bio of a lawyer who used to represent the president may seem insignificant. But the change comes amidst reports that Cohen, who facilitated a $130,000 payment from Trump to adult film star Stormy Daniels during the campaign, has become increasingly isolated and distant from his former boss, which could potentially affect the ongoing federal investigation of Trump and his campaign.
The Daily Beast reported Tuesday that Trump and Cohen are no longer on speaking terms, and that Cohen "fears being discarded entirely" by the president. Cohen, whose office was raided by the FBI in April, has reportedly become afraid of serving jail time, and according to the Beast, some people in Trump's circle fear Cohen may turn on the president and cooperate with federal investigators. It's still unclear what crimes Cohen believes he hypothetically could go to jail for, or what damaging information about Trump he might hypothetically have that federal investigators would be interested in.
Nevertheless, Trump and Cohen's relationship appears to be very different than it was even a year ago. In September 2017, Cohen proclaimed Vanity Fair that he would "take a bullet" for the president; in a Monday interview with ABC News, however, he said he prioritizes both his family and the country over Trump.
"My wife, my daughter and my son have my first loyalty and always will," Cohen told George Stephanopoulos. "I put family and country first." When Stephanopoulos asked Cohen about the prospect of "having to choose between protecting the president and protecting your family," Cohen reiterated that his family is his "first priority." Stephanopoulos said in his report that Cohen didn't once mention Trump during the interview.
During that same interview, Cohen refused to criticize Special Counsel Robert Mueller's investigation into the president, condemned Russian interference in the 2016 election and said that he doesn't like the term "witch hunt" — which, of course, is one of Trump's go-to terms for describing Mueller's investigation. Cohen even had kind words for the FBI, and praised the law enforcement officers who raided his office in April for conducting themselves professionally.
"I don't agree with those who demonize or vilify the FBI. I respect the FBI as an institution, as well as their agents," Cohen told ABC News. "When they searched my hotel room and my home, it was obviously upsetting to me and my family. Nonetheless, the agents were respectful, courteous and professional. I thanked them for their service and as they left, we shook hands."
Some have theorized that Cohen and Trump have found themselves in what game theorists call a Prisoner's Dilemma — a situation wherein two individuals in peril have the ability to collectively exonerate each other, but due to lack of trust and lack of communication between them, risk hurting one another instead. The New Yorker's Adam Davidson suggested this is what's playing out with Cohen and Trump, although it's hard to say with any certainty given how little is known about what incriminating information, if any, the two men have on each other.
Cohen is just one of several attorneys to leave the president's legal team in recent months, although he appears to be the only one to have done so after falling under criminal investigation. Trump is now being represented by former New York City Mayor Rudy Giuliani, who said in June that he doesn't care if Cohen cooperates with federal officials because "the President did nothing wrong."