Melania Trump Apparently Doesn't Turn To Michelle Obama For Advice On Her FLOTUS Role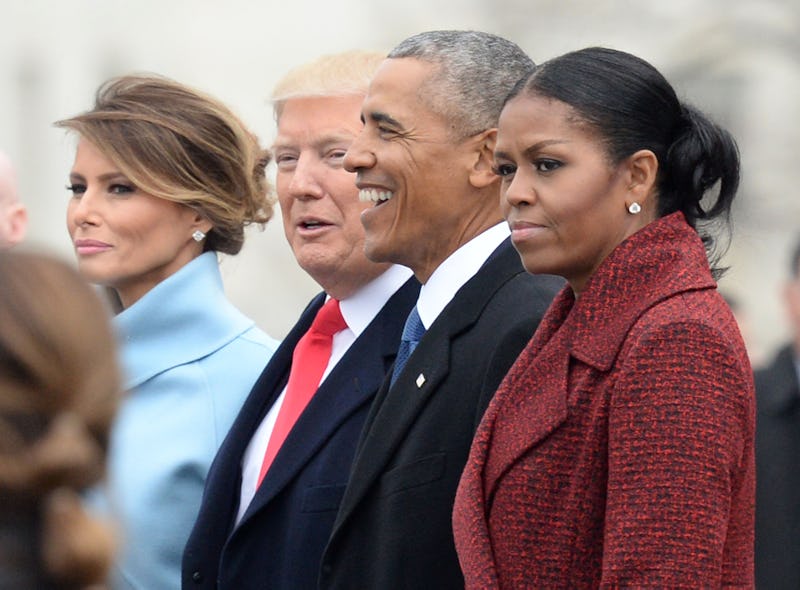 Pool/Getty Images News/Getty Images
The most recent former FLOTUS recently revealed in an interview with ABC's Robin Roberts that when she first stepped into her new role in the White House, her predecessor offered to be a listening ear in the interest of smoothing the transition. But although she said she extended the same courtesy several years later, Michelle Obama said Melania Trump didn't call for advice. Trump did meet with former first lady Barbara Bush, however, according to CNN.
"Mrs. Trump is a strong and independent woman who has been navigating her role as First Lady in her own way," FLOTUS' spokesperson Stephanie Grisham told CNN. "When she needs advice on any issue, she seeks it from her professional team within the White House."
In the interview with ABC, Obama told Roberts that Bush had reached out to her after the 2008 election, making herself available if Obama ever needed to talk. "You wrote about how you extended that same courtesy to Melania Trump," Roberts said during the interview. "Has she reached out to you and asked for any help?"
"No," Obama said. "She hasn't."
Bustle has reached out to Trump's spokesperson for comment.
Although they reportedly haven't spoken recently, the Obama and Trump aren't total strangers to each other. The pair did meet back in 2016, according to The Washington Examiner. At the time, Obama hosted Trump for tea and a White House residence tour while their husbands met separately after election day.
Obama has made headlines over the last several days, during the lead-up to and subsequent coverage of her interview with ABC. Namely, this is because she was freshly candid in her book, Becoming, about her thoughts regarding the 2016 presidential election, its results, and what it was like during the changing of the guard. (Becoming will be released on Tuesday, Nov. 13.)
"I said what I continue to say: Being the commander-in-chief is a hard job. And you need to have discipline and you need to read and you need to be knowledgeable," Obama said. "You need to know history. You need to be careful with your words. But voters make those decisions. And once the voters have spoken, you know, we live with what we live with."
Additionally, she reflected on what it was like during the 2008 election, before her husband ultimately won the presidency. Specifically, she admit that some of the things people said about her during the campaign did hurt her feelings, according to a public transcript of the interview.
"People called me Barack's baby mama, you know?" she told Roberts. "Accused me of not loving my country. You know, told me I was angry. You know, it was the first time I really experienced someone taking my voice and ballin' it up and distorting it. And I was, like, 'This isn't me. Wait, wait, people. This isn't who I am.'"
Though Obama and Trump never appeared to be particularly close outside of their limited public appearances together, that Obama offered to make herself available to Trump was new information for some people. Only time will tell whether or not the two will develop any communication.