Here's How Michelle Obama Described Her Experience At Trump's Inauguration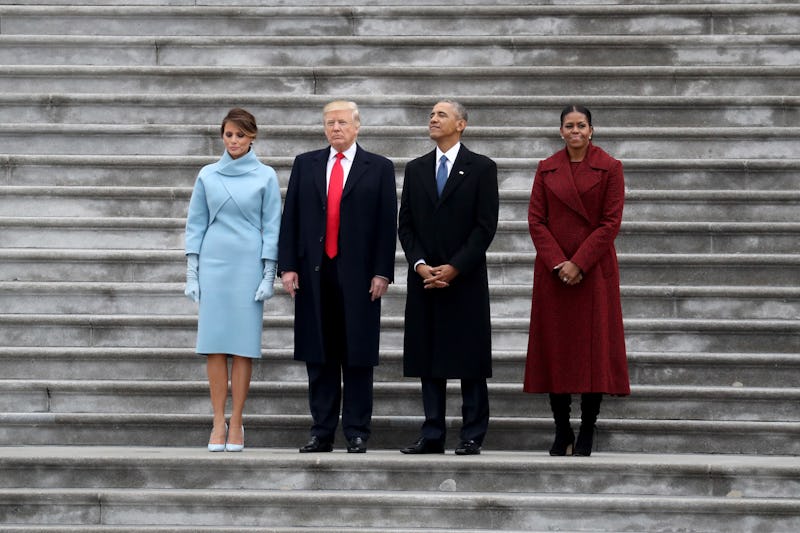 Rob Carr/Getty Images News/Getty Images
Former fist lady Michelle Obama has been making the rounds, giving interviews in advance of the release of her book Becoming. She's shared personal details of her time in the White House — and before. Now, as her book is released Tuesday, some of her thoughts about Trump are out, too. Michelle Obama writes she "stopped even trying to smile" in a passage about Trump's inauguration, according to ABC News.
The passage from the book was read by Obama in a piece for Good Morning America:
Someone from Barack's administration might have said that the optics there were bad, that what the public saw didn't reflect the President's reality or ideals, but in this case, maybe it did. Realizing it, I made my own optic adjustment. I stopped even trying to smile.
This was after the Obamas made a point to welcome the Trumps into the White House and go to the inauguration together. According to The Guardian, Obama writes that it was an attempt to finish their time in power with "grace and dignity" — "with both [their] ideals and [their] composure intact."
But Obama adds that she quickly noticed differences from her husband's two inaugurations. "The vibrant diversity of the two previous inaugurations was gone, replaced by what felt like a dispiriting uniformity, the kind of overwhelmingly white and male tableau I'd encountered so many times in my life — especially in the more privileged spaces, the various corridors of power I'd somehow found my way into since leaving my childhood home," Obama writes.
This was not the only mention of Trump in the book, but unlike Hillary Clinton's latest book, Obama did not share why she thought President Donald Trump won the 2016 elections. "I am not a political person, so I'm not going to attempt to offer an analysis of the results," Obama writes, according to The Guardian. "I won't try to speculate about who was responsible or what was unfair."
That doesn't mean that she's happy with what happened. "I just wish more people had turned out to vote," Obama writes in another passage quoted by The Guardian. "And I will always wonder about what led so many women, in particular, to reject an exceptionally qualified female candidate and instead choose a misogynist as their president. But the result was now ours to live with."
Obama's feelings that came out on Inauguration Day were nothing new. She writes about how she first heard he was elected. Obama was in the White House theater with Barack watching a movie. His phone buzzed, she writes in another passage quoted by The Guardian. "I saw him glance at it and then look again, his brow furrowing just slightly. 'Huh,' he said. 'Results in Florida are looking kind of strange.'"
When Barack's phone buzzed again, Obama writes her heart started to "tick faster." "I watched my husband's face closely, not sure I was ready to hear what he was going to say. Whatever it was, it didn't look good. I felt something leaden take hold in my stomach just then, my anxiety hardening into dread."
She went to bed instead of staying up to watch results. "I wanted to not know that fact for as long as I possibly could," Obama writes.
For more insights into Obama's life — particularly her time at the White House — read Becoming, available in bookstores Tuesday.