Michelle Obama Just Showed Up To The Grammys In A Sequin Pantsuit & OMG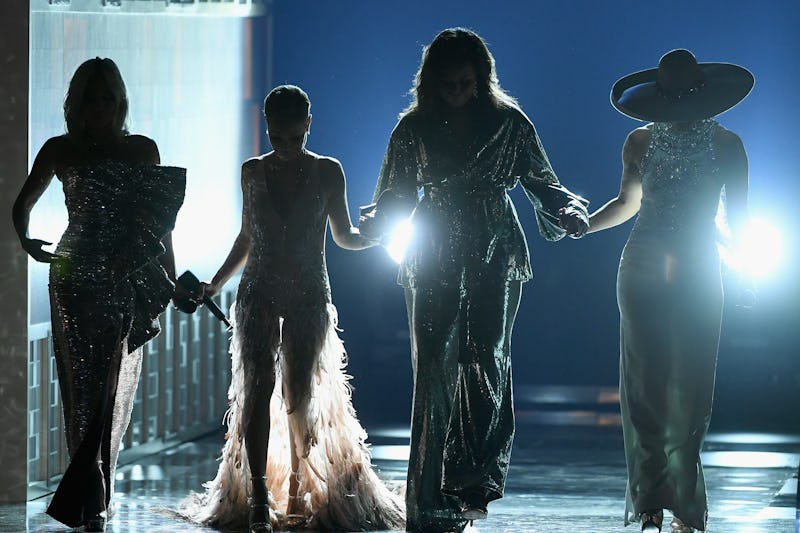 Kevin Winter/Getty Images Entertainment/Getty Images
Music's biggest night is in full swing, and none other than former First Lady Michelle Obama just took the Grammys stage — alongside host Alicia Keys, Jada Pinkett-Smith, and Lady Gaga — in a silvery, wide-leg pantsuit looking like a dream.
While on stage, Obama was met with a standing ovation from the surprised crowd and spoke about her love of Motown music and the influence it has had on her life as a Chicago native.
"From the Motown records I wore out on the South Side to the 'Who Run the World' songs that fueled me through this last decade, music has always helped me tell my story, and I know that's true for everybody here," the author said while standing on the iconic stage.
"Whether we like country or rap or rock, music helps us share ourselves, our dignity and sorrows, our hopes and joys," she continued. "It allows us to hear one another, to invite each other in. Music shows us that all of it matters — every story within every voice, every note within every song. Is that right ladies?"
Shortly after her appearance, Obama took to Instagram to share a photo of herself with the other stars who opened up the show — making it clear that she was there to support women musicians, and cheer on Keys during her big night.
"For me, a big part of friendship is showing up for your girls — whether that's for a birthday, a quick catch-up after work, or a major milestone," Obama captioned the photo. "So I was thrilled to be there for the one and only @aliciakeys at the #GRAMMYs. She is one of the most genuine, caring, and thoughtful people I know — there's no one better to help us all celebrate the unifying power of music!"
Fans watching at home were also quick to share their excitement about Obama's appearance via Twitter, with Grown-ish star Luka Sabbat even calling for the mother-of-two to take home an award herself.
But while this may have been Obama's first time attending the Grammys, according to Elle, she's certainly not new to the music scene.
Back in 2016, the then first lady teamed up with stars like Zendaya, Kelly Clarkson, Missy Elliot, Kelly Rowland, and Lea Michele to release the track "This Is For My Girls," for her #62MillionGirls campaign — an initiative launched to help girls around the globe receive an education.
Music aside, this isn't the first time we've seen Obama rock a chic, glittery look. Back in December, the role model out-shoed Carrie Bradshaw herself, AKA Sarah Jessica Parker, when she wore $3,900 shimmering, thigh-high Balenciaga boots on-stage during her book tour for Becoming. However, during the talk, she did mention that while she was still in the White House, she made a point to wear a diverse array of designers.
"I did know that my clothes were making a statement, I knew that was the case," she said, according to Page Six. "So we decided, 'Why don't we use this platform to uplift some young new designers who normally wouldn't get this kind of attention,' because you can change their lives," she said. "Which is one of the reasons why we chose Jason Wu for my inaugural gown."
Can't wait to see what she will be wearing for her next appearance!