Michelle Obama's Surprising Advice For Meghan Markle Actually Makes So Much Sense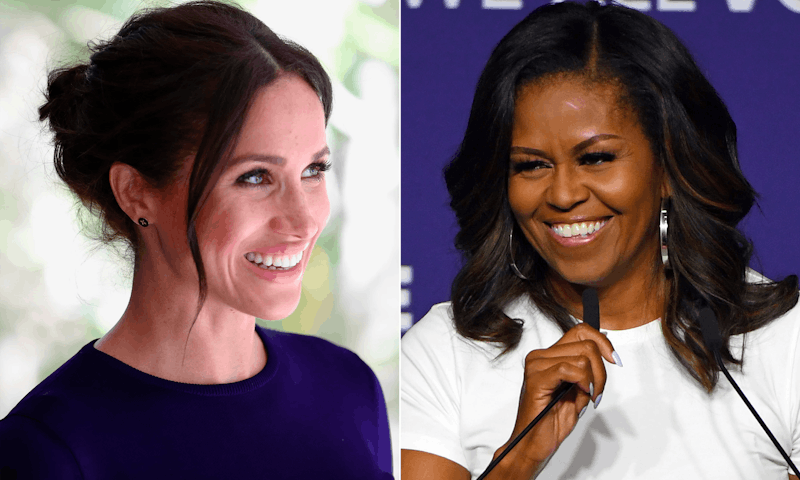 Pool/Ethan Miller/Getty Images Entertainment/Getty Images News/Getty Images
As a former First Lady, it's no surprise that Michelle Obama has a lot of advice to give when it comes to living a life in the spotlight. While the role of First Lady and Duchess may seem poles apart, Michelle Obama's advice to Meghan Markle on being comfortable and confident in her newly appointed role is totally on point. In a recent interview with Good Housekeeping, Obama mentioned the pressures of dealing with worldwide attention and scrutiny after being given such an esteemed title. While I'm sure Obama has had the chance to give this advice to Markle in person — it's no secret that the Obama's are pretty close with the Duke and Duchess of Sussex — it's refreshing to hear the advice from the former First Lady herself.
"Like me, Meghan probably never dreamt that she'd live a life like this, and the pressure you feel — from yourself and others — can sometimes feel like a lot," she told the magazine. "So my biggest piece of advice would be to take some time and don't be in a hurry to do anything."
She continued: "I spent the first few months in the White House mainly worrying about my daughters, making sure they were off to a good start at school and making new friends before I launched into any more ambitious work. I think it's okay — it's good, even — to do that."
"What I'd say is that there's so much opportunity to do good with a platform like that — and I think Meghan can maximise her impact for others, as well as her own happiness, if she's doing something that resonates with her personally," Obama explained.
In a way, Markle is already doing just that. While the Duchess has already published a charity cookbook to support survivors of the Grenfell fire, and embarked on her first royal tour with Prince Harry, Markle is also pregnant with her first child. Even though she is still attending royal events, this is totally a point in her role as Duchess where she should feel able to take some time out for herself.
Because TBH, it's all down to what Markle feels comfortable with, and I know that personally if I felt like I could still do work while I was pregnant, I would go ahead and do it. And as Obama pointed out, women today are pushing boundaries, and choice is the most important part of the equation.
"In many ways, things are harder for young women today. But what's inspiring to me is that so many of the young women I've met are triumphing in incredible ways. Unlike my generation, they're not as held back by the societal belief that girls and boys can't do the same thing," Obama explained.
"They're charging forwards in sports and maths and science and technology. They're speaking up and speaking out, not just in classrooms but in the public arena at a young age. I find great hope in this generation of young women."
I also find great comfort in knowing that there are women like Obama and Markle out in the world absolutely smashing it on their own terms.