Michelle Williams & Her Husband Split Earlier This Year, According To New Reports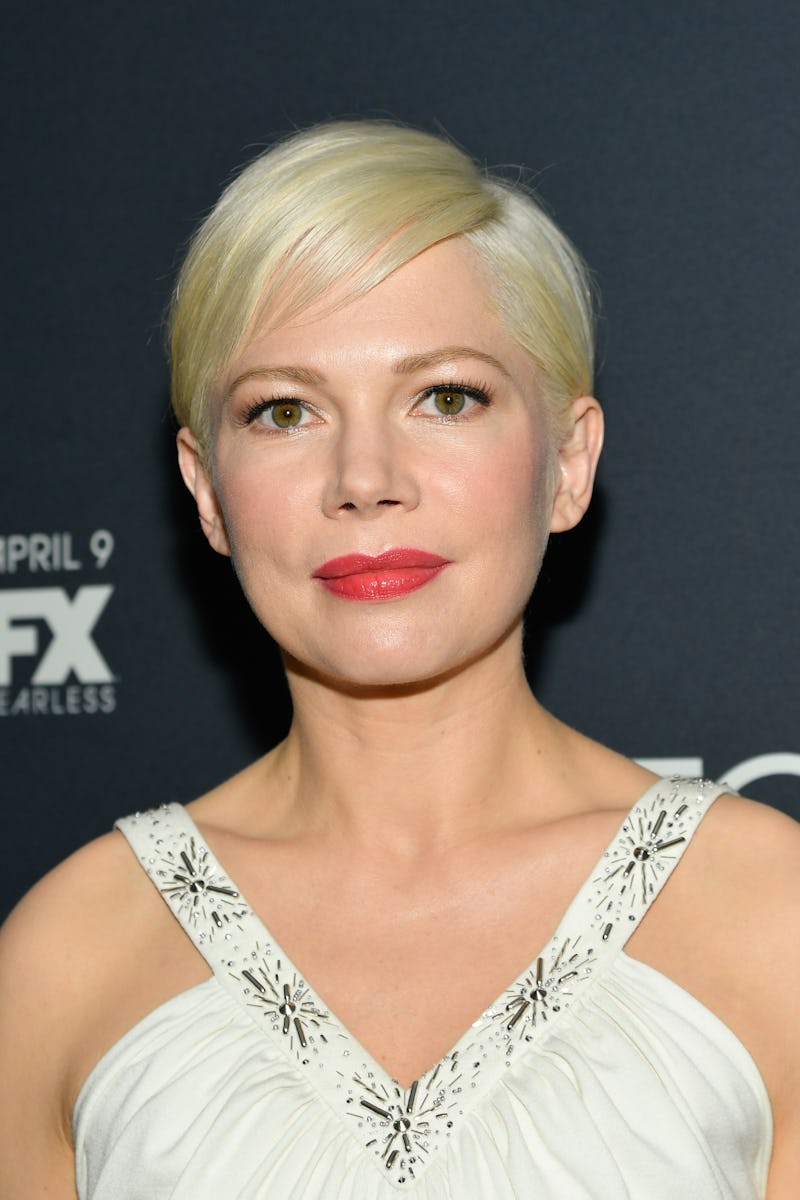 Mike Coppola/Getty Images Entertainment/Getty Images
After less than a year of marriage, Michelle Williams and Phil Elverum have separated, according to new reports on Friday, April 19. An unnamed source confirmed the news to People, saying that it was an "amicable split" for the pair. Later on Friday, Bustle confirmed the reports as well.
"Michelle and Phil separated at the beginning of the year. It was an amicable spilt and they remain friends," a source told People. E! News also reported on the news, while also mentioning that Williams hadn't worn a wedding ring in public lately.
As fans will recall, Williams and Elverum got married in secret last year in the Adirondack Mountains. Their exact wedding date isn't known, but the four-time Oscar nominee shared the news during a Vanity Fair interview published in July 2018. Elverum — an indie musician who's performed under aliases Microphones and Mount Eerie — moved in with Williams in Brooklyn in July, Vanity Fair reported last year. During her conversation with the magazine, Williams called her relationship with Elverum "very sacred and very special."
"Obviously I've never once in my life talked about a relationship, but Phil isn't anyone else. And that's worth something," Williams told VF at the time. "Ultimately the way he loves me is the way I want to live my life on the whole. I work to be free inside of the moment. I parent to let Matilda feel free to be herself, and I am finally loved by someone who makes me feel free."
As Vanity Fair noted at the time, Williams and Elverum had a shared experience with past tragedy. Elverum's first wife, Geneviève Castrée, died in 2016 after battling cancer; their daughter was just 18 months old at the time. Likewise, Williams' daughter Matilda's dad is the late Heath Ledger, who died in 2008.
"I never gave up on love," Williams said to Vanity Fair last year, addressing Ledger's death and how she talks about him with her daughter. "I always say to Matilda, 'Your dad loved me before anybody thought I was talented, or pretty, or had nice clothes.'"
During that rare interview, the actor shared that she'd decided to talk about her relationship in case it helped other people who were dealing with similar life events. "I don't really want to talk about any of it," Williams told the magazine. "But there's that tease, that lure, that's like, What if this helps somebody? What if somebody who has always journeyed in this way, who has struggled as much as I struggled, and looked as much as I looked, finds something that helps them?"
The Fosse/Verdon actor also shared her own advice on relationships during that same interview. "Don't settle. Don't settle for something that feels like a prison, or is hard, or hurts you," Williams said to Vanity Fair. "If it doesn't feel like love, it's not love."
Even after the separation news, there's one person who will still always be in Williams' life. In a 2016 interview with People, Williams called her Dawson's Creek costar Busy Philipps "the love of my life." And whatever else happens, she'll always have her BFF by her side.
Editor's Note: This story has been updated from the previous version to include Bustle's confirmation.