Michelle Williams Secretly Got Married & Here's What You Need To Know About Her Husband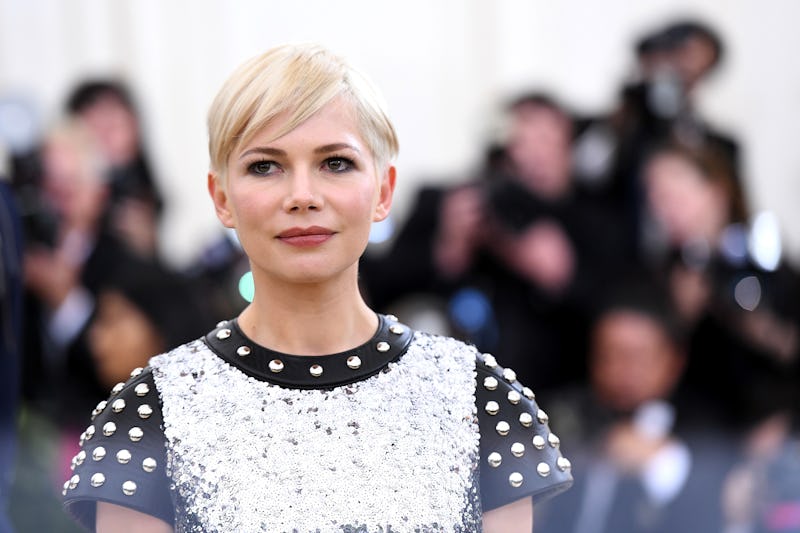 Noam Galai/Getty Images Entertainment/Getty Images
Congratulations are in order for actor Michelle Williams. In a new interview with Vanity Fair released on Thursday, Williams revealed she secretly got married to Phil Elverum. If you're wondering who Elverum is, Williams' new husband is also involved in the entertainment industry — specifically, he's an indie musician and singer-songwriter.
If that moniker still isn't ringing any bells, maybe one of his stage names would to indie music fans. According to Vanity Fair, he went by Microphones from 1996 until 2004. After that point, he went by Mount Eerie. And just to make matters even more confusing, "Elverum" isn't the only way that he spells his surname. In a May 2018 interview with Pitchfork, he shared why he has gone by "Elvrum" and "Elverum"
Before getting to that explanation, he revealed that he used to live in Norway. He revealed, "It started because when I spent that winter in Norway — it's a Norwegian name, there's a town in Norway called Elverum, with the extra 'e' — so I started spelling it that way there, just to avoid having to explain."
The "extra" letter "e" is not something that he left behind when he moved out of Norway. He told Pitchfork, "And then I thought, 'Hey that looks cool, I'm just going to keep writing it like that.' Kurt Cobain used to spell his name all kinds of crazy ways, so why not?" Fair enough.
The 40-year-old singer-songwriter is from a small town in Washington called Anacortes, where he lived until July 2018 when he moved to Brooklyn, New York to live his now-wife. That move makes a lot of sense, but this secret marriage is still pretty surprising since almost no one knew they were even together.
One person who was probably in the know is Busy Phillipps, Williams' longtime best friend and former Dawson's Creek costar. On March 24, Philipps shared a photo on Instagram from March For Our Lives in Los Angeles, California. It makes sense that Philipps was in the picture with her husband Marc Silverstein and their two children, but Elverum was in the photo as well.
Did Williams actually take this photo? Did Philipps and her husband play matchmaker? There are just so many questions. Another Vanity Fair interview reveals that Williams and Elverum met through a "mutual friend," but this person's name was never actually mentioned.
In that same Vanity Fair interview, Williams said, "Obviously I've never once in my life talked about a relationship." So why is this different? She probably could have kept their private wedding and relationship under the radar even longer. The actor explained, "but Phil isn't anyone else. And that's worth something. Ultimately the way he loves me is the way I want to live my life on the whole. I work to be free inside of the moment."
She also mentioned her daughter Matilda's influence on her willingness to open up about a romantic relationship for the first time. Williams shared, "I parent to let Matilda feel free to be herself, and I am finally loved by someone who makes me feel free."
She admitted, "I don't really want to talk about any of it," but she did have the bigger picture in mind when she chose to finally discuss her love life in an interview. She explained to VF, "But there's that tease, that lure, that's like, What if this helps somebody? What if somebody who has always journeyed in this way, who has struggled as much as I struggled, and looked as much as I looked, finds something that helps them?"
When Williams mentions her "struggle," it is something that her longtime fans are very much aware of. On Jan. 22, 2008, actor Heath Ledger, the father of Williams' daughter Matilda, passed away. Matilda was only 2 years old when this happened.
Being a single parent as the result of tragedy is something that Williams and her husband have in common. The Vanity Fair article revealed that Elverum got married to artist/musician Geneviève Castrée in 2003. Unfortunately, she was diagnosed with Stage IV pancreatic cancer only four months after their daughter Agathe was born in 2015. Castrée lost her battle with the illness and passed away in 2016. It would make sense that the two of them bonded after sharing such similar, yet unique experience.
The only aspect of her personal life that Williams typically shares is that she doesn't want to share any aspects of her personal life. With that said, it is not surprising that she had been very quiet about her relationship with Elverum and their marriage. Both of them tend to be more private, so don't expect many (or any) updates, but their fans should just be happy that they found each other.