Mike Pence Lawyers Up As Investigators Circle The White House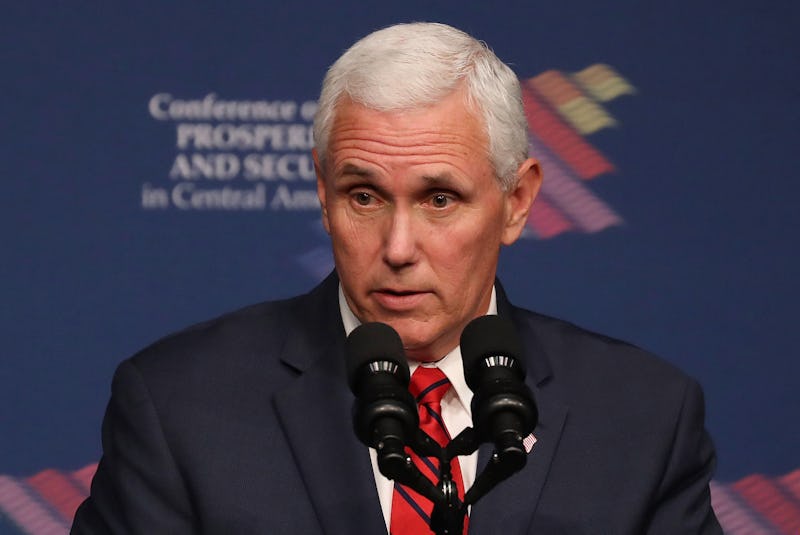 Joe Raedle/Getty Images News/Getty Images
On Thursday, The New York Times reported that Vice President Mike Pence has hired criminal defense attorney Richard Cullen to counsel him through the investigations involving the administration. The news comes comes days after The Washington Post reported that special counsel Robert Mueller was investigating President Trump for obstruction of justice.
Pence's attorney Cullen has a long history of representing people proximate to some of the biggest political scandals in Washington. Back in the 1980s, Cullen represented Paul S. Trible Jr., a Republican senator on the Senate Intelligence Committee who became a staunch critic and questioner of the Reagan administration during the Iran-Contra scandal.
And before that, in the 1970s, he represented Representative M. Caldwell Butler, a Virginia Republican who became central to the GOP's intra-party scrutiny of the Nixon administration and the Watergate scandal. In neither of these cases was Cullen representing somebody accused or potentially implicated in wrongdoing, to be clear ― to the contrary, he represented people who were applying pressure on people within the administration.
Perhaps the most prominent example of him defending a politician directly accused of wrongdoing was when Cullen defended former House Majority Leader Tom DeLay over corruption allegations stemming from the Jack Abramoff lobbying scandal.
He's also taken cases that have nothing to do with politics, to be clear, and served as U.S. Attorney for the Eastern District of Virginia under former president George H.W. Bush. But given the current backdrop of the Trump-Russia investigation and the incredibly high profile of his newest client, this figures to be the biggest job of his professional life.
A steady stream of leaks has highlighted Trump's own potential legal peril as the subject of an ongoing investigation. While the vice president himself hasn't been named in any of the reports about the ongoing probe, he did make several statements in the aftermath of the firing of former FBI director James Comey that were subsequently shown to be false, or directly contradicted by Trump himself.
The mere fact that Pence has hired a criminal defense attorney is not an indication that he's in trouble in and of itself. Given the wide latitude that Mueller reportedly has in the investigation ― covering not just Russia's potential collusion with the Trump campaign during the 2016 election, but obstruction of justice and potential financial crimes too ― for anyone playing a central role in this administration, it's probably the smartest move moving forward.