Why Mila Kunis Won't Act With Ashton Kutcher Anymore Is Totally Understandable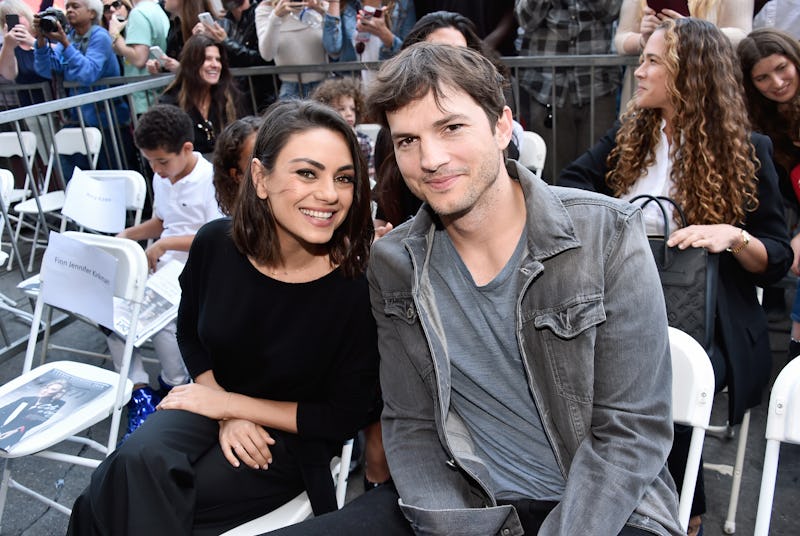 Alberto E. Rodriguez/Getty Images Entertainment/Getty Images
Their off-screen love story was made in That 70's Show heaven. Sadly, fans of the now-married stars — who played Jackie and Kelso back in the day — will be bummed to hear the news that Mila Kunis and Ashton Kutcher won't act together anymore any time soon, according to a yet-to-be aired interview with Kunis on Sunday Today With Willie Geist (as reported by E!).
Before you start freaking out, though, it has nothing with their experience on That 70's Show. Not the way Kunis tells it, at least. When Geist asked the mom of two if she and Kutcher had plans to make a movie together, Kunis immediately shook her head and said it's "probably not going to happen." *slams on breaks* Wait, what? Why not?
Geist seemed a bit shocked with her answer as well, so Kunis did her best to explain. She told the host,
"In a scene with him I was like 'Oh I see you acting.' Like I can catch it ... and he looked at me and was like 'What's that face you make?' And I was like 'We can't do this. We can't be together in a scene.' You can catch each other on like the weird shtick, so to speak."
Ohhh, okay, okay. That kind of makes sense. It seems like what Kunis was trying to say is that, now that they're married, it's hard for her to see him as someone playing a character. She can only see him as her husband now. Like, it's hard for them to step outside of themselves when the other person is around. They know each other as husband and wife way too well. Sounds awkward.
To be fair, Kunis and Kutcher's love story has pretty much played out like a real-life rom com — so why bother filming a made-up one on screen? During an interview on The Howard Stern Show in 2016, Kunis told Stern that their relationship started off like a scene from two very familiar — and similar — movies. "We, oddly, both did a movie called — I did Friends With Benefits, he did a movie called No Strings Attached," she recalled.
Kunis continued,
"If we just paid attention to these movies, we should know that sh*t like this does not work out in real life. Well, we clearly didn't pay attention. We shook hands, we're like, 'Let's just have fun!' I mean, literally we lived out our movies. We literally just had a very open conversation."
Clearly, whatever they did after that handshake worked, because the couple has been happily married since July 2015. They welcome their first child, Wyatt, a few months later, and their son, Dimitri, was born the following year in November 2016.
So, while some fans' dreams of seeing Kunis and Kutcher act together on screen might be squashed for now, who knows what will happen in the future? Besides, you can always watch old episodes of That 70's Show, and rest easy knowing that Jackie and Kelso were totally meant to be.