Miley Cyrus Gave The Weird Denim Trend A Try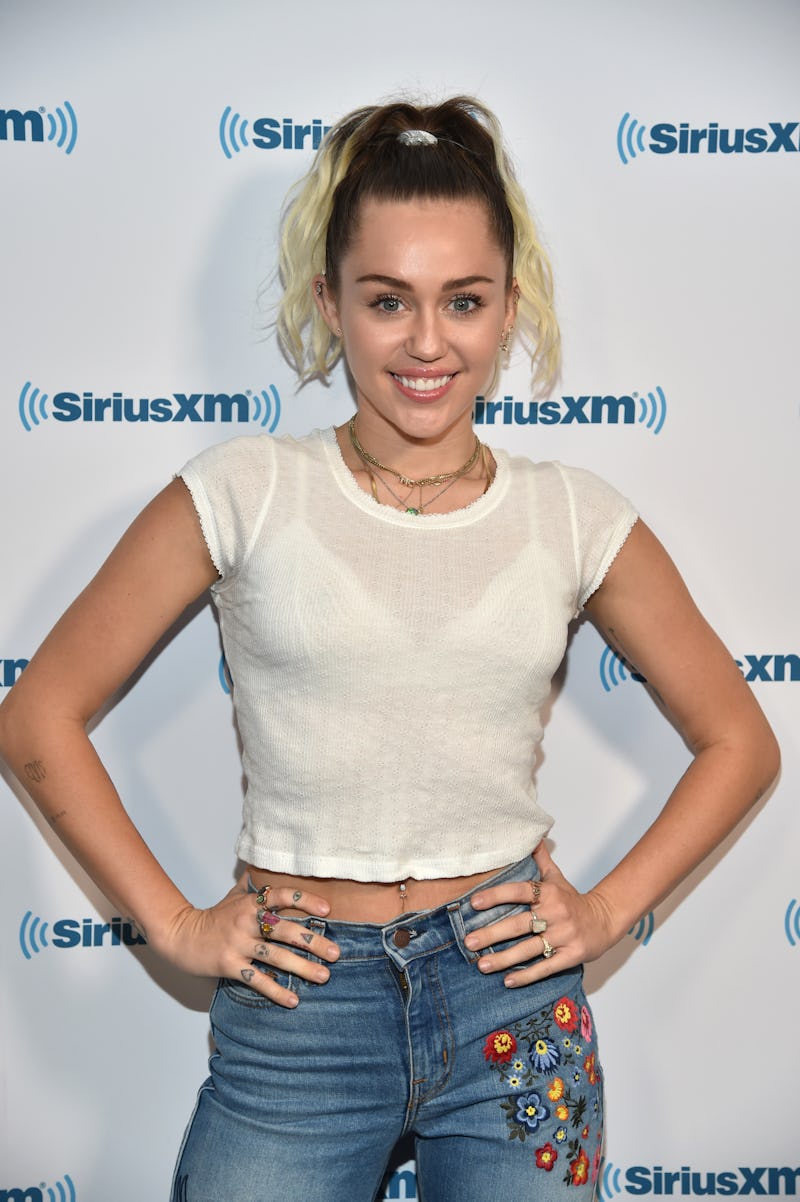 Frazer Harrison/Getty Images Entertainment/Getty Images
This singer may be the queen of having a style that's uniquely her own, but that doesn't mean she's not paying attention to what's trending. Her latest outfit will prove it. Miley Cyrus embraced the weird denim trend while rocking a very unusual mini skirt, but I gotta say — if anyone could pull this off, it'd most definitely be her.
While promoting her first solo single to be released in nearly two years, Cyrus stepped out in a jean jacket and skirt combo. A simple denim on denim outfit would be plenty trendy, but she took it a step further. The skirt had a layer of tulle along the bottom hem, and had a very tutu-esque feel. So, I'd say this falls into the category of "weird denim" that's been seen everywhere as of late.
Cyrus isn't the only celeb to have a thing for odd jean combinations, either. Kendall Jenner wore jean shorts that had attached ankle straps (I'm serious!), and Khloé Kardashian's Good American brand created pieces that allow you to sport fishnets and denim, all in one garment. So, she's definitely not alone in her efforts to keep these strange wares alive, but hey, if you're going to wear it — wear it well, right?
And she did indeed wear it well.
The look practically screams "Miley," honestly.
The overall ensemble (bag included) is girly, trendy, modern and channeling her southern roots all at the same time.
Cyrus' look may not compare to some of the outlandish styles we've been seeing lately, but it's still not your classic denim, you know what I mean?
She's been into putting a twist on classic jeans lately. This embroidered pair had a very '70s vibe.
MOTO Tulle Under Denim Skirt, $65, Topshop
You can find similar versions to Cyrus' mini online. This skirt has tulle underneath, which is...interesting, to say the least.
Tulle-Trimmed Denim Mini Skirt, $995, Barneys New York
Shopping what appears to be the exact same piece Cyrus wore might cost you a pretty penny, but it's available online, too.
Fans online seem to be into this look, so could Cyrus have just inspired folks to try the quirky denim trend for themselves?
Of all the strange jeans out there at the moment, this certainly wouldn't be the worst one to copy! So, if you're up for it — go on and unleash your inner Miley.