Miley Cyrus & Liam Hemsworth Donated $500,000 To Wildfire Recovery After Losing Their Home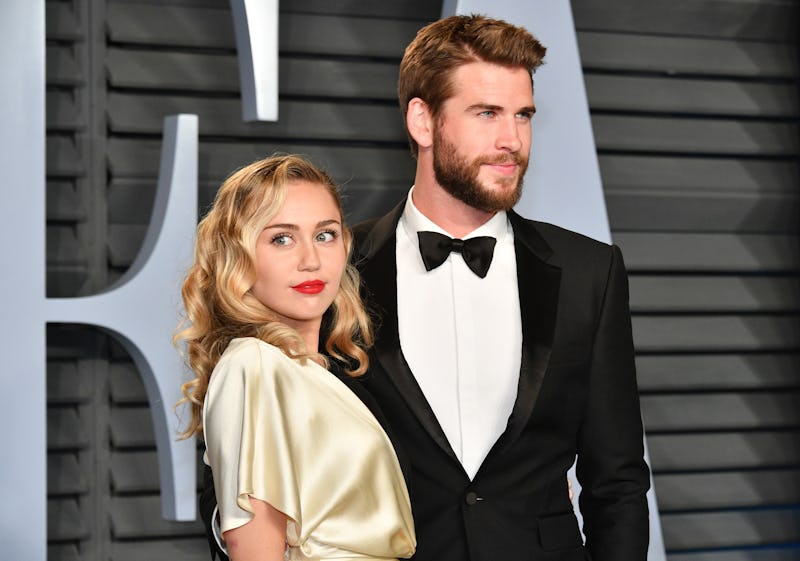 Dia Dipasupil/Getty Images Entertainment/Getty Images
California's wildfires are continuing to devastate Malibu homes. Miley Cyrus and Liam Hemsworth were two of the fire's victims who lost their house to the wreckage. Despite their loss, the couple is still looking out for those less fortunate. Hemsworth and Cyrus donated $500,000 to wildfire recovery, leaving the money to The Malibu Foundation through Cyrus' Happy Hippie Foundation, according to CNN.
Hemsworth shared a photo of what was left of their house on Tuesday, and it looks like most of their home has been reduced to rubble. In his tweet, the Hunger Games actor wrote that it had "been a heartbreaking few days" for them. But even as he announced that his home was gone, Hemsworth also shared information about The Malibu Foundation so that his fans could help others affected by the fires.
The Malibu Foundation, where he and Cyrus made their donation, provides relief services to local residents affected by the fires, according to its website. The site also credits Cyrus, Hemsworth, and the Happy Hippie Foundation for helping found the organization.
California's wildfires have affected tens of thousands of people, with as many as 250,000 people being evacuated from their homes, ABC 7 reported. Some of those people have since returned to their homes, the outlet noted, and the fire is now 47 percent contained. But the Woolsey Fire, which started last Thursday, is still one of the worst wildfires in Los Angeles County's history, according to ABC 7. And at least two people have died as a result of the flames.
Even in their own time of grief, Hemsworth and Cyrus seem to recognize that they are still better off than some of their Malibu neighbors. Hemsworth also tweeted that "Malibu is a strong community," and he thanked the local firefighters who helped him and other California residents.
The "Younger Now" singer, meanwhile, went as far as to tweet that she is "one of the lucky ones," even though she and Hemsworth lost their home. Cyrus tweeted on Monday,
"Completely devestated [sic] by the fires affecting my community. I am one of the lucky ones. My animals and LOVE OF MY LIFE made it out safely & that's all that matters right now. My house no longer stands but the memories shared with family & friends stand strong."
Cyrus also tweeted out a list of relief organizations where fans can donate to help those affected by the fires.
Hemsworth and Cyrus aren't the only high-profile people who've lost their homes in the recent fires. Robin Thicke's Malibu house burned down, as did Neil Young and Gerard Butler's homes. Some historic Hollywood sites, including the set of M*A*S*H, were also destroyed in the fires, according to The Hollywood Reporter.
Even though they've lost their house, Cyrus and Hemsworth are doing their best to stay positive about the situation. They still have each other and their pets, as well as a support network of family and friends. And while they'll have to do plenty of rebuilding in the coming months, they're still looking out for their neighbors, too.