Miley Cyrus' New Song & Album Title Tie Into A Theme That Is On Brand For Her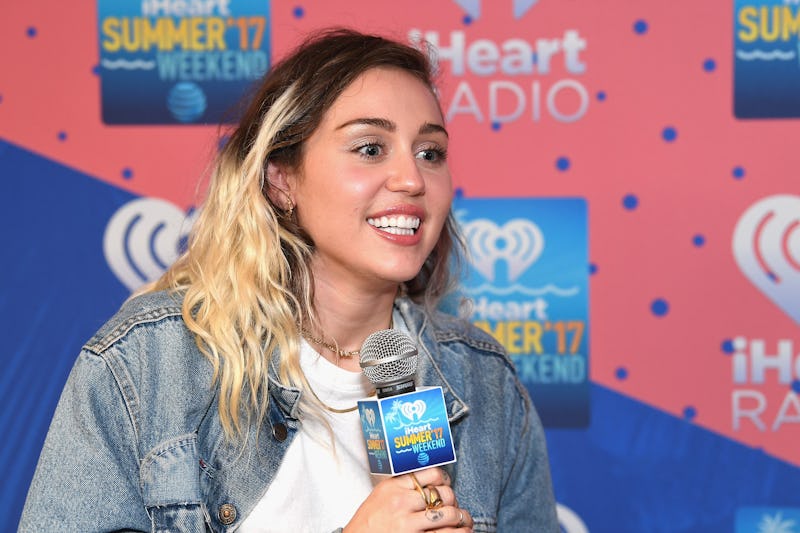 Rob Foldy/Getty Images Entertainment/Getty Images
With her new album due to drop on September 29, Miley Cyrus' "Younger Now" song and album title prove that the 24-year-old singer is at least trying to get better with time. The song, which is the second single from the similarly titled album, looks back on the evolution of the her persona and artistic direction over the years and where she is now. It seems to be Cyrus' intention to steadily morph into a better version of herself, suggesting that the notion of change and getting older is a thing that we should all accept and look forward to in life.
The lyrics of her latest single detail how she's learned to embrace the changes that she continues to make, while at the same time not failing to acknowledge her past experiences. In terms of the new album's theme, Cyrus told Billboard, "I'm ­giving the world a hug and saying, 'Hey, look. We're good — I love you.'" From that, we should also perhaps expect that the project will have a bit of a political undertone, given the toxic nature of today's social climate.
As the release date draws near, it has become more and more apparent that the reinvention of Miley Cyrus is, once again, upon us. With this new album it seems that the multi-talented star will continue to challenge herself while attempting to push into new levels of artistry. And while this won't be the first change we've see from her, it's apparent that her personal growth is something she intends to continue sharing with the world.
With just over a decade of experience in the entertainment industry, Cyrus has changed vastly since her days appearing in Disney's Hannah Montana. Fans have watched her style transform, both musically and aesthetically, while she's continued to command the media's attention for her eccentric transitions — some of which were incredibly and understandably controversial.
Her latest metamorphosis so far seems to be welcomed by the many followers who flocked to YouTube to watch the "Younger Now" video, helping it to garner over 1.9 million views in the hours since its release on Friday, August 18. It goes without saying that Cyrus has accomplished quite a bit in her 24 years — including the ability to recreate herself over and over again.