An Official Miley Cyrus & Shawn Mendes Collab Is Probably On The Way, So Get Excited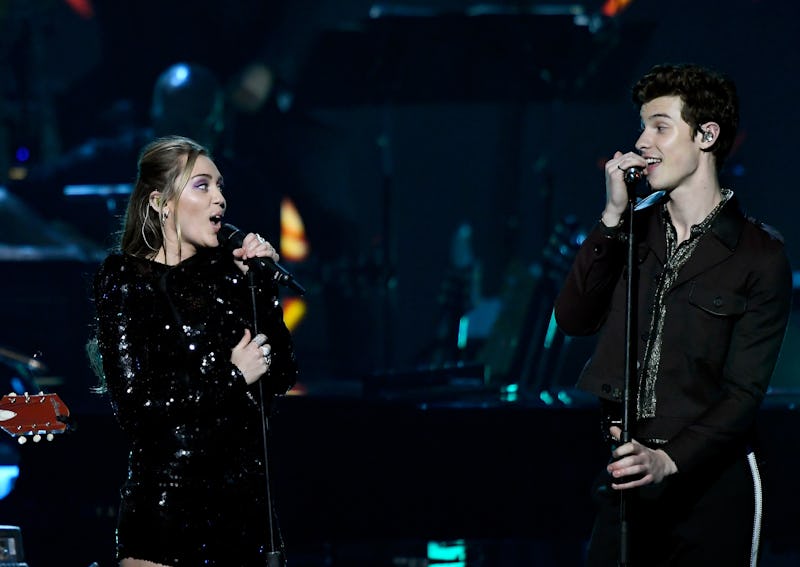 Kevork Djansezian/Getty Images Entertainment/Getty Images
Is an artistic collaboration between Miley Cyrus and Shawn Mendes headed to the top of the pop charts in the future? During an interview with Entertainment Tonight at the 2019 Grammy Awards — where they later went on to perform together — Mendes teased that he and Cyrus are working on a collaboration, joking to interviewer Zane Lowe that he has a "terrible poker face" when it comes to hiding a new project from fans.
Lowe asked on the red carpet if Mendes and Cyrus would be "committing this relationship to more than just the stage," referencing the pair's duet early on in the show. The "Nothing Breaks Like a Heart" singer thrilled fans by joining Mendes for his performance of "In My Blood," and the two cemented their friendship with an adorable hug after the song ended.
"I guess we'll just have to wait and see," Mendes responded to ET's question, but Lowe noticed that the singer couldn't keep from smiling while answering. "That's the worst poker face I've ever seen," the radio host said, laughing, while Mendes explained, "I never said I had a good poker face and I never will."
Still, the "In My Blood" singer couldn't help but gush about Cyrus, telling Lowe, "She just lets it all out. She doesn't hold anything back, and it's fully in music, you can see when she starts to sing that her eyes just switch on. She's just in bliss." He continued, "When you sing with someone who does that you also fall into it, and it's just a dream to sing with her."
The pair had already shown that they had musical chemistry at the MusiCares gala earlier in the weekend, when they performed "Islands in the Stream" as part of a tribute to the Recording Academy's Person of the Year, Dolly Parton.
And the feeling of love is mutual, as Cyrus told Variety at Friday night's gala that she actually reached out to Mendes in order to ask him to perform with her as part of the Parton tribute. "I actually sent him a DM and said I don't know what you're trying to do next because I've actually been in his position in his career too," Cyrus explained.
"Where you're someone who I think is trying to fit into pop music and you want to be played on pop music but you don't want to be conformist and you want to do your own thing," she continued. "I love the way that he always kind of plays alternative pop because it's something that I love to do."
Cyrus had teased the pair's performance — and growing friendship — earlier in the week, when she shared photo of herself rehearsing with Mendes ahead of the MusiCares performance.
She also joked to Extra about her love of the singer, revealing that "I know I am married, but I get crazy when I see a photo of Shawn, too." Still fans of Cyrus and her new husband Liam Hemsworth need not worry: "He's not a hall pass — I just get to look," Cyrus explained. "I don't need to touch, I just look."
Despite Cyrus' jokes about having a crush on Mendes, the pair's frequent performances prove that these two definitely make beautiful music together — and if they wanted to record and release that music, well, something tells us that fans everywhere would be thrilled to hear it. Maybe they can even perform their collaboration again at next year's Grammy Awards.