This Parody Book Turns Famous Vines Into Inspirational Poems & It's Shady In The Best Way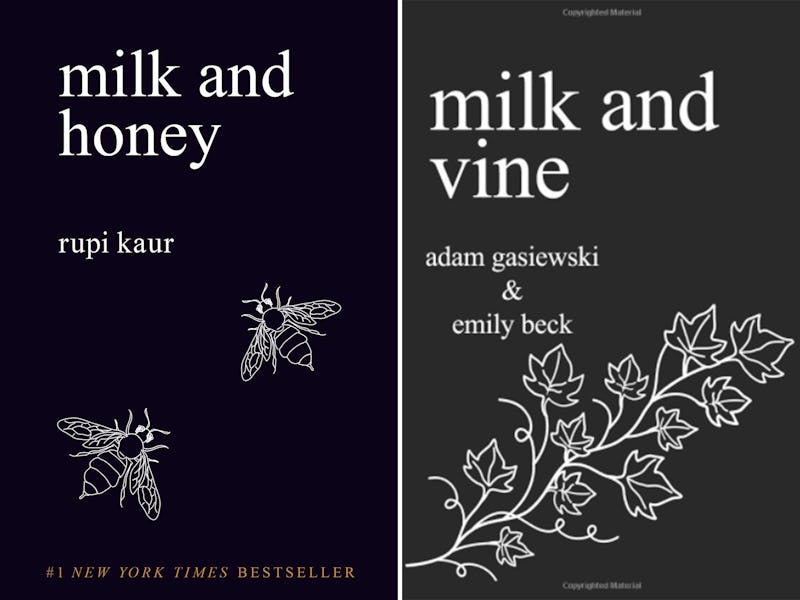 If you've ever felt under-accomplished thanks to young and successful writers, get ready to meet your newest nightmare: this couple whose book of poetry based on famous Vines just became a bestseller. To think, you've been waiting to find your inspiration for the Next Great American Novel, when memes have been there all along.
Adam Gasiewski, 19, and Emily Beck, 18, were wandering around their local Barnes & Noble when the seed for their inevitable internet sensation was planted. It was there the couple, who are both first year students at Temple University in Philadelphia, stumbled upon Rupi Kaur's milk and honey, the runaway New York Times bestselling poetry collection that has sold over a million copies and been featured in just as many Instagram posts. Originally self-published on Amazon in 2014, milk and honey was eventually picked up by major publisher and went on to spend 52 weeks on top of the bestseller list.
Like the legions of fans who found inspiration between the lines of Kaur's beautiful poems, Gasiewski and Beck were moved by what they found in the slim collection, so much so that they decided to make their own version. The difference? Instead of focusing on themes of womanhood, violence, power, and survival like milk and honey, Gasiewski and Beck's collection would focus on one subject and one subject only: Vine. That's right: the unforgettable video platform may be dead, but it's memory will live on forever in this poetry collection featuring the app's most memorable lines and iconic characters.
milk and honey by Rupi Kaur, $9, Amazon
To create the book, which was written by Gasiewski and illustrated by Beck, the couple devoted hours upon hours to searching for just the right Vines to base their poems off of. Among the videos-turned-poems to make the cut are "Have you ever had a dreams," "I thought you were bae," and, of course, "What the f*ck is up, Kyle."
milk and vine by Adam Gasiewski and Emily Beck, $5, Amazon
Just like the book they modeled their collection after, Gasiewski and Beck decided to self-publish milk and vine on Amazon. When they finished creating their collection, Gasiewski tweeted a clever photo the book shelved in the fridge along with some shots of the funniest interior pages, and it quickly went viral. Like most things on Twitter, milk and vine almost immediately generated an extreme reaction. Luckily for Gasiewski and Beck, it has been mostly positive.
Gasiewski's post went so viral, in fact, that this week, milk and vine climbed its way to the top of Amazon's Best Seller's list, inching out the latest Diary of a Wimpy Kid book and photographer Pete Souza's book of President Obama. Milk and vine even briefly held the #1 spot on Amazon's New Release in American Literature, proving that the internet has officially taken over the world.
While it's clear Gasiewski and Beck's collection has already amassed a huge fan base, not everyone on the internet is happy with this creative new collection, though. The couple has been criticized for stealing content from Viners without giving proper credit, and for copying the style and layout of Kaur's original collection.
In a response to the backlash on Twitter, Beck clarified that, despite the opinions of online haters, milk and vine does not infringe on any copyrights.
"We're saddened by the onslaught of hate coming from a few of you. We were just two teenagers having fun creating something for our community — no one could have predicted how famous this book would become," the statement reads. "The purpose of this book was never to rip off Viners (who we adore). To put this to rest — no, what we are doing is not illegal. We've spoken to copyright lawyers and there are several reasons as to why our book doesn't infringe on any copyrights."
Beck's statement went on to say that she and Gasiewski were happy to work with the community to find the Vine creators and acknowledging them in the book.
Regardless of how the Twitterverse feels, one thing is clear: people are in love with milk and vine, and the collection doesn't seem to be going anywhere any time soon. The real question is: how many copies will you be buying?