'Milkman' By Anna Burns Is The 2018 Man Booker Prize Winner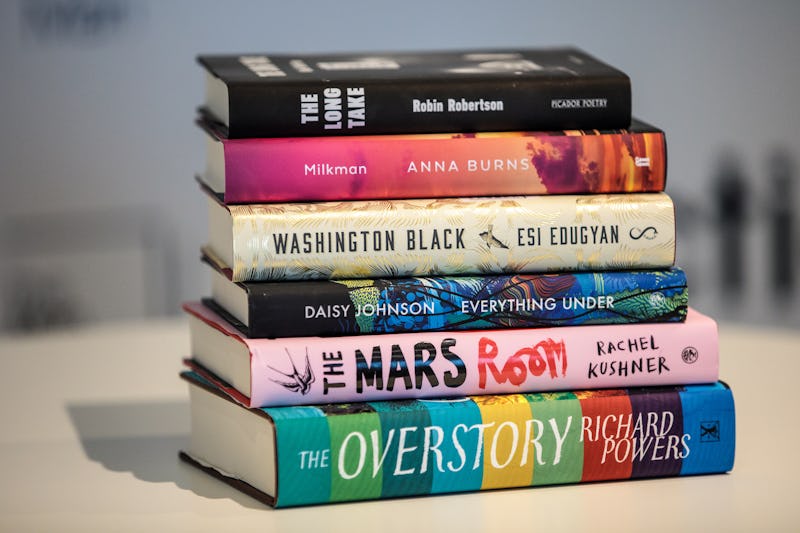 Jack Taylor/Getty Images News/Getty Images
On Tuesday, Anna Burns, the author of Milkman, was announced as the winner of the 2018 Man Booker Prize, a literary fiction award of £50,000 (about $65,000) open to any novel published in Britain and written in English. Burns is the first Northern Irish author to win the award, according to The Guardian.
Milkman is available in the UK., but will not be available in the United States until Dec. 11, when it will be published by Graywolf Press. Burns is 56 years old, and has published three books previously: a novella, and two novels, including No Burns, which was shortlisted for the 2002 Orange Prize for Fiction (now called The Women's Prize for Fiction).
Burns joins an esteemed list of honorees that include last year's winner George Saunders (Lincoln in the Bardo), Marlon James (A Brief History of Seven Killings), Hilary Mantel (Wolf Hall), Margaret Atwood (The Blind Assassin), and Arundhati Roy (The God of Small Things), among others. This year marks the 50th anniversary of the prize, and in celebration, The English Patient author Michael Ondaatje was honored in June with The Golden Man Booker Prize for the best work of fiction among the Man Booker Prize's five decades worth of winners.
This year's winner was selected by a committee of five judges: Kwame Anthony Appiah, Val McDermid, Leo Robson, Jacqueline Rose, and Leanne Shapton. Burns bested fellow shortlist nominees The Mars Room author Rachel Kushner, Washington Black author Esi Edugyan, Everything Under author Daisy Johnson, The Overstory author Richard Powers, and The Long Take author Robin Robertson.
Milkman by Anna Burns, $8.39, Amazon
The novel is set in the '70s during The Troubles, a 30 year period of political violence and armed conflict in Northern Ireland. It centers upon an unnamed 18-year-old woman known as "middle sister" who is stalked an abused by an older man known as "Milkman." None of the characters have names; in an interview posted to the Man Booker Prize website, Burns said of this decision, "In the early days I tried out names a few times, but the book wouldn't stand for it."
Burns, who was born in Belfast in Northern Island, said in the same interview that her past absolutely inspired the events of the book. "Yes, in that I grew up in a place that was rife with violence, distrust and paranoia, and peopled by individuals trying to navigate and survive in that world as best as they could," she said.
The chair of the Man Booker Prize's judges for 2018, Kwame Anthony Appiah, described Burns as an "utterly distinctive voice" in a speech given at the Man Booker Prize ceremony at London's Guildhall on Tuesday evening. "It is a story of brutality, sexual encroachment and resistance threaded with mordant humor," he added.
Of course, it's impossible to discuss a book about the ongoing harassment and abuse of women without harkening to the #MeToo and Time's Up movements, which have empowered women to speak about their traumas in unprecedented ways. "[The novel] is to be commended for giving us a deep and subtle and morally and intellectually challenging picture of what #MeToo is about," Appiah said.