MIC's Millie & Hugo Reportedly Got Hitched & Her Comments About Him Are SO Sweet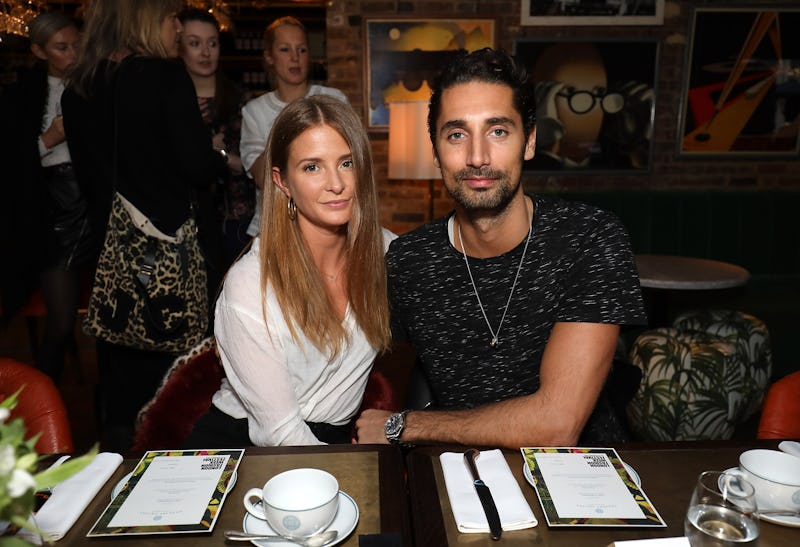 Tim P. Whitby/Getty Images Entertainment/Getty Images
Their love story began on our TV screens and after a rocky start and a long break before rekindling, Millie Mackintosh and Hugo Taylor are married. The couple reportedly tied the knot last week before throwing a lavish wedding on 23 June. While they've remained tight-lipped and have yet to share any photos on social media, a few details about their big day have been revealed.
According to Hello, the former Made In Chelsea stars held their wedding at Whithurst Park in West Sussex — a property reportedly owned by Hugo's uncle — with a stunning indoor reception. It took place three days after they signed on the dotted line and made their union official in an intimate ceremony at the Chelsea Town Hall registry office. However, their actual wedding was quite the opposite as they welcomed 200 guests for a drinks reception followed by a sit down dinner and party, as reported by the publication.
Nor Millie, 28 or Hugo have confirmed their wedding but Millie's parents Nigel and Georgina Mackintosh were reportedly spotted at Whithurst Park on Friday 22 June, just one day prior to the supposed ceremony, according to the MailOnline. And to add fuel to the fire, some of their wedding guests including fellow Made In Chelsea star Jamie Laing, and Lily Fortescue couldn't help but break the no social media rule on the day as Jamie filmed a video of himself and a friend taking a toilet break during what looked like the reception, while Lily shared a snap of her wedding outfit on Insta stories with the caption "Ready! M&H" — not subtle at all. Bustle have reached out to Mackintosh's representative for comment.
Model Emma Louise Connolly also couldn't resist sharing from what appeared to be her friends' big day as she teased fans with a message on Insta stories, saying: "The sun is shining and love is in the air! One for two very special friends on a very special day."
As reported by Digital Spy, Millie and Hugo first met when they were 16 years old and remained in contact for years before both appearing on E4's hit reality TV show, Made In Chelsea. On the show, their friendship blossomed into a relationship but that all came to a dramatic end when Millie found out that Hugo had cheated on her with her best friend Rosie Fortescue — yep, it was all very soap opera and admittedly made for excellent TV.
In a major plot twist, Millie then went on to marry British rapper Professor Green in 2013. However, their marriage was short lived as it ended three years later in 2016, with rumours flying around that it was due to their very different backgrounds. In a recent interview with YOU magazine, Millie explained that that wasn't the case, saying: "I know it has been said that our upbringings may have been the foundation for the breakup, but those comments only degrade the relationship and time we spent together, and I certainly don't feel that way about that period of my life or Stephen. We went our separate ways amicably. Sometimes it can be as simple as finding yourselves on different paths, and for us it was about respecting those journeys and each other's wishes by parting ways. We have since both moved on. I only wish him the best."
She continued: "Going through a divorce is very painful and you learn a lot about yourself. But it hasn't put me off marriage and I'm really excited about marrying Hugo. I wouldn't ever want to be without him."
Millie and Hugo got engaged last summer when the businessman, who owns Taylor Morris Eyewear, popped the question during a holiday in Greece. But how was she so sure things would be different with him this time?
"I've known Hugo half my life and we are very different people to the ones we were a few years ago," she told YOU magazine. "We've both grown up. I met him when I was 16. I was still at school and had sneaked into Boujis nightclub in London. At the time I was obsessed with Paris Hilton and Nicole Richie and had dyed my hair very badly so it was a sort of yellow colour. I was wearing American Apparel metallic leggings with a backless top and tons of fake tan. He was on the other side of the dance floor in jeans and a leather jacket, and we caught each other's eye. There was definitely an instant attraction. By the end of the night we'd got talking and had a cheeky snog. We dated on and off, but we both dated other people and it was never properly serious till this time."
She continued: "I didn't see Hugo much once I left the show, and then after my divorce I reconnected with old friends and we found ourselves back at the same gatherings. We were both older, we were both in different places. He was respectful and sensitive, and I felt completely comfortable in his company. He knows me so well and always looks out for me. I knew after everything he really was the right one for me. We both want children in a few years' time, we're open to the idea of living in Los Angeles for a while and we're both so happy to be together again. He's the man I want to be married to for life."
Aww, how sweet. Congratulations to the happy couple!