Milo Ventimiglia & J. Lo Are Starring In A Rom-Com Together & It Sounds So Good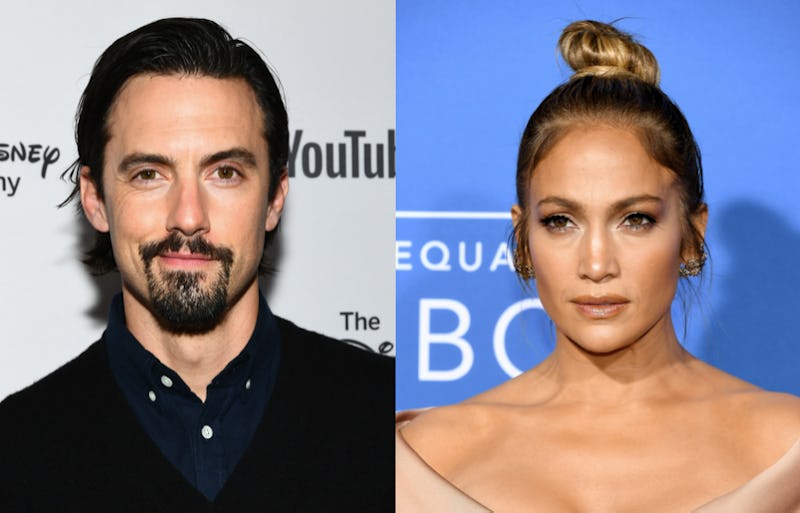 Emma McIntyre/Getty Images Entertainment/Getty Images; Dia Dipasupil/Getty Images Entertainment/Getty Images
It's like a mid-'00s fever dream, with one key difference. Even after you wake up, this is still happening: Deadline reported that Milo Ventimiglia will play Jennifer Lopez's boyfriend Trey in a comedy called Second Act. According to the Daily Mail, Lopez's character works at a supermarket and eventually, presumably in reference to the film's title, breaks into the advertising industry. Variety reported that Second Act is being produced by Lopez as part of STX films' "efforts to focus on female-driven movies," and honestly, the casting of the man who once played Jess on Gilmore Girls seems perfect for drawing in viewers. These two sound like a rom-com dream team.
Variety quoted the "Jenny from the Block" singer as saying,
"People try to put women to sleep at a certain age. 'Second Act' is a story that empowers the every woman to do more, to be more, and not limit their dreams."
Keeping the women in the audience awake will presumably be helped by the This Is Us star playing the long-term boyfriend of Lopez's character Maya. It feels significant that there's a discrepancy between the actors' age that we usually see the other way around — Lopez is 48, while Ventimiglia is eight years her junior. Just compare it with the pairings we get in the two films they cite as Second Act "being in the vein of," in the Variety article: Maid in Manhattan and Working Girl.
A little IMDb research shows that when Maid in Manhattan came out in December 2002, Lopez (who played Marisa Ventura in the rom-com) was 33. Contrast this with Ralph Fiennes who played Marisa's lover, Christopher Marshall; Fiennes was days away from turning 40 at the time. IMDb also adds insight to Working Girl, where Melanie Griffith (who played secretary Tess McGill) was 31 when the movie dropped, compared to the man she has a brief affair with, Jack Trainer (played by Harrison Ford, who was a whopping decade and a half older than her). Obviously women can be attracted to older men, and for the most part, age gaps aren't a big deal in real life. But when films consistently reinforce a negative stereotype — that men prefer younger women — that can feel damaging and offensive to watch as a female member of the audience.
This said, Ventimiglia's casting feels like a stroke of genius beyond him being younger than and equally physically blessed to the queen who once sang "My Love Don't Cost A Thing." The actor's biggest roles have consistently been those in which he's supportive to women, and as such, fans may associate him with the flawed but ultimately good dude on-screen.
As Jess Mariano, he wasn't perfect. How could he be? He was just a teenager, after all. Luke's nephew did a lot of dumb, hurtful things to his friend and then-girlfriend Rory — he punched her boyfriend, he told her he loved her and then skipped town, and he was consistently rude to the person she's closest to, her mom. But he was also quietly wonderful. He was just as entranced by Rory's inner life as her doll-like looks, asking her about books. He constantly rooted for her to better herself, managing to be the only person to convince her to go back to Yale after she drops out. In the revival, he's the one who encourages her to write a book.
And it's a similar story with his other most famous character, This Is Us' Jack Pearson. Yes, he's an alcoholic. But this is, at least in part, thanks to his trauma from Vietnam and he battles hard with his disease in order to be there for his family. The actor himself said of his character to People that Jack Pearson "is a guy who, very simply, loves his wife and he loves his kids, and that is [his] whole existence."
So kudos to the movie for a seriously inspired piece of casting. If Lopez wants to produce a film that will delight female viewers, she'd want a romantic male lead whose previous roles associate him with supporting women, rather than just raw machismo. Arguably, she's found a guy who checks that very box.