Milo Ventimiglia Shares The Cute Thing 'This Is Us' Fans Keep Asking For After Jack's Death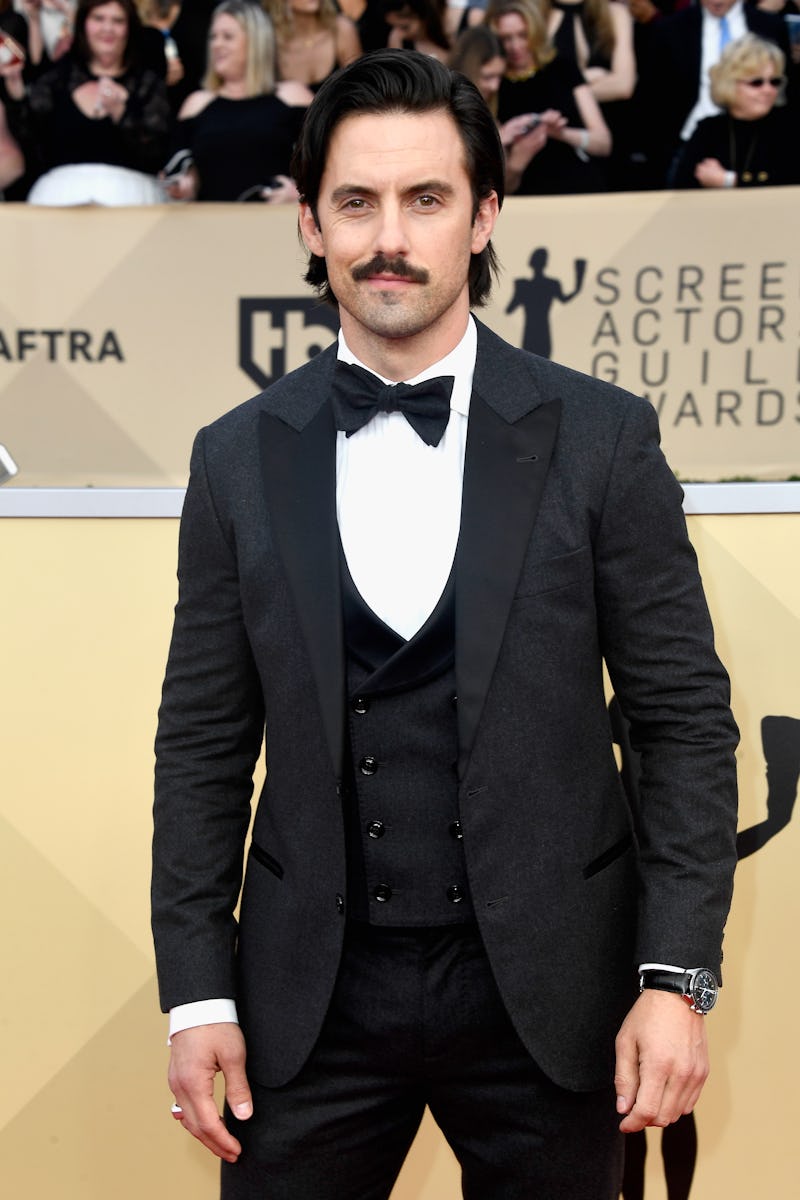 Frazer Harrison/Getty Images Entertainment/Getty Images
To Gilmore Girls fans, he's Jess Mariano, but to This Is Us fans, he'll always be Jack Pearson. While chatting with Jimmy Kimmel on Monday, Milo Ventimiglia talked about fans' reactions to Jack's death. Specifically, he opened up about how he's been treated in person since the heartbreaking "Super Bowl Sunday" episode, which aired after Super Bowl LII and finally revealed how Ventimiglia's character, Jack, died. After hearing how fans have approached him and the stories they've told him, well, it's safe to say that Ventimiglia will forever be associated with Jack Pearson. That's how big of an impact he's made.
"I can't escape it," the 40-year-old actor told Kimmel about fans continuously coming up to him to talk about Jack and This Is Us (director: Uta Briesewitz). "A lot of people, they want a hug," he said. "They don't really ask me for advice, but they want that paternal knowing that things are OK." If anyone can give a soothing hug, it's the man who brings Jack to life.
He also said that people come up to him and want to tell him their story. One day, while at a restaurant, the manager came up to him sobbing to say how much she related to the show as a new mom.
Then, he was in a parking garage and an encountered a screaming fan, who, according to Ventimiglia, was yelling, "I love you, Jack! Jack! Jack!" The Gilmore Girls: A Year in the Life (editing: Risa Bramon Garcia) actor even walked over to introduce himself and took a photo with the fan. Ventimiglia also took a photo on his phone for himself (and even tweeted it), because he loved the fan's excitement. The best part is that as Ventimiglia walked away, he said the guy hollered, "Wait, wait, wait, wait, what's your real name?" So, Ventimiglia introduced himself again.
Kimmel made a good point and said, "It's almost like you're Tom Sawyer and going to your own funeral and watching these people sob. Even though it's not you, this character has your face and your voice and all that."
It's true, now when fans of the NBC drama see Ventimiglia they think of Jack. It's how they'll remember the actor for the rest of time. He is Jack Pearson to them. It's important to remember that Ventimiglia is his own person and that he's not actually Jack. He's just an actor playing a role. That said, the way fans have responded to his character speaks to how amazing of a job he does at portraying Jack.
There's no one else who could play the part like him. Ventimiglia brings so much life to Jack and has made him beyond lovable. That's why watching his death was especially hard, even though fans knew Jack was dead from the very beginning. The way Ventimiglia talks about Jack shows how much the role means to him — and how seriously he takes telling his character's story.
After Jack's death aired, the former Heroes star tweeted, "Just so everyone knows it....#JackPearson lives in all of our hearts. He's you. He's me. He's Us. Thank you all for supporting our show. We love you all :) And this isn't the end of Jack. Stay tuned."
In September 2017, he talked with People about why he loves Jack. "Jack is a good man. He's a very simple, straight-forward man. He leads with his heart," he said. "He is a guy who, very simply, loves his wife and he loves his kids, and that is [his] whole existence." Ventimiglia added, "What I love about him is, his intention is always good. It's always honorable. It's just sometimes misdirected, given feelings of hurt, or feelings of separation from his wife, or things he can't control."
When he talks about Jack like that and then you see his phenomenal performances as him, how can you not equate Ventimiglia with Jack? It's definitely not a bad thing and as Ventimiglia said there's no escaping it.