Milo Ventimiglia's New Haircut Makes Him Look Nothing Like Jack From 'This Is Us'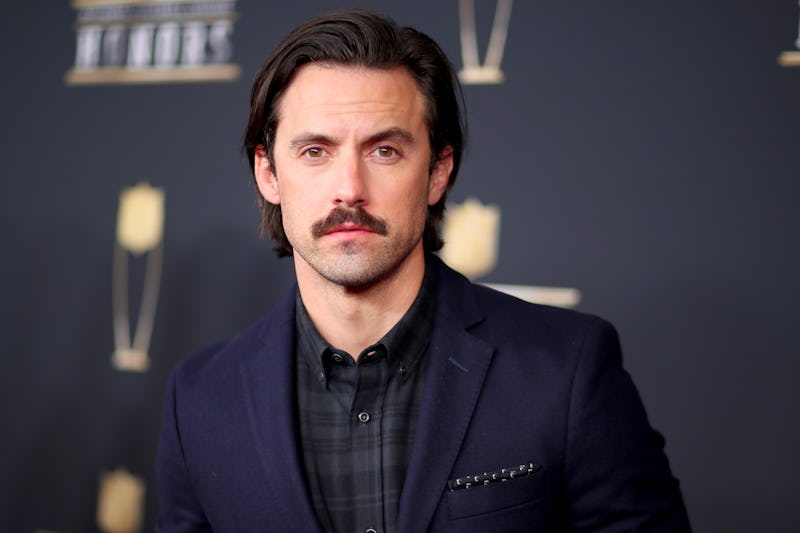 Christopher Polk/Getty Images Entertainment/Getty Images
Whether it's Randall, Kate, or Kevin, The Big Three are some of the most relatable characters on television. But they're not alone. Jack and Rebecca Pearson are the top couple of cable TV, but a recent switch-up IRL may make some nervous. Milo Ventimiglia shaved his This Is Us mustache, and given the events of Season 2 of the Emmy-nominated series, that made not bode well for his future. If you're not caught up on this season of the series, you should probably stop reading now because spoilers are ahead.
One of the biggest questions of Season 2 of This Is Us is how Jack Pearson died. Given that season 1's big shocker was that Jack Pearson is dead, Season 2's arc seems kind of obvious. The creators of the show didn't keep fans dangling on a string. Ventimiglia's fan favorite dad and husband passed away after saving the family dog and photo albums from a house fire caused by a defective Crockpot. Very suburban.
Now, Ventimiglia's mustache and long, signature Jack Pearson dad hair has been shorn, according to People. So have fans seen the last of the puppy saving hero? While it's tough not to read into the haircut, keep in mind that the show isn't exactly linear in its progression.
Without his mustache and long hair, Ventimiglia looks much different than Jack, but it doesn't mean he's gone. Why? This Is Us is known for its time jumps. In fact, the show has shown the past, the present, and even the future (how great were Tess and Randall?) of the Pearson clan. Since the story of Jack's death has been wrapped up, what about his childhood and adolescence? Could this simply be a harbinger of a young adult Jack's story being told?
Ventimiglia isn't the only one who has gotten an update after wrapping Season 2 of the show. Mandy Moore went to the same hairstylist, Ashley Streicher, to have her brunette locks transformed into a warm blonde reminiscent of her pop star days. While the look is certainly an update from that time period, it's still a major change given her This Is Us character has remained brunette until her scenes in present day.
Given the popularity of Jack and Rebecca's relationship, it seems highly unlikely that both would be departing the show, especially in Moore's case as Rebecca Pearson is very much so still alive. Instead, it seems more likely that fans are about to get the stories of Jack and Rebecca before they were the Pearsons.
This is also not the only time a haircut hasn't been a bad sign for fans. Game of Thrones lovers are more than familiar with how haircuts (or lack thereof) can impact a fandom. Following Jon Snow's seeming death at the end of season five, actor Kit Harington was the topic of many hair-related conversations thanks to his character's signature curly, long locks. It's Jon Snow's iconic look, and despite his character "dying" at the season's end, Harington's hair remained the same.
Stealthy fans spotted him with the same style at Wimbledon, and nearly immediately speculation began that his character wasn't actually gone from the series. As it turned out, they were right, and Jon Snow was resurrected.
While it's highly unlikely that Jack Pearson would be resurrected sans mustache and long hair, the timeline of This Is Us certainly could indicate that Jack Pearson's background is about to be revealed. While the Milo Ventimiglia without a mustache could seem ominous, it much more likely that the cut is innocuous and a sign that a younger Jack Pearson is coming.