Milo Ventimiglia Had The BEST Response After Being Unfairly Compared To Adam Levine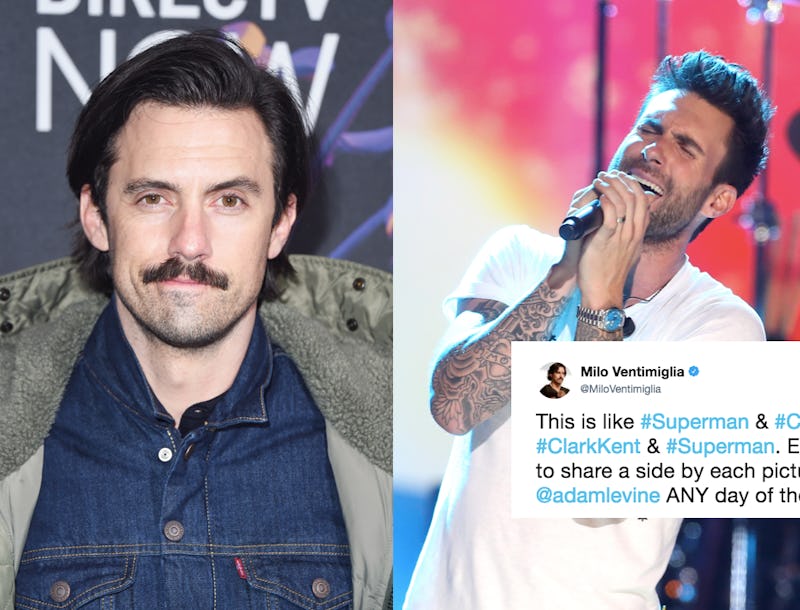 Michael Loccisano/Getty Images Entertainment/Getty Images; Frederick M. Brown/Getty Images Entertainment/Getty Images; Milo Ventimilgia/Twitter
Once again showing off his charming personality and great sense of humor, Milo Ventimiglia shut down an Adam Levine comparison, and Twitter appeared to be totally here for it. Always seemingly humble and gracious in his words and actions, Ventimiglia's remarks quickly sent swooning fans into a frenzy.
Ventimiglia's reply was in reference to a tweet, which was shared by The Voice's Twitter account on Mon, Feb. 26, and featured side-by-side photos of the This is Us star and Levine rocking their signature dark locks and similarly styled 'staches. The images were accompanied with a caption that jokingly pitted the talented entertainers against one another:
"You vs. the guy she told you not to worry about. You seeing this, @NBCThisIsUs? #VoicePremiere"
After catching wind of the post, which was in promotion of The Voice's Season 14 premiere, Ventimiglia quickly jumped into the Twitter banter, offering up an impeccable and undeniably Jack Pearson-esque response to the comparisons between himself and The Voice judge. In his modest, yet entertaining, rebuttal, Ventimiglia completely shut down the comparison, writing:
"This is like #Superman & #ClarkKent. Or #ClarkKent & #Superman. Either way happy to share a side by each picture with @adamlevine ANY day of the week :) MV"
Of course, The Voice's account likely made the tweet all in good fun, but Ventimiglia's perfect response completely shut down the competition as he essentially pointed out that he and Levine are both superheroes in their own right.
Seemingly in love with Ventimiglia's timely reply, fans joined Twitter the conversation with their thoughts on the comparison of the two mustached men.
1. Loving The Layers
Pointing out the greatness of Ventimiglia's comment, this fan was completely in love with the comparison.
2. And The Winner Is...
Another commenter feels that when it comes to Ventimiglia, there is no competition.
3. You Can't Go Wrong With Mr. Right
This fan thinks that The Voice's tweet got it all wrong.
4. Ventimiglia Takes The Cape
Responding with their thoughts on the tweet, one Twitter fan pointed out who the real superhero is in this competition.
5. Two Of A Kind
Totally on board with the pairing of Ventimiglia and Levine, another social media user thinks that the men are both talented and handsome.
6. It's Awesome
Not pointing out a favorite, this fan seemed pretty fond of the comparison.
7. Two Words
Sharing a heart emoji, this fan had a short but sweet reply.
8. Mini Milo
Breaking down their thoughts on each entertainer, this reveals that they plan to name their son after the former Gilmore Girls alum.
9. Fan Faves
Another Twitter user was just happy to see two of their favorites side by side.
10. Both Are Great
Meanwhile this fan, sharing similar sentiments, pointed out all of the great qualities that both men possess.
It seems that the comparison will soon be a thing of the past for Ventimiglia and Levine with the former recently making the decision to chop off his signature 'stache following the filming wrap of This Is Us' second season, according to People.
A snapshot of Ventimiglia's clean shaven look was shared by hairstylist Ashley Streicher, who captioned the photo: "Keepin' it in the Fam #ThisIsUs end of season chop for @miloanthonyventimiglia ❤ #momANDdad#jackANDrebecca"
As if playing Jack Pearson on This Is Us wasn't enough, Ventimiglia's undeniable knack for captivating audiences seems to transcend far beyond his portrayal of the Pearson family's patriarch Jack. Much like his on-screen character, Ventimiglia also appears to be an all-around stand up guy when it comes to supporting the cast members and crew of the beloved NBC drama.
According to Access Hollywood, the actor once gave the production team permission to use his car, a classic Chevelle, in the show. However, in lieu of receiving payment for its use, Ventimiglia requested that the money be used to support those working behind the scenes. He told Access Hollywood,
"I go, 'Okay, well you can use my car no problem, but whatever you're going to pay me for it goes back to coffee trucks and burger trucks for the crew.'"
He has also remained a staunch supporter of his fellow cast members, often cheering them on following episodes via social media.
Whether it be via television or tweet, Ventimiglia's persona and integrity have made him a true superhero in the eyes of his fans.