Milo Ventimiglia Dished On His First 'Gilmore Girls' Fan Encounter & #TeamJess Won't Be Pleased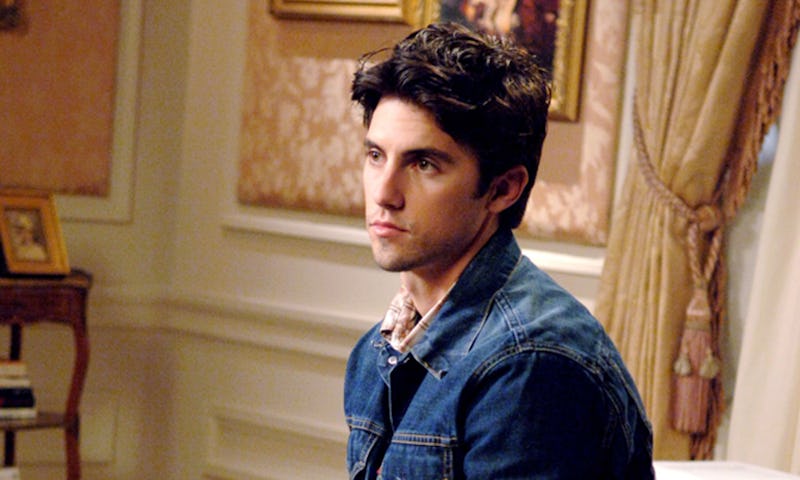 Warner Bros.
Milo Ventimiglia is no stranger to fan recognition. In fact, his current portrayal of the lovable (and highly swoon-worthy) Jack Pearson on This Is Us has taken his popularity to new and exciting heights. However, the actor's first true taste of fame came long before This IS Us, when he slipped into the role of bad boy Jess Mariano on Gilmore Girls back in 2001. During a recent appearance on The Tonight Show with Jimmy Fallon, Ventimiglia recalled his first fan encounter on Gilmore Girls and while it definitely isn't the most heart-warming story, it's certainly something that's stuck with him throughout all of these years.
The topic came up when Fallon expressed his thoughts on Jess' time in Stars Hollow, defending him against his bad boy reputation. "I thought you were good for the whole town," Fallon said. This led Ventimiglia to reveal that not everyone shared the late night host's feelings about his character. "I had my very first fan interaction with Gilmore Girls. I was at the gym, I'm 24 years old, probably looked like I'm 17. Well, actually that worked out because Jess was 17, but I'm at the gym and this girl stops me," Ventimiglia explained during the segment. "She goes, 'Excuse me. Do you play Jess on Gilmore Girls?'"
But if you thought this was going to be someone swooning over his bad boy character, think again. "She goes, 'Oh my god. I f*cking hate you,'" he said. "She didn't even say, 'Hey, good job.' She just — she walks away! She was gone. She just wanted to say she hated me."
Ventimiglia made his first appearance on Gilmore Girls in Season 2 as Luke's troubled nephew. Jess' mother sent him to live in Stars Hollow in the hopes that it would help curb his recurring bad behavior. It isn't too long afterward that he met Rory and the two instantly hit it off, bonding over their love of books and various forms of literature. And, while it started off as an innocent friendship, their interest in each other soon grew to something more, which caused trouble for Dean and Rory's relationship, and caused a lot of love triangle-induced anxiety in audiences everywhere.
Obviously, anyone who was a diehard Dean and Rory shipper probably didn't like Jess' interference, hence why Ventimiglia experienced this not-so-pleasant fan reaction. But he seemed to have taken the incident in stride, and now he couldn't be more beloved as the Pearson patriarch. (Team Jess has also only gotten bigger and more passionate as the years have gone by, which hopefully has made for slightly more enjoyable Gilmore Girls fan interactions.)
During his Tonight Show appearance, the This Is Us star also took some time to dish out a few details about Season 3. One well-known aspect of the upcoming plot will include diving further into Jack's backstory during his days in Vietnam, however, Ventimiglia also revealed that the season will shine a light on the beginning of Jack and Rebecca's relationship. That means fans will get to see the early stages of their budding romance and how they ultimately ended up falling in love and becoming the adorable married couple we now know them to be.
Odds are, any new details about Jack will just make the character even more beloved than he already is, which just goes to show how far Ventimiglia has come throughout his impressive career.