Mindy Kaling Shared A Perfect 'Office' Throwback To Celebrate Idris Elba As Sexiest Man Alive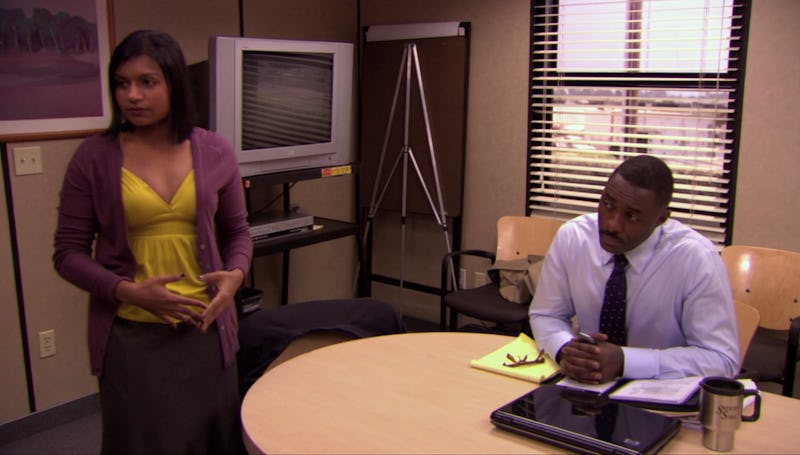 NBC
If you somehow missed it, on Tuesday, People named Idris Elba Sexiest Man Alive. It's a fitting title and one many agreed with, including his former Office costar. Mindy Kaling celebrated Elba's Sexiest Man Alive title by sharing the most appropriate throwback video on Instagram that will make fans of The Office applaud. If you're a diehard fan of the former NBC comedy, then there's a good chance you know exactly what Dunder Mifflin reference Kaling made.
Of course, Kaling posted a clip from Season 5, Episode 21, titled "Two Weeks" featuring Kelly Kapoor (Kaling), Charles Miner (Elba), and Angela Martin (Angela Kinsey). Next to the video, Kaling wrote, "Kelly Kapoor was clearly way ahead of the curve. #SexiestManAlive @idriselba #TheOffice @angelakinsey."
Kinsey appreciated Kaling's video so much she shared it on her own Instagram:
"[laughing crying emoji] @mindykaling this made my day... thx for posting! And congrats @idriselba on being @people #sexiestmanalive [kissy face emoji] Kelly and Angela knew what was up! #theoffice"
Their characters really were "way ahead of the curve." As soon as Elba appeared as Charles, the new boss Michael Scott disliked greatly, in the fifth season in Episode 20, "New Boss," Kelly and Angela were immediately transfixed by him. Who can blame them? It wasn't until Episode 21 that the two really tried to get Charles' attention.
In the scene, Kelly flirts with Charles. The customer service representative talks to Charles in the conference room about pretty much nothing. At one point, while discussing her sisters, Kelly even says to Charles, "We're really tight. We're like the Kardashians."
Eventually, Angela waltzes into the room and says to Charles, and with Kelly clearly standing in her line of vision, "I'm sorry, I didn't realize you were with anyone." They both, obviously, just made up excuses so they could chat with Charles, who had zero interest in either of them.
Angela and Kelly become agitated with each other, so much so, Kelly even tries to shut the door on Angela. However, the accountant stands her ground for a bit, before Kelly eventually ends up shutting the door so she can have Charles all to herself. During Kelly and Angela's charade, Charles says to the camera, "I am aware of the effect I have on women."
Neither Angela nor Kelly ever have any romantic involvement with Charles, but they both tried really hard to make it happen. Even at the end of "New Boss," Kelly runs into the rainy parking lot looking for Charles, but only finds Angela holding his scarf and yelling, "Charles!" Angela poses to the camera, "Charles and Kelly? Absolutely not. He is a sophisticated man, he does not need to go dumpster diving for companionship, OK?"
Kaling's throwback to her character wanting to "seduce" Charles is spot-on. The Four Weddings and a Funeral executive producer always knows when it's the right time to make a callback to The Office, just like when she brought up the Dundies after John Legend achieved an EGOT. Really, Kaling just made Elba earning the Sexiest Man Alive title all the more amazing.