Idris Elba's Sexiest Man Alive Cover Is A Gamechanger For Black Entertainers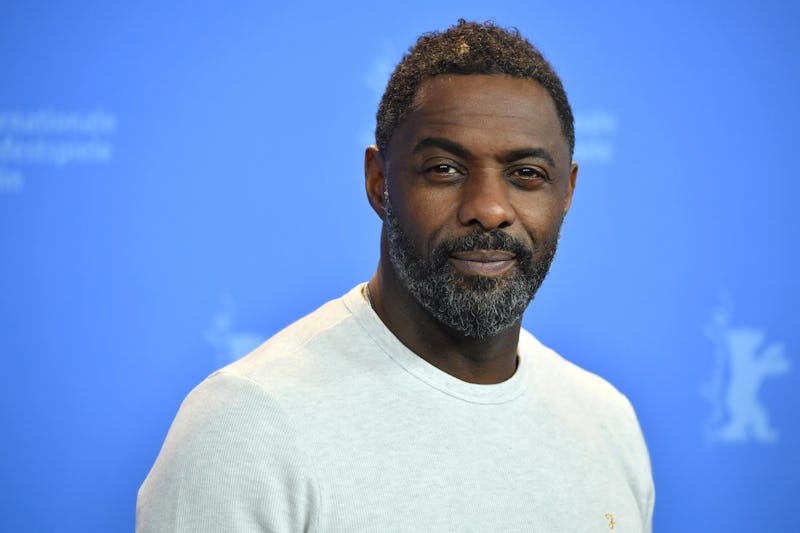 Alexander Koerner/Getty Images Entertainment/Getty Images
On Tuesday, November 6, Idris Elba was named People Magazine's Sexiest Man Alive, becoming only the third man of color to do so in the franchise's 34-year history and the moment is so crucial for many reasons. Throughout the years, People's selection for the annual honor has traditionally, and notably, been predominately white. In fact, before Dwayne "The Rock" Johnson won the title in 2016, the last man of color named Sexiest Man Alive was Denzel Washington back in 1996, leaving a whopping twenty-year gap between installments featuring Black cover stars.
Although it's not immediately clear how People reached this year's decision, its latest selection of Elba is certainly a proud moment for members the Black community who often feel invisible and poorly depicted when it comes to seeing representations of themselves in features and magazine covers. While the British-born actor is certainly well-deserving of the accolade, as there is definitely no denying handsome good looks and undeniable talent, having him on the cover finally expresses a bit of recognition and appreciation for the beauty of blackness that has long been ignored in mainstream media.
Despite Elba's recognition as a heartthrob being long overdue, the announcement of his cover couldn't have come at a better time as Hollywood attempts to shift its narrative towards diversity. In its decision to feature the 46-year-old entertainer as the center of its most highly-anticipated issue, it seems that People hopes to become a part of the change which seeks to offer a more accurate and inclusive representation of the real world.
While this year's People cover helps to put an end to what has felt like an eternity closed doors, it still remains curious why men of color have been disregarded from the Sexiest Man Alive competition for so long. The dominance and presence of leading men, musicians, and sports figures — Will Smith, Kevin Hart, Jamie Fox, Eddie Murphy, Sean "Puff Daddy" Combs, Lenny Kravitz, Derek Jeter, Bruno Mars, Ice Cube, Donald Glover, Michael B. Jordan, Martin Lawrence, Drake, Pharrell Williams, and Cuba Gooding Jr., the list goes on — makes it difficult to understand exactly why Black people must wait so long. That said, there have definitely been enough years of the title to go around. Four white men — George Clooney, Johnny Depp, Brad Pitt, and Richard Gere — have even been honored with the award twice.
It's also worth pointing out the fact that the contributions of people of color have largely impacted and influenced every facet of the entertainment and sports industries since the beginning of time. The recent success of movies and TV shows such as Get Out, Black Panther, Creed, Black-ish, Scandal, How To Get Away With Murder, Atlanta, and Insecure have totally helped to debunk the myth that mainstream audiences are not interested in projects featuring Black people in lead roles.
Sure, the idea of what makes a person "sexy" is based purely in subjectivity, but there are some people of color, like Elba, who have been tagged as universal sex symbols for years on end and still haven't earned cover. It should also be noted that People's formula for making the determination has not been made crystal clear either. However, even with those factors considered, the almost yearly negation of people of color from the cover is still inexplicable — and quite frankly, it's downright hurtful — both emotionally and psychologically. Being able to identify with someone who looks like you is a critical factor in one's growth and validation that is, sadly, an opportunity which isn't afforded to many outside of the straight white male demographic. Without proper representation in the media, people of color aren't being offered the tools that they need to succeed in the real world which can ultimately become a detriment to one's development, according to Broadly.
In 34 years, Black men have accounted for three out of the 30, or 10%, of the men who have been awarded the "sexiest" title which is simply lopsided and unfair — to say the least. A 2010 interview with People's former Managing Editor Larry Hackett helped to shed some light on the annual decision making process. Speaking with ABC News during that time, Hackett explained,
"We know it has to be a mix of someone who's hot but well-known. Not too young, not too old and somebody who, frankly, maybe we haven't thought of."
He continued, "Sexy certainly has to do with someone being good-looking, and has to do with a certain kind of romantic, flirtatiousness physical appeal that may be beyond just academic appreciation of the way they look. We want some mystery in our sexiness."
In 2012, People senior writer Julie Jordan spoke about the subject to USA Today, adding, "We watch these guys over the year, and someone always bubbles to the surface... It's a matter of looking at the whole entire year." She also shared that they "pay attention to comments on People.com," and also ask "female celebrities" to pick their favorites.
As the fight for full inclusivity continues to march on, Idris Elba being named People's Sexiest Man Alive certainly proves that there's an evolution taking place in Hollywood. While it is a great step in the right direction, the long road ahead will hopefully help to kick down doors for others such as, Michael B. Jordan, Donald Glover, and many more who follow in Elba's footsteps.