'The Office' Fans Will Love Mindy Kaling's Tweet About John Legend's EGOT Win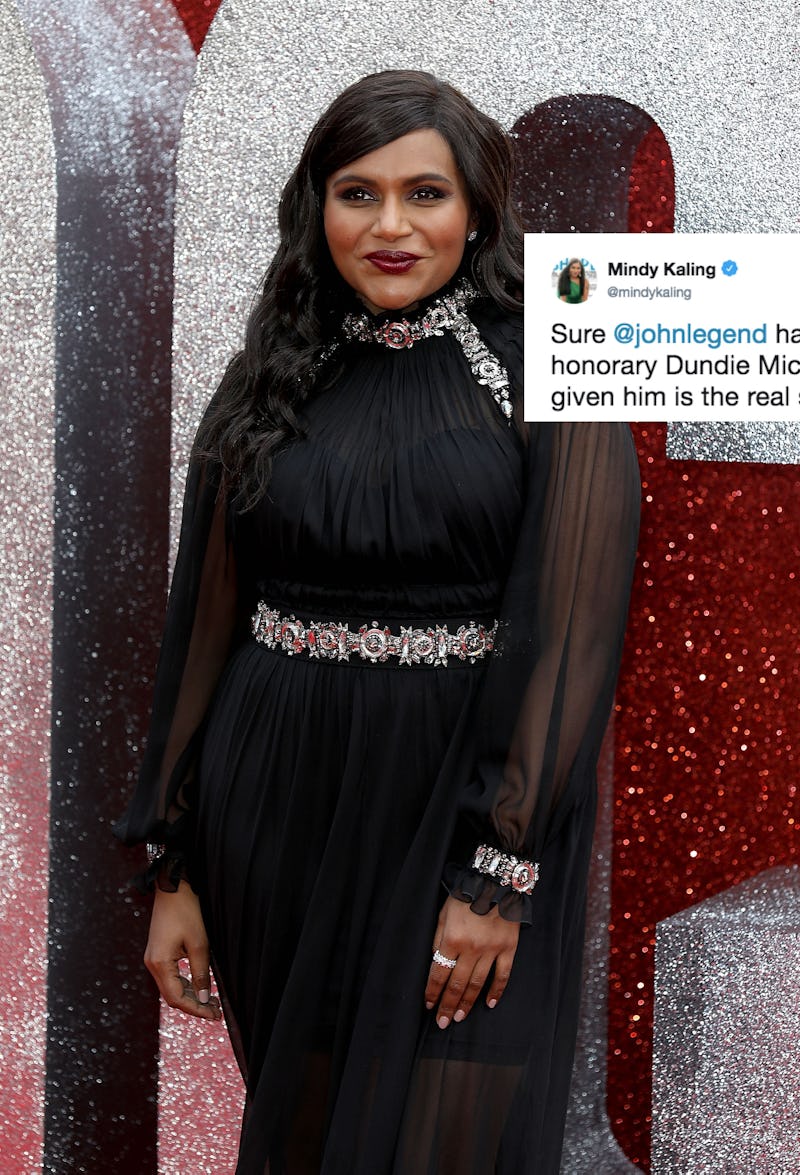 Tim P. Whitby/Getty Images Entertainment/Getty Images; Mindy Kaling/Twitter
"You have won a tiny Dundie!" On Monday, Mindy Kaling reacted to John Legend's EGOT by referencing The Office, the beloved NBC comedy she once starred in as Kelly Kapoor, alongside Steve Carell's Michael Scott. On Sunday night, Legend made history at the 2018 Creative Arts Emmy Awards after he won an Emmy, which earned him his EGOT. He's the first black man to achieve the honor. Of course, Kaling couldn't help but tweet about Legend's accomplishment, and all while imagining the Dunder Mifflin manager giving an even bigger award to the singer.
Next to a GIF of Michael and Dwight raising the roof, Kaling wrote,
"Sure @johnlegend has an EGOT but the honorary Dundie Michael Scott would've given him is the real story."
She nailed it. As Office fans already know, the Dundies were the annual employee awards created by Michael and first seen in Season 2, Episode 1, aptly titled "The Dundies." They were basically office superlatives.
The awards were held annually, usually at Chili's (until Pam was banned), and served as a way for Michael to honor his employees. Though, they didn't typically appreciate the awards handed out by their boss, like when he repeatedly gave Pam the "Longest Engagement" Dundie Award. Regarding the latter, Michael, thankfully, gave Pam the "Whitest Sneakers" award in the second season.
"This is everybody's favorite day," Michael said during "The Dundies" episode. "Everybody looks forward to it, because, you know, a lot of the people here don't get trophies very often."
Pam highly disagreed with him, as she told the cameras that same episode, "You know what they say about a car wreck, where it's so awful you can't look away? The Dundies are like a car wreck that you want to look away, but you have to stare at it because your boss is making you."
Seeing as Michael loved movies, celebrities, and using pop culture references whenever he got the chance, you bet he would've totally given Legend an honorary Dundie for his major accomplishment. Knowing him, he most likely would've also written a movie starring himself and Legend. Threat Level Midnight, The Sequel?
If an Office reunion happens, maybe Michael could possibly mention how he made Legend an honorary Dundie. Better yet, the singer could make a cameo and accept the award. Let's make this happen, people!
Neither Legend nor Chrissy Teigen have responded to Kaling's tweet yet, but you know the Cravings: Hungry For More author would love the actor's post. For those unaware, Teigen is a huge Office fan.
For example, during her summer trip to Bali with Legend, Luna, and Miles, Teigen cracked an Office joke. In an Instagram Story selfie of herself, she wrote, "Tan all over, Jan all over." She was obviously referring to Season 4, Episode 8, "The Deposition," where Michael's diary is read as part of Jan's lawsuit against Dunder Mufflin for wrongful termination.
In response to his Jamaica trip he took with Jan in Season 3, he wrote in his diary, "Just got back from Jamaica. Tan almost everywhere. Jan almost everywhere. Hee hee."
Yes, Teigen misquoted Michael, which she acknowledged on Twitter. But it doesn't really matter, because her reference was still a hit. Like Michael Scott once said, "Sometimes I'll start a sentence and I don't even know where it's going."
Just imagine what Teigen's response will be if she sees Kaling's tweet about Michael giving Legend an honorary Dundie. Could you also imagine Michael's reaction? He wouldn't know how to handle all of the love and attention.