Mindy Kaling Wants Some Royal Assistance In Planning Her Daughter's First Birthday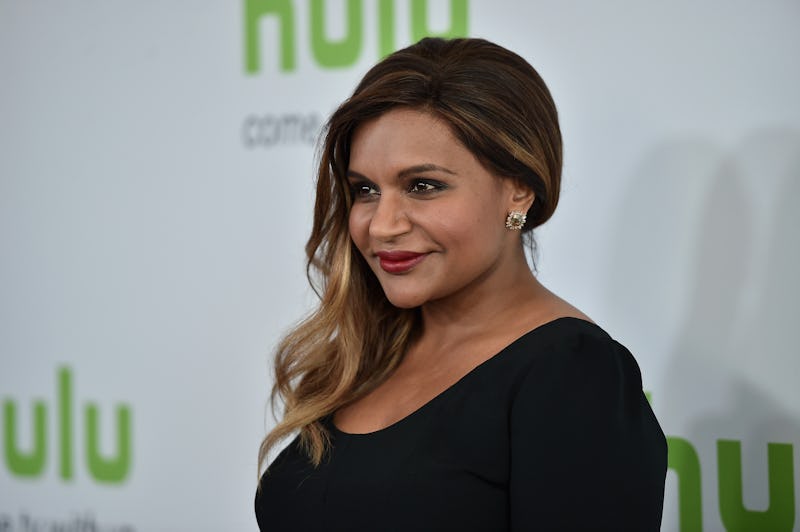 Alberto E. Rodriguez/Getty Images Entertainment/Getty Images
Before she became the Duchess of Sussex, Meghan Markle was an actor living in LA. Now, another Hollywood star is making that very same move across the pond — albeit for a very different reason — with a new baby in tow. Once they're settled in the U.K., Mindy Kaling wants Markle to plan her daughter's birthday party, she jokingly told E! News.
Kaling revealed earlier this summer that she'd be relocating to London to film a TV adaptation of Four Weddings and a Funeral. Her daughter Katherine will turn 1 there in December, but the star admitted that she hasn't made any plans for the big occasion yet.
"So I'm moving to London, I'm gonna be completely friendless," Kaling recently told E! News. "Meghan Markle maybe wants to be in my life? Maybe she can throw the first birthday party for my daughter?"
Of course, it's not like she actually expects Markle to organize her daughter's festivities. She and the duchess should totally be best friends at the very least, though, right? They've both worked as actors, they've both lived in L.A., they've both dated Prince Harry. (OK, that only happened in one of Kaling's dreams, but still.)
Even if Kaling and Markle don't end up connecting, the 39-year-old will be plenty busy juggling work and new mom duties. Thankfully, though, she'll pretty much be able to manage both at the same time. "I'm really lucky because I get to create my own job opportunities," she told People. "Because I do that, I can fit my daughter into my job. It's a luxury most American women don't have."
Kaling continued to explain,
"It's one of the nice things of having had my baby a little bit later in my career. I can be like, 'Hey, I want a little area that I can have my daughter play because I want to check up on her at work.' That is probably the biggest perk of my life: to involve my daughter so much in my career."
It won't just be nice for Kaling, though. It'll be great for her daughter, too. Not only will she get to grow up watching her super-successful mom do her thing, but she'll probably learn how to multi-task at a really young age.
Based on Kaling's recent interview with E! News, it sounds like it'll be a pretty big difference from the way she, herself, grew up. "My mother was a OBGYN and I definitely saw her less than my friends saw their mothers," Kaling told the outlet of her mother, who passed away in 2012.
Still, though, she wants to teach her daughter the same things her mother taught her. "What I learned from [my mom] was that I thought she was the most busy, glamorous, hardworking person," Kaling told E! News, "so that when I saw her it felt so special."
Sounds like Kaling has already got this new mom thing down pat. She won't have any trouble planning her daughter a great first birthday party once they get to London — even if Markle isn't available to help.