Mindy Kaling Loves 'Crazy Rich Asians' So Much That She Wants A Tour & Honestly, Same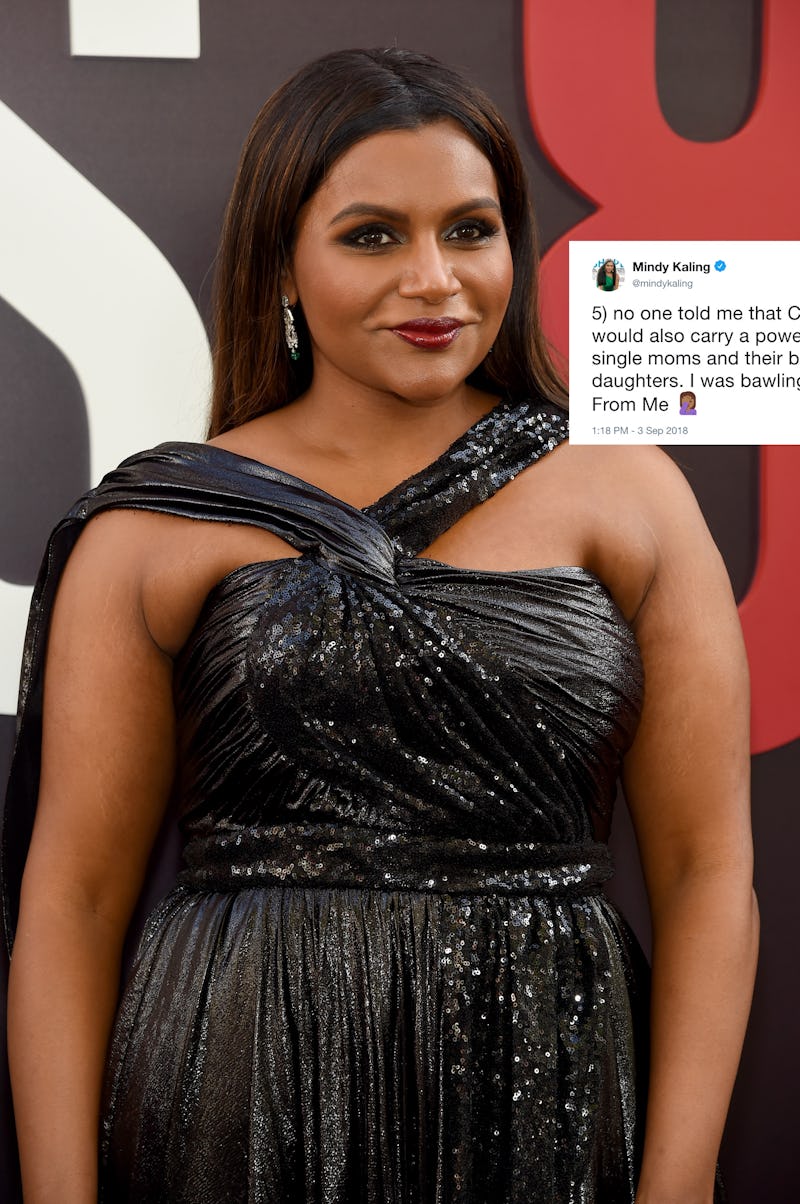 Jamie McCarthy/Getty Images Entertainment/Getty Images; Mindy Kaling/Twitter
Crazy Rich Asians is one of the breakout hits of the summer and for good reason: It's simply amazing in every way. And in case you weren't convinced of that fact, allow one of it's biggest fans explain exactly why it's so awesome. Mindy Kaling wrote about Crazy Rich Asians in a Twitter thread on Sept. 3 and it's safe to say that she's saying what a lot of fans are thinking.
Kaling, a self-described "Medium Rich South Asian thot," had some thoughts about the popular film, as she related on Twitter. She then went into a thread describing each and every majorly cool aspect of the film, particularly the ones that she personally connected to. The Ocean's 8 actor first brought her followers' attention to the star of Crazy Rich Asians, Constance Wu. In case you haven't seen the film yet, just know that, like Kaling describes, Wu is a national treasure.
The actor wrote on Twitter, "Constance was revelatory. Such a superstar, so warm and vulnerable." She also described how much she loved seeing Wu's character, Rachel Chu, in her element as an economic professor since it's not a profession typically portrayed by the heroines of romantic comedies. Of course, this wasn't the only note of praise that Kaling had for the film.
The former star of The Mindy Project also related how enamored she was by the setting of the movie. She wrote, "perfect wish fulfillment sights and sounds of beautiful Singapore. So great to see a non-European setting for love to unfold." The actor then came up with what may just be the best idea ever, especially for fellow fans of Crazy Rich Asians. "Can they do a 'sex and the city' style bus tour in Singapore? I would go," she tweeted. Honestly, hard same. If Kaling maybe wanted to get her tour guide on for the excursion, that would definitely be cool, too. Just saying.
Kaling was also super into all of the fashionable looks in the film. She took note of her Ocean's 8 co-star Awkwafina and the amazing makeover montage that she took part in. Come on, who doesn't like a good, old-fashioned makeover montage in a romantic comedy?
Like many before her who lauded the film for its varying portrayals of Asian experiences, Kaling noted how thrilled she was to see such a diverse, Asian cast in a popular, history-making film. "Not to be tacky but it felt so good to be immersed in so much Asian attractiveness," she wrote. Not only that, but she was also thrilled by one of the more emotional aspects of the film, the relationship between Rachel and her mother, Kerry Chu (Kheng Hua Tan), admitting that it even got her "Crazy Ugly Crying." As fans know, that's just all too relatable.
This isn't the first time that Kaling has let her love for Crazy Rich Asians shine through on Twitter. On Aug. 19, she tweeted a link to a Buzzfeed article that described how the film may revive the romantic comedy genre. The Office alum explained how she was already a fan of both Wu and romantic comedies, so it was pretty much a given that she'd be obsessed with the fabulous film.
Based on her most recent Twitter thread, it's safe to say that Kaling just might be one of the biggest Crazy Rich Asians fans out there. And if you've already seen the film for yourself, you'll totally understand where the actor is coming from with all of these simply expert observations.