Why Mindy Kaling Is Glad She Had Her Daughter Later In Her Career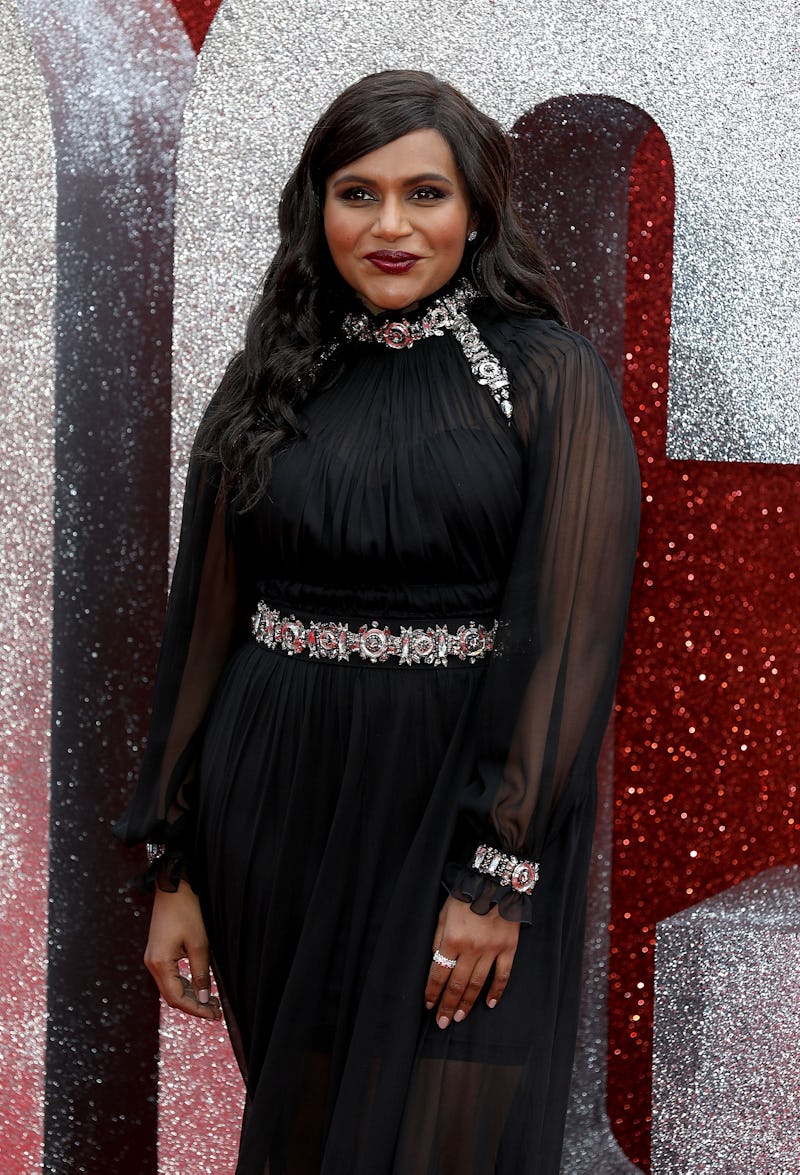 Tim P. Whitby/Getty Images Entertainment/Getty Images
It's been almost a year since Mindy Kaling welcomed her first child, Katherine, into the world. And although she likes to maintain her baby's privacy, her latest update on her daughter included plenty of details about what her mom life is like. In an interview with People, Kaling explained the perks of having a baby later in her career, and it just goes to show that timing really is everything.
When Katherine was born last year, Kaling was well established as an actor and show runner — with The Office, The Mindy Project, and Champions under her belt, she was unstoppable. And now, Kaling says that she's glad how things worked out, because she gets to call the shots when it comes to involving her daughter in her career.
She said to People:
"I'm really lucky because I get to create my own job opportunities. Because I do that, I can fit my daughter into my job. It's a luxury most American women don't have. It's one of the nice things of having had my baby a little bit later in my career. I can be like, 'Hey, I want a little area that I can have my daughter play because I want to check up on her at work.' That is probably the biggest perk of my life: to involve my daughter so much in my career."
Like Kaling said, most American women don't get to bring their children to work — and they definitely don't get to call the shots the way that she does. But it just seems to be another way that Kaling's success has truly paid off after decades of hard work. And now that she's producing Hulu's reboot of Four Weddings & a Funeral, it seems pretty convenient that Katherine is able to join her. And when she's old enough to truly appreciate going to work with her mom, that could be a really cool experience for her.
And as for her other baby updates? Kaling also added that Katherine is a very messy eater and can't be trusted in fancy restaurants (doesn't that apply to all babies, though?) and that she's been saying "mama," although she doesn't discriminate who she says it to. But the most fun part of her update was when Kaling shared that she's currently teaching Katherine how to swim.
She said:
"I'm teaching her how to swim. It's great when you teach a 9-month-old how to swim because the bar is really low, which is great because I'm not a really strong swimmer but it's making me feel athletic. Every weekend now I try to swim with her, like 45 minutes in the pool. It's one of the nice things living in Los Angeles. I can pretty much do that all year round and slowly teach her how to swim."
Good for Kaling for teaching her baby how to swim at such an early age, because not only is water safety so important, but it also sounds like it's a good bonding experience for them.
Kaling might choose to be more private about her kiddo, but that just means that when she does fill fans in on what Katherine's up to, it's that much sweeter. Fingers crossed she lets us know how the swimming lessons are going in a few months. Could Katherine be a future Olympian? It's totally possible.