Mira Sorvino's New Claims Of Sexual Harassment In Hollywood Are So Infuriating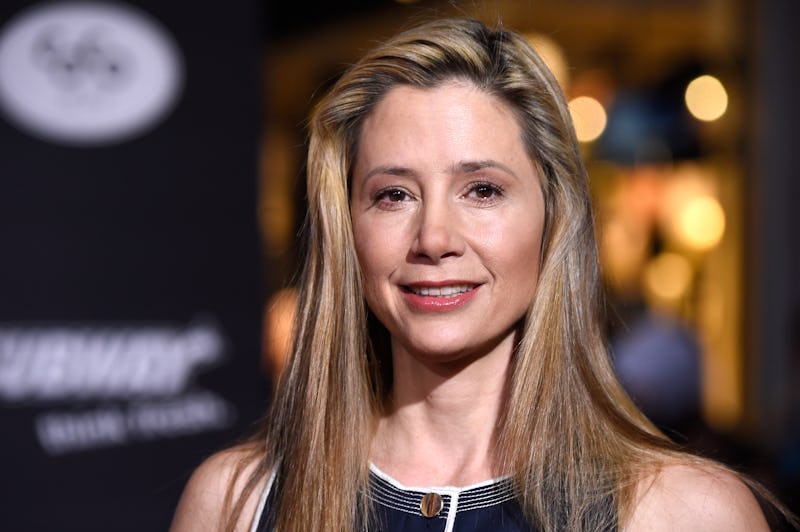 Frazer Harrison/Getty Images Entertainment/Getty Images
Mira Sorvino is among the many women and men in Hollywood who have recently spoken out about sexual misconduct, but her experience with sexual harassment began long before that. On Wednesday, Sorvino claimed that a casting director allegedly gagged her with a condom during an audition when she was just 16 years old, as reported by People. The actor made the allegation during an appearance on the Hollywood Foreign Press Association's HPFA In Conversation podcast. Bustle reached out to Sorvino's representative for comment, but did not receive an immediate response.
"In looking back over at my career, I realized that one of my very first auditions when I was 16, I was completely treated inappropriately by the casting director," the actor said, according to People. "In order to scare me for this horror movie scene, he tied me to a chair, he bruised my arm, and I was 16 years old, and then he gagged me, and I was all game because I'm trying to be scared for the scene."
Sorvino, best known for her role in 1995's Mighty Aphrodite, for which she won an Academy Award, did not name the man in question, but alleged that he acknowledged that he had used a condom to gag her.
"And at the end he takes the gag out of my mouth and he said, 'Sorry for the prophylactic,' so he had gagged me with a condom," she claimed. "I was too young to even know, thank God, what a condom tasted like. It was so inappropriate, and what the heck was a casting director doing with a condom in his pocket in an audition?"
Sorvino also alleged that there were multiple times that casting agents or directors offered her a part in exchange for a personal relationship, and that she had lost roles after turning them down.
She mentioned, but did not name, a "big director who has got Oscars and known for his social justice profile in some of these movies literally said to me at a very end stage audition meeting, 'You know, as I look at you my mind can't help but traveling from the artistic possibilities to the sexual.' I think my mouth just opened and my silence was deafening."
Sorvino has emerged as one of the loudest and most engaging voices in the #MeToo and Time's Up movements after she became one of the first major actors to speak out on allegations against Harvey Weinstein. In an interview with The New Yorker in October 2017, she claimed that Weinstein — who produced Mighty Aphrodite — had harassed her at the Toronto International Film Festival in 1995. She also alleged that he harassed her a few weeks later in New York City. Weinstein has since been accused of various forms of sexual misconduct by dozens of women. In December, Weinstein issued a statement via his attorney denying all allegations of "sexual assault," though he did not specifically mention Sorvino.
Sorvino, who found herself struggling professionally after her Oscar win, has also claimed that Weinstein blacklisted her from various projects over the years. "There may have been other factors," Sorvino told The New Yorker about how her career unfolded, "but I definitely felt iced out and that my rejection of Harvey had something to do with it." Weinstein denied these allegations, saying in a statement from his spokesperson released to The Daily Mail. "Mr. Weinstein did not blacklist Mira Sorvino."
Putting Sorvino's history with Weinstein aside, the disturbing claim Sorvino made against another man in the industry on Wednesday only underscores how widespread sexual misconduct is in Hollywood.
If you or someone you know has been sexually assaulted, call the National Sexual Assault Telephone Hotline at 800-656-HOPE (4673) or visit online.rainn.org.