Miranda Bailey's Heart Attack On 'Grey's Anatomy' Was Inspired By A Writer's Own Story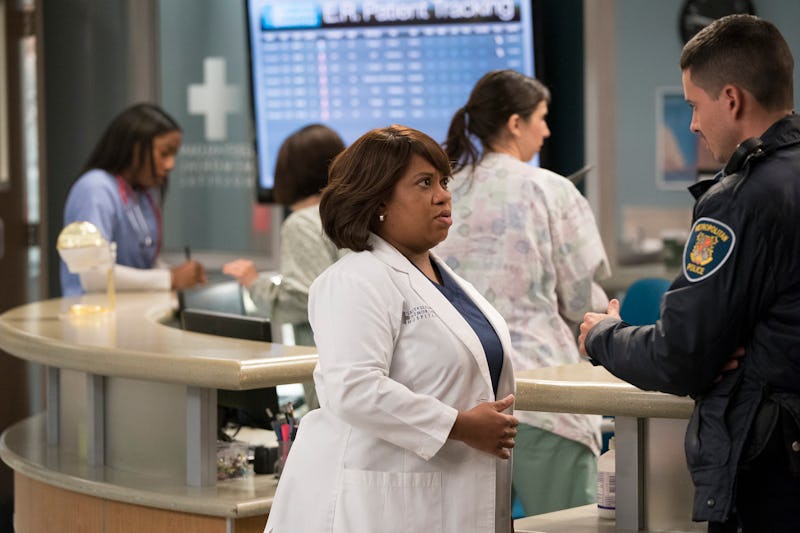 ABC/Mitch Haaseth
Previews for the next episode of Grey's Anatomy suggest that one of Grey Sloan Memorial Hospital's finest may be in danger. Promos show what appears to be Miranda Bailey suffering a heart attack on Grey's Anatomy, and the plotline was apparently based on a real-life health scare of one of the show's writers. In a since-deleted People magazine interview (Bustle reached out to inquire why it was deleted, but has not heard back), writer Elisabeth Finch spoke about what inspired her and the rest of the team to tackle such a plotline with Miranda.
"[The writers] were wondering what that would do to someone that we love and respect and believe in so much as a leader and as a doctor," Finch reportedly said in the People interview. Finch said she once visited her doctor for knee pain, and even after surgery and therapy, the discomfort persisted. "It got to the point where my doctor became very impatient with me and actually told me that he thought I was behaving like a neurotic Jewish woman," Finch claimed. "He dismissed me and said, 'I don't know if there's anything I can do for you anymore.'"
Apparently, in the episode, Miranda faces a similar skepticism, at least at first, when her heart attack symptoms are not being taken seriously by her co-workers.
"Because of who she is and because of what she knows, her symptoms aren't taken seriously," Chandra Wilson, Dr. Bailey herself, told People magazine. "The part that's familiar is the line that you walk when you're dealing with physicians and unfamiliar hospitals where you know what you know but if you know too much then you get ignored. You're either accused of being a hypochondriac or you can get dismissed if it appears you know too much. It's such an interesting line."
Wilson also told Entertainment Weekly that though the situation may have stemmed from Finch's real-life situation and will focus on something that's relatable to many women, the story will also take on a life of its own. "It's not directly related to Finch's story, but only in relation to the experience with illness, the experience of going in to an emergency room, and with diagnoses, and the fears that come as a result of anyone having to go into a healthcare situation," Wilson said.
This skepticism is seemingly not uncommon among women, particularly when it comes to heart attacks and heart disease, according to CNN. Cardiologist Dr. Nieca Goldberg, now the medical director of the Joan H. Tisch Center for Women's Health at NYU Langone, told CNN last year that she noticed this alleged difference early in her career. She suspected a female patient had suffered a heart attack, while other doctors allegedly told the same woman she was likely "stressed out and needed a vacation," she claimed. CNN also reports that according to one study, nearly half of women observed didn't have classic warning signs of a heart attack. "Instead of chest pain, they were more likely than men to describe symptoms like nausea and vomiting, trouble breathing and pain in the jaw, arm or back," the article notes.
Those symptoms aren't necessarily viewed as dramatic as the good, old-fashioned "clutch your chest and gasp" move, so we tend to see significantly fewer women suffer heart attacks in television, movies, and popular culture in general. The lack of knowledge surrounding female heart attacks also stems from a history of medicine ignoring women. "In the earlier years, even the basic research was done on male animals," cardiologist Dr. Nanette Wenger said in the same CNN piece. "It was cheaper." She also noted that men developed heart attacks at younger ages, causing it not to be seen as a real problem in women for many recent decades. "[Men] were at the peak of their careers. They were visible. They were in the workplace," she said, adding that women "were not paid much attention to."
It'd be in true Shonda Rhimes fashion to showcase a medical issue that plagues women and has historically gone largely ignored, and Wilson also told EW in the same interview that this is why the plotline is so important. "What we really wanted to talk about in this episode, especially for women, is heart disease, how it manifests, how much of a killer of women it is, and how to be taken seriously when you walk into an emergency room situation so that you can be properly diagnosed and properly treated," Wilson said. "That's the thing that was always at the forefront of each of the scenes that we went into, and the performance, as well as the conversations that Bailey was having with each of the characters."
Grey's has always championed feminist storylines, and Bailey's heart attack could shed some serious light on an issue that women should be prepared to deal with, and that doctors should know to take seriously. It's pretty shocking that anyone in their right mind would ever tell Miranda freakin' Bailey that she's wrong about something happening to her own body, but even the most powerful, successful women are often subjected to skepticism about their judgment, and it seems like Greys viewers will see that unfortunate truth in action on Thursday night.