Here's Proof That Miranda Bailey Can't Die On 'Grey's Anatomy'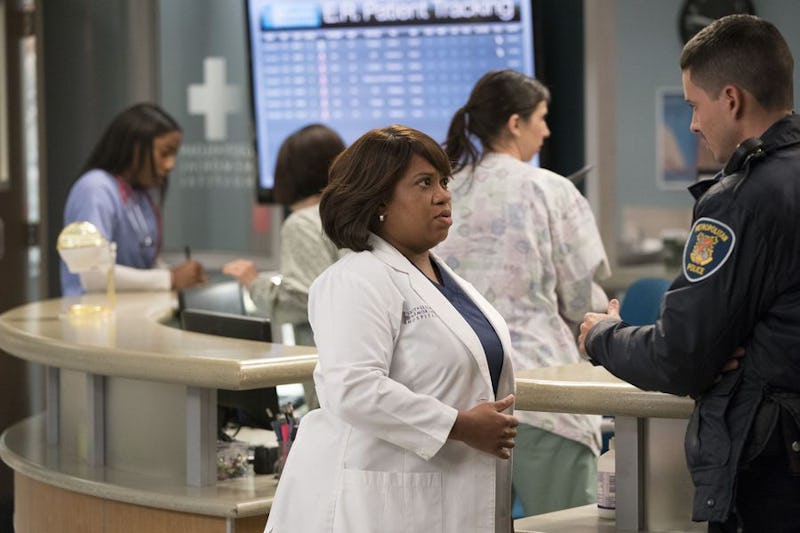 Mitch Haaseth/ABC
The promo for the Feb. 1 episode of ABC's long-running medical procedural has viewers in a tizzy. The footage from the upcoming hour, titled "(Don't Fear) The Reaper" features Miranda Bailey wandering into a hospital and declaring that she's having a heart attack. Is Chandra Wilson leaving Grey's Anatomy? Is Bailey really about to die?
By now, fans of Grey's are used to their favorite characters being killed off in gruesome ways, whether they get hit by buses or perish in plane crashes or get mangled in car accidents. Wilson is one of the few original cast members left (including Ellen Pompeo, Justin Chambers, and James Pickens, Jr.), and 14 years is a long time to stay put on one show; surely the actor could be forgiven if she wanted to leave to pursue other projects. And with her character's husband primed to leave Grey's to headline the upcoming firefighter spinoff, Station 19, Bailey's death could be a perfectly tragic setup for that series, and an explanation for why Ben Warren is never seen again.
But what about Wilson's contract? Fans often point to the actor's contracts when trying to figure out who's leaving the show and who's staying; so what clues does Wilson's give to her character's fate?
Not too many, unfortunately. It was recently and very publicly announced by The Hollywood Reporter that Pompeo had renewed her contract for Seasons 15 and 16 in a deal that officially makes her the highest-paid actress on a primetime drama series. But there hasn't been word on the rest of the cast's contracts, including Wilson's, since they were last renewed in 2016, heading into the show's thirteenth season. And given that the cast's contracts typically run in two-year periods, they should be up for negotiation again at the end of Season 14 — so the question of who will make it to Season 15 is very much up in the air.
Fans shouldn't take too much comfort in the fact that Wilson's contract extends through the end of Season 14, either. When Derek Shepherd was killed off towards the end of Season 11, actor Patrick Dempsey was still in the middle of a contract that extended through Season 12. It's important to remember that contracts are just documents and not Unbreakable Vows; ultimately, if an actor wants out of a show, there are ways to make that happen.
Still, fans shouldn't get too worried about Bailey.
A quick look at the press releases for the upcoming episode reveals something interesting. Although "(Don't Fear) The Reaper" is airing as the eleventh episode of the season, it is labeled as episode #1412; the Jan. 25 episode, "Personal Jesus," was #1410, and the Feb. 8 episode will be #1411. So what gives?
Sometimes networks decide to air episodes out of the order they were originally written and intended to be seen in. (Obviously this is much harder to do with heavily serialized shows, but the procedural nature of Grey's just might make it possible.) This decision can be made for a variety of reasons, including if the network wants to bump up ratings by airing an action-packed episode earlier, if real-world events make a particular episode feel insensitive, or if an episode simply isn't ready yet.
But I have a different theory for why "(Don't Fear) The Reaper" is jumping the queue. Given that February is American Heart Month, and the next episode is airing on the first of that month, it makes sense the network would want to start the month off by airing an episode that highlights heart disease — especially if it raises awareness on how heart attack symptoms can often be very different between men and women. This fits with the topical nature of the show since its return from the midseason hiatus, airing episodes focused on domestic abuse and police brutality.
Regardless of the reason the episodes are airing are out of order, the mere fact that they are should put to rest any fears that Bailey is dying. The sudden death of an original character would be an event that would have huge ramifications on the show for many, many weeks. They wouldn't follow that game-changing episode up with one originally intended to air the week before, in which no one would be mourning the passing of Miranda Bailey, given that it hadn't happened yet.
Finally, the biggest clue might be in the title of the episode itself. It's right there, instructing anxious viewers on how to feel: Don't fear the reaper, because he's not coming for Miranda Bailey anytime soon.