Style Icon Missy Piggy Finally Weighs In On The Leggings-As-Pants Debate, So The Fight Is Over — EXCLUSIVE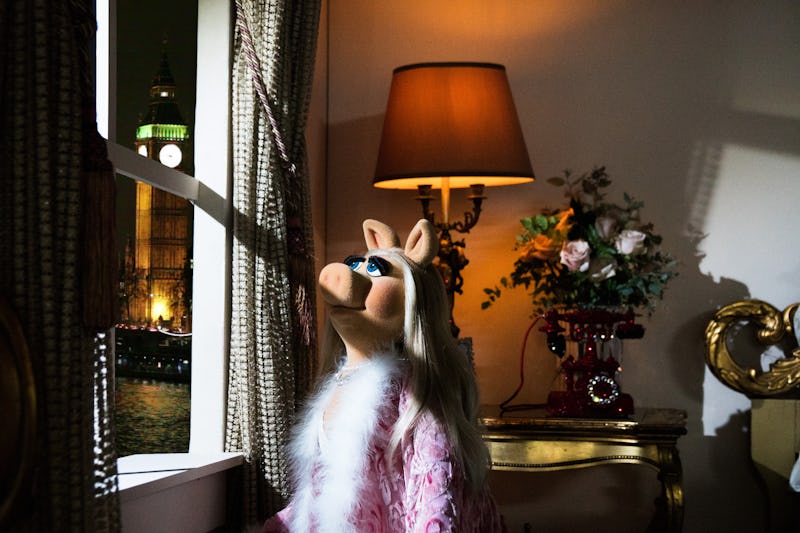 Courtesy of Swarovski
"Dress for yourself. Because if you dress for someone else, chances are the clothes won't fit right."
Miss Piggy, the most fashionable Muppet in all the land, tells me this during our interview — and she certainly isn't wrong. The statement is simple and silly on the surface, but it's actually a serious style mantra with a deeper meaning. What this puppet style icon is truly saying is dress in ways you like or you won't be your most authentic self.
As a newly-single fashionista, Miss Piggy is serving as the official Swarovski red carpet reporter at the upcoming Fashion Awards. Her efforts will be livestreamed on Dec 4. at 1 p.m. EST via the Swarovski Facebook page.
In anticipation of the big night — and to celebrate her general fabulousness — Miss Piggy granted Bustle an extremely exclusive interview to discuss critically important topics, including how to be as fashionable as she is, her go-to makeup product, and if leggings are really pants. She also revealed deets about her relationship with her high profile ex, Kermit the Frog.
Here's the entirety of our informative and wholly satisfying chat with the Queen P.
What is your beauty secret? What keeps you looking so gorgeous all of the time?
I adore your question. It is so insightful. You obviously know fashion, style, and gorgeosity. Bravo!
Now, what was the question again? Oh, right, how do I look so gorgeous? Well, it helps to be born beautiful, but that doesn't mean that I don't push myself every single day to enhance, embellish, and otherwise promote my own good looks. How can others do this? Easy. Watch what I do and copy it exactly.
You are a fashion icon. What is the one quality that has elevated you to this status, in your opinion?
I am honored to be considered, justifiably so, a fashion icon. I try to be someone that others can look up to and admire.
How did I achieve this status? I think it's because I don't try to be like everyone else. I am not just another thin, high-cheek-bone supermodel. As I have often said, "Style comes in all shapes and sizes. Therefore, the bigger you are, the more style you have."
What is the one beauty product you can't and won't leave the house with?
A professional makeup mirror. It allows you to see yourself as the world sees you — only with much better lighting.
Who would be your dream fashion collaborator and why?
I have worked with so many fashion greats — Vivienne Westwood, Marc Jacobs, Miu Miu, Louis Vuitton, Christian Louboutin, to name just a few. My wardrobe is just one big dream fashion collaboration after another. But that doesn't mean I am not open to others. Perhaps one of those exciting young designers I'll be meeting as Swarovski red carpet presenter at the 2017 Fashion Awards. Bring your portfolios, kids, and let's collaborate!
How will you get ready to serve as Swarovski red carpet correspondent of the Fashion Awards on Dec. 4?
I'll be doing exactly what everyone else will be doing: Trying to figure out what to wear. I mean, this is a gathering of the greatest designers and fashionistas in the world. One has to bring their A-game to this event. Fortunately, my dear friends at Swarovski are helping me accessorize. Right now, we've narrowed it down to one of everything. But to see what I'll wear, you'll just have to watch in awe and wonder.
Do you ever wear flats or sneakers? If so, what's your go to pair, as we're sure many of our readers and your fans will go out and buy the same to emulate your style.
I do wear flats and sneakers when I'm around the house or on the set rehearsing. Unfortunately, your readers will be unable to buy them because they are made exclusively for moi by my haute couture cobbler, Stefano of Hoboken. He's fabulous.
What is your take on the leggings-as-pants debate? It's a huge fashion dispute and I need a certified expert's opinion. Some say leggings are acceptable pants. Others argue they are not, and should only be worn at the gym. What does Miss Piggy think about leggings?
I love leggings. And I think they're absolutely appropriate pants. Of course, it helps if you are like moi and have the shape to wear them with style. And if you don't, might I suggest wearing them while sitting behind a desk.
Lastly, do you still speak to Kermit? What are the odds of reconciliation?
Kermit? Kermit? Oh you mean the frog!
Yes, I remember him. Of course we still talk. After all, we work together. And truth be told, we still have on-screen chemistry. It's just off-screen that things are pff-fft! But that's okay. We've gone our separate ways in romance.
As for reconciliation, I never say never to any possibility. I mean, if Kermit came to me on hands and knees begging for me to come back and promising me the world, I'd probably give him the time of day. But right now, I love being single.