Miss Universe & Miss America Are Very Different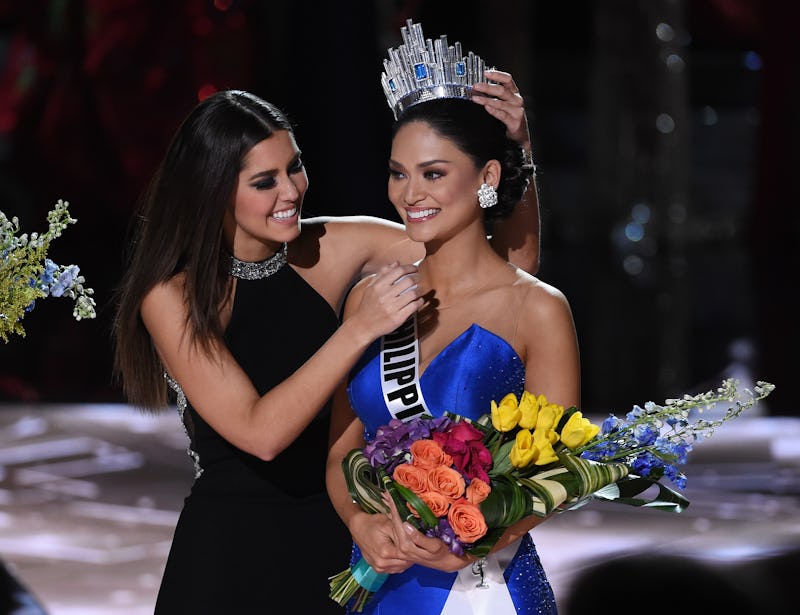 Ethan Miller/Getty Images Entertainment/Getty Images
The winter season is always full of major TV events, and this year is no exception. The Miss Universe 2016 broadcast is coming at you on Sunday, Jan. 29 at 7 p.m. ET on Fox. But you may be thinking to yourself, Didn't we just crown this winner in September? The answer to that is, well, no. The country found its new Miss America way back when (the title went to Miss Arkansas Savvy Shields, in case you were wondering). And if you compare the Miss Universe vs. Miss America pageants, you'll find that these pageants differ in a lot of key ways.
Of course, the names of these pageants pretty much spell out the biggest difference between them, which I'll get into more later. But these competitions diverge in many areas that go beyond just geography.
Before we get into all that, let's just remember that they're both incredibly entertaining events to watch on TV and have been known to serve up their fair share of buzzy moments over the years. Why, who could forget that during the last Miss Universe pageant, host Steve Harvey initially announced that Miss Colombia Adrianna Gutierrez had won before correcting himself and revealing that Miss Philippines Pia Wurtzbach was the correct winner. See what I mean? It's TV gold!
Hopefully, we'll be able to expect more headline-grabbing moments from Sunday night's Miss Universe as well as all future beauty pageants. And learning about the differences between Miss Universe and Miss America will help you enjoy them that much more.