Mitt Romney Voted For A Woman In 2016 — But It Wasn't Hillary Clinton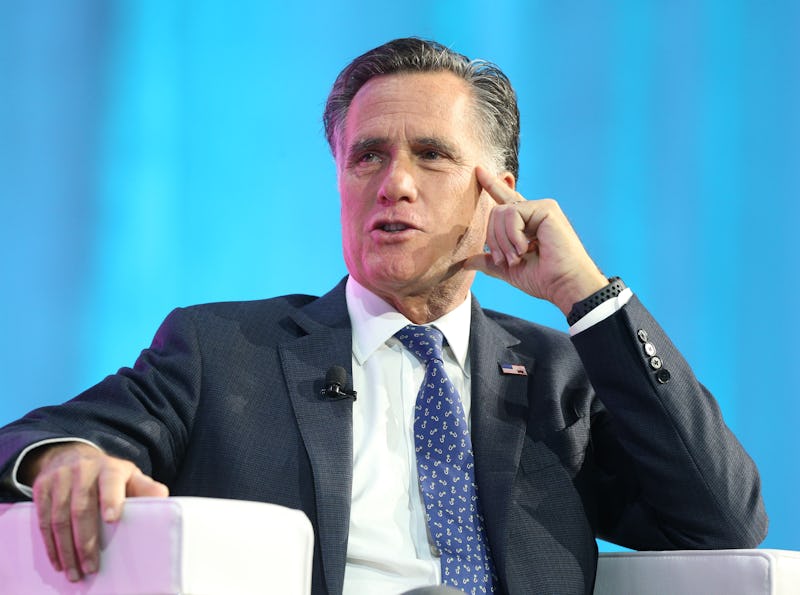 George Frey/Getty Images News/Getty Images
Mitt Romney didn't vote for Donald Trump, a fact that might not surprise those familiar with some of his past commentary about the current president. But, on Wednesday, Romney revealed who he voted for in 2016. It was a woman — but it wasn't Hillary Clinton.
Rather, the one-time governor and current Senate candidate cast his presidential ballot for his wife, Ann. In an interview with The Deseret News, Romney told the paper that he "wrote in the name of a person who I admire deeply, who I think would be an excellent president." He conceded that such a vote "wasn't going to go anywhere," but Romney said he still "felt that I was putting in a very solid name."
And Romney's not the only prominent Utah Republican who opted for a write-in on 2016's presidential ballot. State lawmaker Mike Kennedy is also running to be the GOP's Senate candidate. And The Deseret News reports that during a Tuesday debate he revealed he cast his vote for Sen. Ted Cruz.
Notably, both Romney and his GOP opponent felt comfortable — or perhaps even compelled — in distancing themselves from Trump, even as Republicans in a dependably red state. And that's due to Utahans' dislike for Trump, as Time reported, a characteristic that seems specific to the premium many voters there place on family values and personal decorum.
For himself, Romney left no doubt as to his distaste for Trump in a speech delivered in early March 2016. With the Republican primary race still in play, Romney exhorted GOP voters to take whatever measures necessary to stop Trump from assuming the mantle of their party. "Let me put it very plainly," Romney said. "If we Republicans choose Donald Trump as our nominee, the prospects for a safe and prosperous future are greatly diminished." After listing a string of failed Trump business ventures (remember Trump Steaks, anyone?), Romney got blunt: "A business genius he is not."
Trump's character flaws, as perceived by Romney, became a recurring theme throughout his speech. "Dishonesty is Donald Trump's hallmark," Romney said. He asked his listeners to "think of Donald Trump's personal qualities. The bullying, the greed, the showing off, the misogyny, the absurd third grade theatrics." And then Romney proposed his audience "imagine your children and your grandchildren acting the way he does," asking if they would "welcome that." The entire speech was a rhetorical tour de force against Trump's politics, policies, and personal behavior.
However, Romney more than toned down his criticism of Trump once the latter got himself elected president. In fact, during the transition period from Election Day through the inauguration, Romney seemed to be cozying up to Trump, in what many observers dubbed a bid to lock down the prestigious secretary of state position. At a dinner in late November, Romney and Trump were joined by then-prospective chief of staff Reince Priebus at Jean-Georges, a high-end restaurant located inside Trump International Hotel in New York.
After their photo-op dinner, CNN reports that Trump was asked if Romney would get his nod of approval to become secretary of state. Trump responded, "Well, we're going to see what happens." Of course, what happened was Rex Tillerson got the job, which has since been passed on to Mike Pompeo. (Priebus also got the eventual boot, with John Kelly now presiding as White House chief of staff.)
In the ensuing months, Romney has occasionally criticized Trump. He spoke out harshly in the summer of 2017 against the president's tepid response to racist violence in Charlottesville, Virginia. And in his announcement for his Senate candidacy, Romney highlighted the fact that Utah "welcomes legal immigrants from around the world," in contrast with Trump's often divisive language on immigration.
It seems the former presidential candidate doesn't mind if the current POTUS knows he didn't get Romney's vote.