'Great News' Perfectly Parodies The 24-Hour News Cycle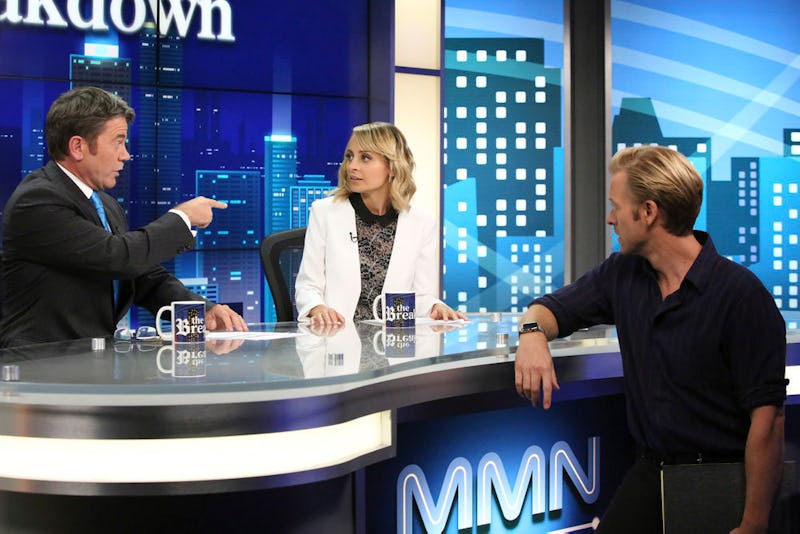 Evans Vestal Ward/NBC
Tina Fey and Robert Carlock, the producer duo behind 30 Rock, are no strangers to a workplace comedy that takes place behind the scenes of a TV network. While 30 Rock hit closer to home for the two, who cut their teeth working on Saturday Night Live, the world of 24-hour news explored in Great News is a new venture for Fey and Carlock. Luckily for the creators of the show, there's so much major cable news channel content to parody that — though fictional MNN isn't a real news channel, the Great News network could almost pass as one.
Much ink has been spilled and even more thinkpieces have been written about the effect that having multiple 24-hour news channels has on our society, so it's only right that the institution gets the Fey-Carlock treatment of having some of the mystery removed and replaced with goofy characters and clever wordplay. Despite not being based on any specific experiences or any particular shows, Great News borrows liberally from the cliches and absurdities of major news channels and makes MNN feel like it could exist cozily alongside the three major cable news networks: FOX News, CNN, and MSNBC. The show borrows a little something different from each network to become a Frankenstein monster of news media.
The most obvious comparison to the Great News network is CNN. The network has such a similar name that MNN's acronym is only one letter off. CNN's tendency to treat news stories and politics the same way that ESPN treats sports — using elaborate graphics and holograms and pitting commentators with differing opinions against each other — makes the network a perfect target for Great News. CNN invented and defined the construct of the 24-hour news channel, so it's only fitting that it's the primary recipient of the MNN satire.
But that doesn't mean that FOX News and MSNBC get off scot-free. While the structure of MNN is inspired by the precedent that CNN set, Great News uses its onscreen personalities to poke fun at the anchors of FOX and MSNBC's most popular programs. MNN's Chuck Pierce (John Michael Higgins), the host of MNN's fictional primetime program The Breakdown, serves as a parallel to famous opinionated male anchors like former FOX news host Bill O'Reilly and former MSNBC host Keith Olbermann. Chuck's co-anchor, Portia Scott-Griffith (Nicole Ritchie), is reminiscent of outspoken anchors like Megyn Kelly, formerly of FOX News, and MSNBC's Mika Brzezinski.
While Great News has put a lot of work into replicating the on-screen appearance of a 24-hour news network, most of the show will be happening away from the anchor's desk, focusing on the producers and interns that are working to make sure the show goes up every day. The on-screen and off-screen talent of MNN may act a tad more ridiculous than real-life news channel personalities, and hopefully no one has to suffer through having their own mother serve as an intern as Katie Wendelson (Briga Heelan) has to, but the absurd happenings at MNN are all rooted in a believable portrayal of what a cable news network looks like in 2017.
That being said, it'll be tough for Great News to top the real-life absurdity of having a hologram of will.i.am comment on election results, like CNN did in 2008.