Reactions To Megyn Kelly Leaving Fox News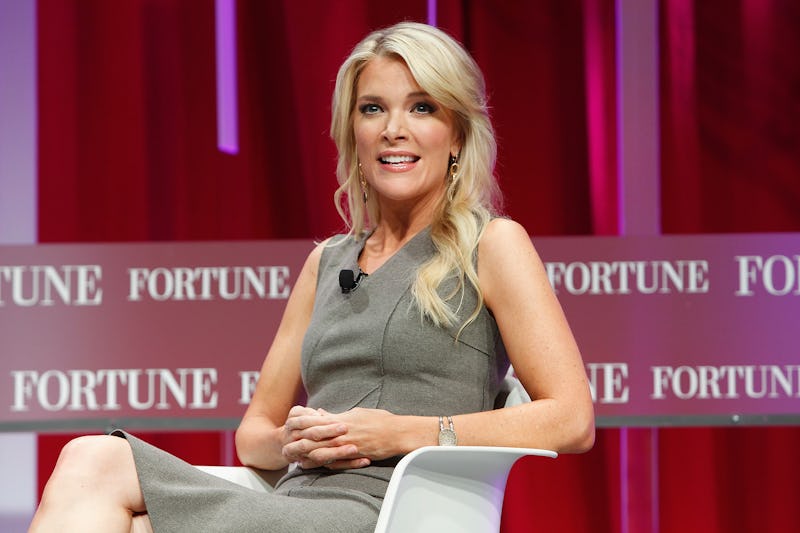 Paul Morigi/Getty Images Entertainment/Getty Images
For those of us who became acquainted with her interview skills, punditry, and poker-faced queries, hearing that Megyn Kelly is leaving Fox News is nothing but surreal. The journalist not only rose to fame on the cable news network, but at times she seemed synonymous with it. But sadly for fans of her prime-time program The Kelly File, the time has come for her to move on. In fact, her last episode will air this Friday, according to 21st Century Fox, the parent company of Fox News.
Kelly will be leaving Fox News to join NBC News, though it is not yet confirmed when she will start filming. According to the New York Times, which broke the story, Fox News offered her $20 million to stay with the cable news network. The report also noted that "Rival networks seeking to hire Ms. Kelly away, including NBC News, had made it clear that they could not match that money from Fox, the cable news leader for the last 15 years running."
However, while it's not yet known how much Kelly will be paid to join NBC News, she's getting some extra time on air. Not only will Kelly's move to NBC News give her the platform of a new hour-long daytime program, but she will also serve as an anchor on a Sunday night show. Kelly will also be a part of NBC's breaking news team, according to Variety.
Kelly had been hosting her own show, The Kelly File, at Fox since 2013, but she experienced a new level of fame after questioning Donald Trump about some of his insulting comments about women during a Republican primary debate. While she earned great praise for pressing Trump on his rhetoric, the Republican candidate harshly turned on her, as did his supporters. Not only did he call her a "bimbo" and say she had "blood coming out of her wherever," but Kelly also claims that some of his supporters made death threats against her.
Before her exchanges with Trump, though, Kelly earned criticism and notoriety for some of her own controversial and curious statements while at Fox News. Here are a few of the more notable reactions to Kelly's departure.
The Callback To Kelly's Comments On Black Santa
For those unacquainted with the reference, during a Fox News broadcast back in 2013, a vehement Kelly claimed that Santa is white. It's worth noting that the scenario in which Santa has a distinct racial identity also requires that he exists.
A Reflection On Her Combination Of White And Beauty Privilege
New Yorker writer Jia Tolentino argued that it would be naive to turn a blind eye to the ways in which Kelly benefits from the halo effect of conventional attractiveness and whiteness.
Remembering When Kelly Wasn't Known For Going After Trump
In addition to her argument that Santa is white, Kelly often went after the New Black Panther Party in a way that, Dave Weigel argued in The Atlantic, over-inflated its importance to make the group seem like a bigger threat than it was. "Kelly, under the guise of journalism, is working to create a rumor," Weigel wrote. "Watch her broadcasts and you become convinced that the New Black Panthers are a powerful group that hate white people and operate under the protection of Eric Holder's DOJ."
Trump Supporters Attacking Her. Still.
This theory espoused by Bill Mitchell, a conservative radio show host and vehement Trump supporter, seems like a stretch. However, it is also not surprising that a Trump fan seemed to find Kelly's legitimate questioning of him to be fodder for her own professional gains.
The Career Parallels Between Kelly And Katie Couric
In some ways, Kelly's move from hosting The Kelly File on Fox News to gaining her own daytime show on NBC mirrors the career trajectory of journalist Katie Couric. The latter left NBC as one of its most popular co-hosts of the TODAY show to anchor CBS Evening News in 2006.
She May Become The Highest-Paid Female News Anchor
While the details of Kelly's new salary are currently undisclosed to the public, there has been speculation that suggests she very well may take the crown of highest paid female news anchor on television. According to Forbes, NBC News is likely offering her more than the $15 million she made at Fox News. While Robin Roberts of Good Morning America nets $18 million a year, Kelly's deal with NBC News may be even more lucrative.