'Moana' Is Nominated For A 2018 Grammy, So Fans Of The Movie Rejoice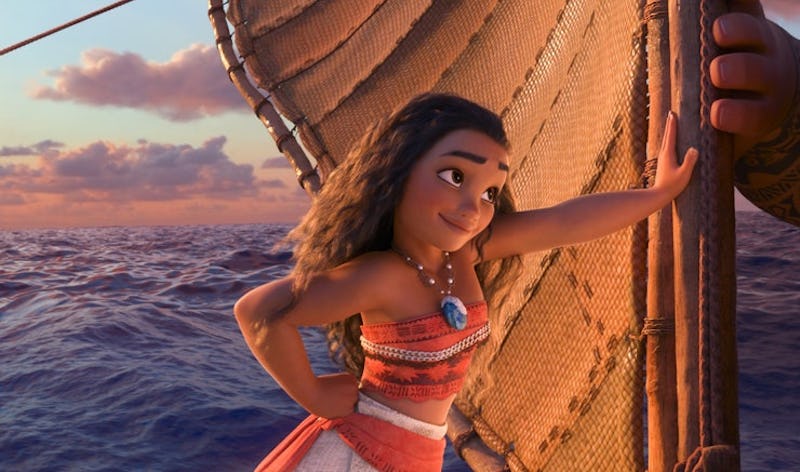 Walt Disney Motion Pictures
Disney fans must be freaking out, because the 2018 Grammy nominations were announced on Tuesday morning, and the Moana soundtrack is nominated for a Grammy. On top of that, the epic story and artists behind the soundtrack give it a pretty good shot at taking the award. The 2018 Grammy nominations are a triumph for diversity (with artists like Jay-Z and Kendrick Lamar leading the race), which is why Moana, and everything it stands for, deserves to take it home.
The soundtrack Moana: The Songs from the Disney smash will be competing against these soundtracks for the Grammy (technically, the Best Compilation Soundtrack For Visual Media award): Baby Driver, Guardians Of The Galaxy Vol. 2: Awesome Mix Vol. 2, Hidden Figures: The Album, and La La Land. All of these compilations are amazing in their own way (hence the nominations), but there's so much about Moana: The Songs that makes it deserving of the Grammy.
The movie, starring Hawaii native Auli'i Cravalho and Dwayne Johnson, follows a young woman of the Polynesian islands who fearlessly braves the ocean and becomes the hero of her community. Moana's journey is unique, thrilling, hopeful, and inspiring — just like its soundtrack.
It's obvious that so much heart was poured into this soundtrack. One reason Moana's original songs are so infectious is because the Tony-award winning playwright (and mastermind behind Hamilton) Lin-Manuel Miranda wrote and performs a handful of them. Miranda's songs include "Where You Are," Maui's (Johnson) catchy "You're Welcome," and the movie's staple song, "How Far I'll Go" performed by Cravalho. Miranda's "How Far I'll Go" was also nominated for Best Song Written For Visual Media.
What's so significant about the soundtrack is that it also highlights artists who may not be as well-known in the U.S., but enhance Moana's authentic Oceanic experience. Performers on the soundtrack include Samoa native Opetaia Foa'i and his fellow members of the Oceanic music group Te Vaka (like Olivia Foa'i and Vai Mahina), which performs modern South Pacific Fusion.
There's also something to be said about giving teenage Cravalho, a young woman who's up-and-coming in the business, such a strong voice that mirrors her character's powerful narrative. Her songs like "How Far I'll Go," "I Am Moana (Song of the Ancestors)," and "Know Who You Are" preach the importance of identity and pride.
There's deep meaning behind many of the songs in Moana. For example, Opetaia Foa'i's song "An Innocent Warrior" was inspired by "Loimata e Maligi" and rewritten for the movie, which performer Vai Mahina told Impero Disney. "Loimata e Maligi" is another Foa'i song which honors the 19 girls who lost their lives to a fire on the island Vaitupu, Tuvalu in 2000.
Fellow Moana song writer Miranda has expressed the importance of reflecting the movie's message and Moana's adventure throughout its soundtrack. "You have to be able to chart the position by the stars and always remember where you're coming from," he said. "Which, to me, is such a metaphor for what we aspire to do in real life."
Since the movie's release in November 2016, it's been praised for its strong-willed protagonist alone. Time referred to Moana as a heroine who's "Disney's ultimate anti-princess." In the film, Maui suggests, "If you wear a dress and you have an animal sidekick, you're a princess," which obviously points out Disney's past princesses like Cinderella and Snow White. Moana immediately shuts it down: "I am not a princess." Moana doesn't need to be saved, she saves others. That in itself makes her a hero.
Moana's impact and positive influence on young girls is clear. A few months ago, a video of a 4-year-old enthusiastically singing "How Far I'll Go" at her pre-K graduation went viral. And of course, little girls everywhere wanted to channel their new idol Moana for Halloween. Moana means so much to its fans and in the landscape of cinema overall, and a Grammy win would be symbolic of its efforts and importance.