'Moana' Fans Need To Tune Into The Oscars For This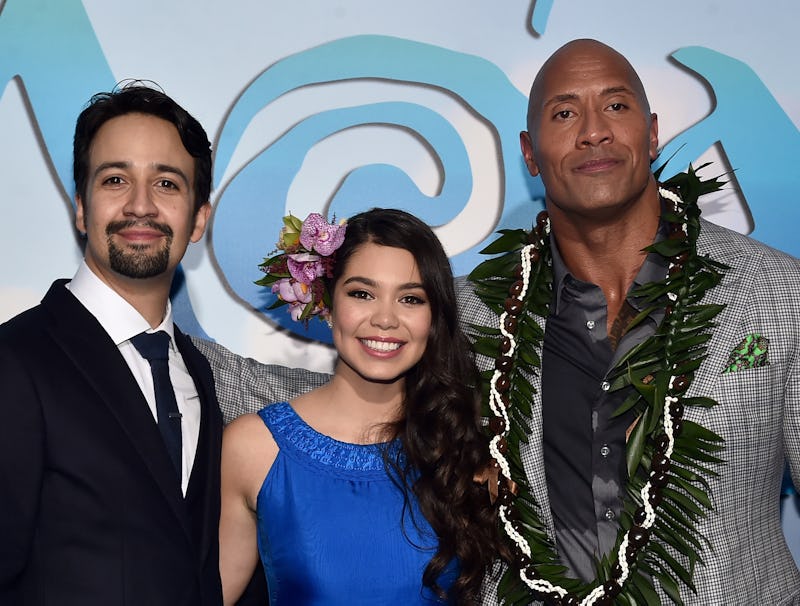 Alberto E. Rodriguez/Getty Images Entertainment/Getty Images
Anyone with a song in their heart and some pep in their step knows the live musical performances at the Oscars are probably the best part of the evening. So when the announcement came through that Moana's Auli'i Cravalho will perform at the 2017 Oscars with composer and Broadway superstar Lin-Manuel Miranda, it became evident right then and there that we may be looking at a monumentally great 2017 Oscars. Anything Moana, Disney, or Miranda related is damn good in my book — but all three? Heaven.
Deadline is reporting that audiences will get two Moana heavy-hitters for the price of one on Feb. 24. Miranda and Cravalho will sing "How Far I'll Go," which is nominated for Best Original Song at this year's Oscars. The song is a rousing solo for the eponymous heroine of Moana, wherein she declares that she is ready for adventure and that is ready to break out of the roles she is expected to fill in an attempt to follow her heart. The mere idea of Cravalho and Miranda lighting up the Oscar stage with their infectious talent is enough to get you excited, but knowing that they'll be singing this song really amplifies that excitement tenfold.
This is an exciting time for both Cravalho and Miranda. Moana has rightfully earned two Oscar nominations — Best Original Song and Best Animated Feature — and those nominations secure big milestones for the pair.
For Cravalho, this will be her first (of hopefully many) time attending the Oscars. She was plucked from obscurity for the role of Moana, but the film has catapulted the starlet right to the top. For Miranda, performing "How Far I'll Go" at the Oscars could favorably inch him closer to winning the award. If he does win, Miranda will have also secured an EGOT, making him the youngest person to have ever done so, and the 13th person to ever do so. No pressure.
Here's to hoping that Cravalho and Miranda can go the Oscar distance and secure that gold statue.