ModCloth's New Swim Line Is So Cute & So Size Inclusive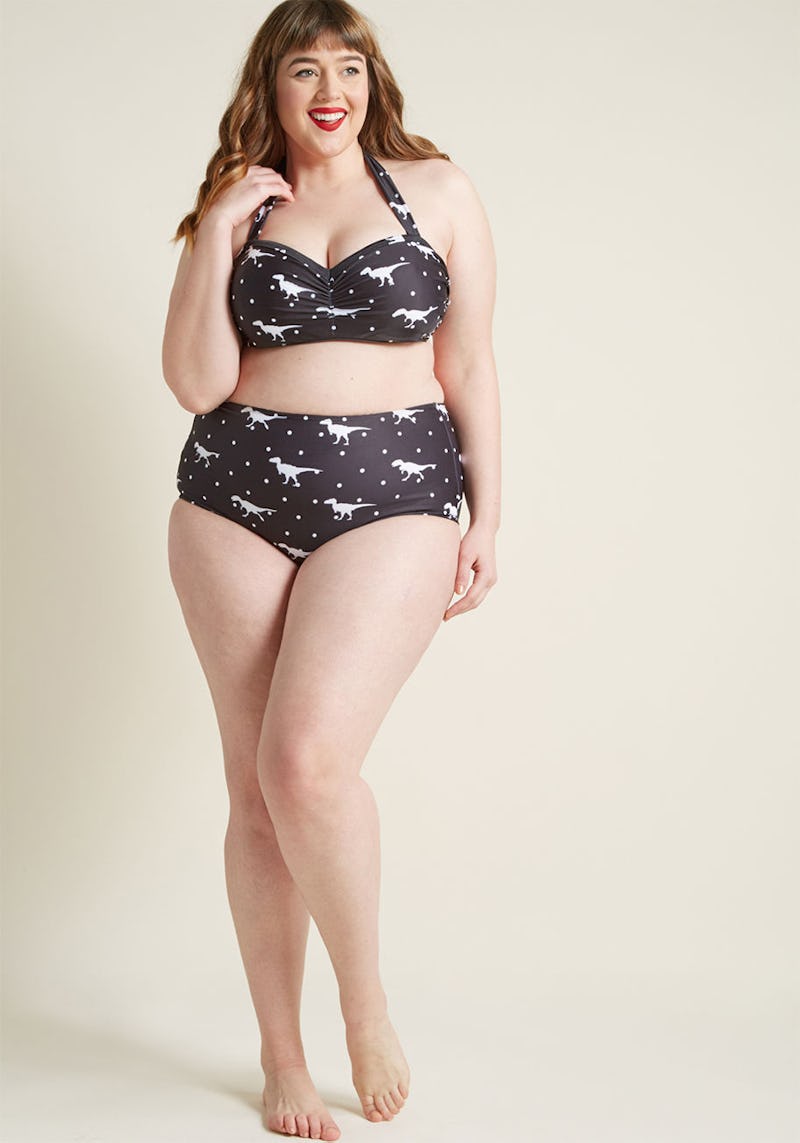 ModCloth
Cute, size-inclusive swimwear used to be but a dream. But now, lines like Gabi Fresh x Swimsuits For All and plus size retailers like Torrid are making that dream is coming true. Thankfully, another brand has done it. ModCloth's new size-inclusive swimwear is adorable, affordable, size-inclusive. Talk about a win, right? With the retailer's signature retro style and incredible size range, you'll want to snag every single piece.
This isn't ModCloth's first foray into extended sizing, though. From the brand's dresses to their casual attire, it offers options for sizes from XS-4X and 0-26, meaning that women who wear straight sizes and women who rock extended sizes can find adorable options. In fact, ModCloth recently got rid of the "plus-size" moniker to become even more inclusive. Now, to round out its collections, there's new, adorable swimwear to go around for everyone.
ModCloth's summer 2018 suits feature throwback one-pieces, gorgeous velvet, high-waisted bikinis, and unique patterns you won't see any where else. Basically, it's a smorgasbord of cute items you need to shop ASAP.
The good news? You can snag pieces right now! The entire range is available on ModCloth's website. Even better? The pieces won't break your bank. You won't find a $200 bikini bottom that requires a $100 bikini top. Prices for ModCloth's swimwear begin at $39.99 for separates. Essentially, there are basically no downfalls when it comes to this incredible new collection.
Another perk of shopping ModCloth? The brand's commitment to not photoshopping models. Not only will you find size-inclusive items, but you'll be seeing these suits on bodies that have not been digitally altered.
What suits should you check out from the new collection? There are tons of choices.
Dino Bikini
High-Waisted Swimsuit Bottom in Dinos, $39, ModCloth | Swimsuit Top in Dinos, $49, ModCloth
Hello, perfect dinosaur-print bikini. Where have you been hiding?
Blue Velvet
One-Piece Velvet Swimsuit, $89, ModCloth
How gorgeous is this blue velvet one-piece? Seriously cool Elvis vibes happening with this design, right?
Plunging Florals
One-Piece Swimsuit in Black Bloom, $85, ModCloth
This swimsuit is so chic. With its gorgeous floral print, plunging neckline, and ruching around the waist, it's a total must-have.
Funky Patterns
Swimsuit Top in Dotted Pastel, $49, ModCloth | High-Waisted Swimsuit Bottom in Dotted Pastel, $49, ModCloth
If you want a pattern that's different and fun, then this is your suit for sure.
Classic Black
One-Piece Swimsuit in Black, $89, ModCloth
If classic silhouettes and colors are your jam, then this all-black creation is ideal.
Retro Lines
High-Waisted Swimsuit Bottom in Floral Fantasy, $39, ModCloth | Bustier Swimsuit Top in Floral Fantasy, $49, ModCloth
Yes, please to this gorgeous floral pattern, retro lining, and contrasting colors.
Nautical Vibes
One-Piece Swimsuit in Navy, $75, ModCloth
When retro meets nautical great things happen — like this swimsuit.
Chemistry Set
Swimsuit Top in Bustier, $49, ModCloth | Swimsuit Bottom, $39, ModCloth
This isn't your traditional chemistry set, but it's certainly the best one.
Ruffles Galore
One-Piece Swimsuit, $79, ModCloth
Flirty ruffles will never go out of style.
If you've been loathing the cold weather and are already planning your spring break trip and summer forays in the sun, head over to ModCloth's site now. These affordable, size-inclusive swimsuits are can't miss for their diverse silhouettes and fun patterns. All you need now is for winter to end and summer to head your way.