Model Hanne Gaby Odiele Just Came Out As Intersex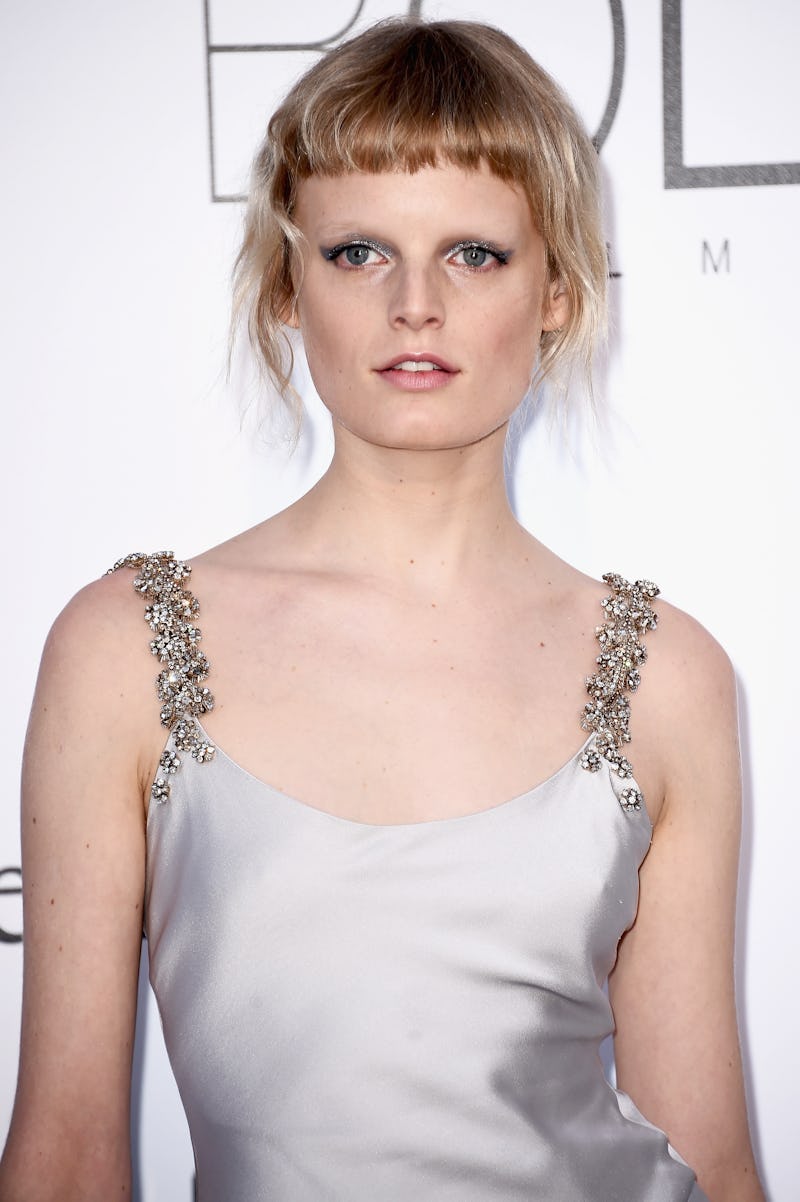 Ian Gavan/Getty Images Entertainment/Getty Images
Belgian model Hanne Gaby Odiele made waves on Jan. 23 when she came out as intersex — and while the revelation is certainly a step forward for visibility in the industry, Odiele's work doesn't stop there. In a press release, Odiele revealed she's reached a point in her life where she's comfortable coming out publicly, and that she wants to join the movement against human rights violations of intersex people, and she'll also be partnering with intersex advocacy organization interACT.
"It is time for intersex people to come out of the shadows, claim our status, let go of shame, and speak out against the unnecessary and harmful surgeries many of us were subjected to as children," she said. Bustle has reached out to interACT and Odiele for further comment.
Intersex people have sex characteristics which do not fit the typical binary of either male or female. An estimated 1.7 percent of people are intersex, and many of them, upon birth, are subjected to surgeries which are supposed to "normalize" their genitals.
Unlike gender affirmation surgery for transgender people, which is voluntary, gender assignment surgery is often performed on intersex children who are not capable of consenting to it or who do not understand the full implications of the surgeries. And those implications are significant: Gender assignment surgeries are known to have a likely outcome of serious negative effects on intersex people.
Odiele, now 29, was urged by doctors to have surgeries at ages 10 and 18, and said in an interview with USA TODAY that while she is proud to be intersex, she is "very angry that these surgeries are still happening."
The model, who has been active since 2005 and has worked with high-powered brands including Chanel, Dior, and Alexander Wang, also told USA TODAY that being intersex doesn't cause her distress — the aftereffects of her surgeries do.
"It's not that big of a deal being intersex," she said. "If they were just honest from the beginning... It became a trauma because of what they did."
InterACT, an org which supports intersex people of all ages but especially focuses on intersex youth and "aims to stop harmful medically unnecessary treatment and other human rights violations on children born with intersex traits," has welcomed Odiele as an advocacy partner.
InterACT executive director Kimberly Zieselman told USA TODAY that Odiele "will be a powerful champion for the intersex community and will help thrust medical procedures that try to 'fix' intersex kids into the harsh focus they deserve."
In a press release, Zieselman said, "We are extremely grateful to have [Odiele] join interACT's efforts in strongly advocating for the protection of intersex children from harmful medical treatment and surgery. Hanne is a beloved fashion model who has achieved global success in her industry. [...] Using her passion, her voice and her notoriety, she will undoubtedly further the cause of protecting intersex youth, and help put an end to the human rights violations far too many have suffered."
Odiele added, "Intersex children born today are still at risk for these human rights violations. I will use my voice and platform to help end such abuses."
Odiele's decision to come out and pair up with interACT has been well-received by fans on Twitter, who are enthused by her outspoken intersex representation and advocacy.
Here's hoping that together, interACT and Odiele will increase awareness of intersex children's rights.