Lifetime's Mother's Day Weekend Movie Is A Must-Watch For Moms & Daughters Who Love Thrillers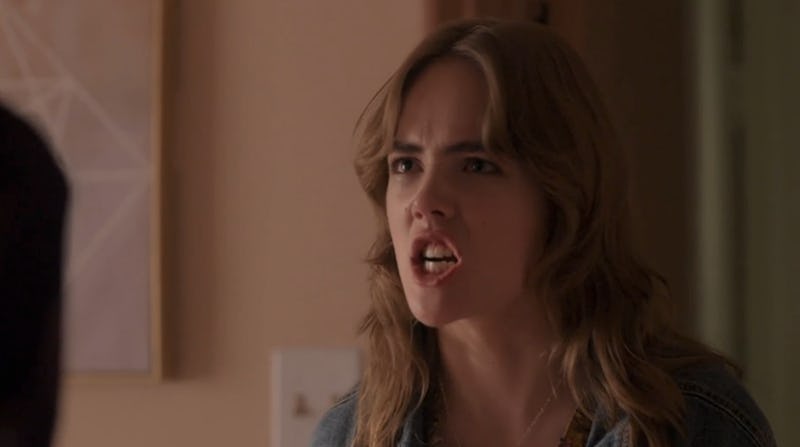 Lifetime
Everyone has that one friend's mom who is just so fantastic, you kind of wish she was yours. Maybe you joke about it and call her "Mom" once in a while. Maybe you've even hung out with her one-on-one when your friend wasn't around. Maybe you've even kidnapped your friend so that you could be the sole object of her mother's affection. No? Too far? Well, that's the plot of Lifetime's latest thriller, Mommy Be Mine. Just in time for Mother's Day, Mommy Be Mine will premiere on May 11 at 8 p.m. ET. But is Mommy Be Mine a true story? Well, I certainly hope not, and Lifetime hasn't given any indication that it is.
According to the official Lifetime synopsis, Mommy Be Mine tells the story of Cara (played by Sierra Pond), a dark and mysterious teen who will stop at nothing to replace the mother she lost. Arianne Zucker stars as mother figure Lianne, the new object of Cara's misplaced affection. Ava Locklear, the daughter of Melrose Place star Heather Locklear, plays Lianne's missing daughter, Summer.
If similar events to those in Mommy Be Mine have occurred IRL, it must be pure coincidence. And hopefully this scenario won't every play out in reality. But this is hardly the first time that Lifetime has explored the topic of demonic children and/or the monster moms that raise them. Here are five more Lifetime movies that explore the demented ways in which mother-child relationships can go wrong. So grab your mom (or your friend's mom) and get watching.
1. Killer Mom
The title pretty much says it all with this one. But according to the synopsis, Killer Mom tells story of a mother who gets back in touch with the daughter she gave up for adoption after the death of the girl's adoptive mother. Unfortunately, the new mom turns out to be — wait for it — an evil killer. Maddy Martin stars as 14-year-old Allison, and Karen Cliche plays her scheming biological mother. Thankfully, Killer Mom's not a true story either.
2. The Other Mother
Basically every divorced family's worst nightmare, The Other Mother dramatizes the plight of a divorced father who remarries a woman that does everything in her power to push the original mother out of the picture. Also not a true story, The Other Mother does happen to share its name with another TV movie that is based on true events. The Other Mother: The Moment of Truth is based on the autobiography of Carol Schaefer, and the book and the film chronicle her real search for the son she gave up for adoption.
3. Mommy's Prison Secret
Part of the deluge of mom-centric Mother's Day Lifetime movies from last year, Mommy's Prison Secret is just as messed up now as it was then. Kelli Williams plays Taylor Reynolds, a normal suburban mom who just happened to do a three-year stint in jail for drug possession and a DUI. Think post-prison Nancy Botwin, but only during the really dramatic scenes. Taylor tries to go back to her old life, but her prison past just won't stay locked up after her ex-cellmate comes knocking.
4. Psycho In-Law
Who doesn't love the old evil in-laws trope? Lifetime pushes it to the max with Psycho In-Law, starring Catherine Dyer as the wicked mother Joyce and Katie Leclerc as the daughter-in-law trying to escape her insanity. Luckily, it doesn't sound like there's any truth to this one either.
5. Mommy's Secret
Like Mommy's Prison Secret, Mommy's Secret is also about a mom on the outside of the law. According to IMDB, Charisma Carpenter from Buffy and Angel plays Anne Harding, the seemingly normal suburban mom who resorts to bank robbery in order to pay off her family's debts. It's not a prequel to Mommy's Prison Secret, but I bet the two would pair nicely as a double feature.
If you want to pass on the mushy stuff this Mother's Day, Lifetime has you covered with Mommy Be Mine, plus a back catalog of maternal-themed thrillers.